December 18, 1995 :
NH Industries NH-90
Bell - Agusta Aerospace

1999, Oct 4 :
EH101
First flight of Italian Navy production helicopter (M.M.I. 01)

1999, Oct 8 : Agusta / Bell AB139
A
medium twin helicopter
for the civilian market announced

2001, Feb 12 :
The completion followed both the agreement drawn up by Finmeccanica SpA of Italy and GKN plc of the UK on July 26 2000 and the subsequent European regulatory approvals. The Joint Venture company is 50% each owned by Finmeccanica and GKN. AgustaWestland is a single European company trading as Agusta SpA in Italy and as Westland Helicopters Ltd in the UK.
AgustaWestland

2002, Nov 21 :
Last delivery of EH101 for UK MoD

2004 : Agusta Grand
At FARNBOROUGH 2004 airshow, a new top-of-the-line light twin was unveiled by AgustaWestland to fill the gap between its A109 Power and the AB139 now entering service. Designated the A109S but to be known as the "Grand" the new helicopter has been flying in prototype form for around 18 months now and is set to achieve certification in early 2005.

2005, Nov 21 : In a realignment of the Joint Venture with Bell Helicopters they sold its 25 percent interest in the AB139 later to be known as AW139



2006, February :
AB139 Programme Update

2006, July : Portuguese Air Force receives 12th and final EH101



2007, April : AgustaWestland and Saab Training Systems launch helicopter Cabin/Door Gun Training System



2007, June :
AgustaWestland delivers the
100th AW139

2007, December 11 :
Delivery of the first batch of
AW109N
light twin helicopters to the Italian Carabinieri took place at the company's Vergiate plant, Italy.

2009, September 28 :
First flight of the
T129
, the Turkish A129 Mangusta variant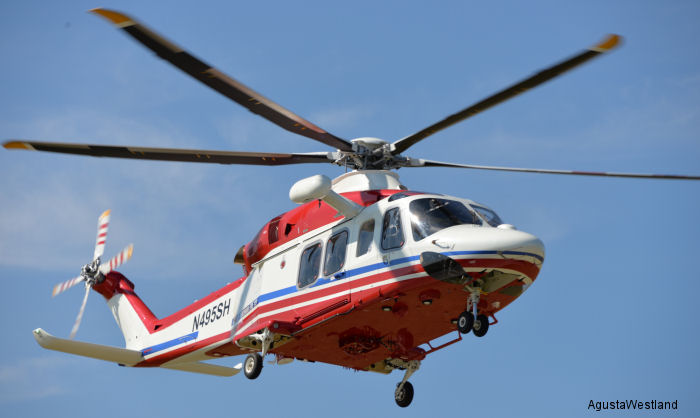 2009, November 12 : First flight of the AW159, the new Lynx



2009, November 13 : First flight of the AW149



2010, July 19 :
AW169

2011 :
AW189