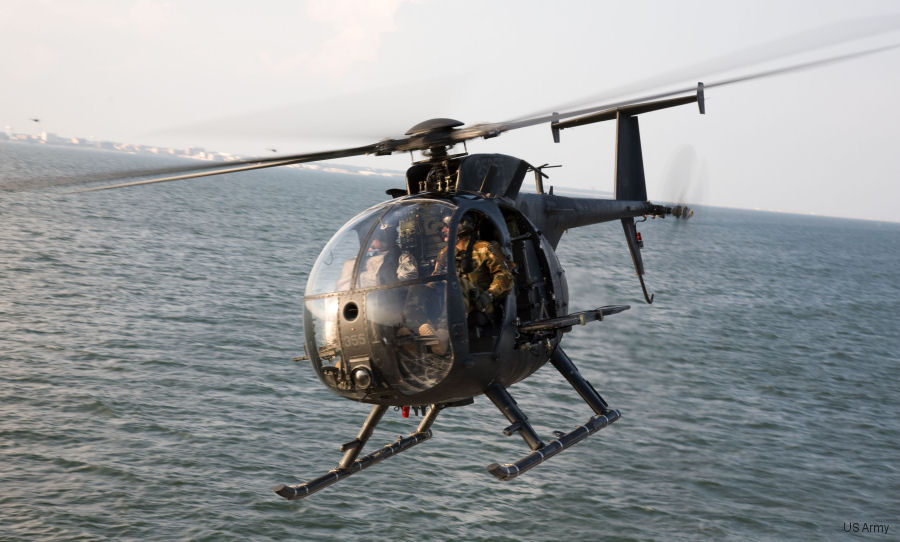 The Hughes OH-6 was originally designed to meet the needs of the US Army's Light Observation Helicopter (LOH) competition, but it gave rise to a large family of commercial, corporate, and private helicopters. The OH-6A Cayuse first flew on February 27, 1963 and defeated the Bell YOH-4 (which eventually became the
Bell 206
the most successful commercial helicopter ever made) and the
Hiller
YOH-5 (FH-1100).
Light, nimble, and easily maintained, the MD500, as it became most known, is designed to carry four or more passengers in a small but comfortable cabin.
Many different versions have been built for both the military (
Series 369
) and civil markets (
Series 500
) for a variety of missions and requirements. Was built under license in Argentina by RACA, in Japan by Kawasaki, in South Korea by Korean Air and in Italy by Breda Nardi.
In 1966, it established a new record of major distance in a straight line for an helicopter: 3561 Km / 2212 m.
Produced by
McDonnell Douglas Helicopter Systems
from 1984, and
MD Helicopters
from 1999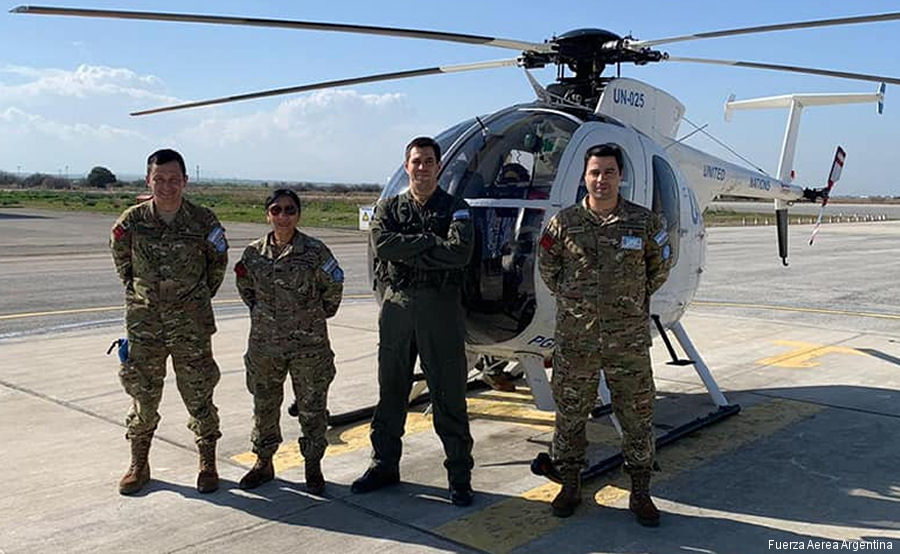 24-Jan-19 -

Argentine Air Force helicopters in Cyprus, part of peacekeeping mission UNFICYP achieved 28,000 flight hours since started operations in 1994

#UNFICYP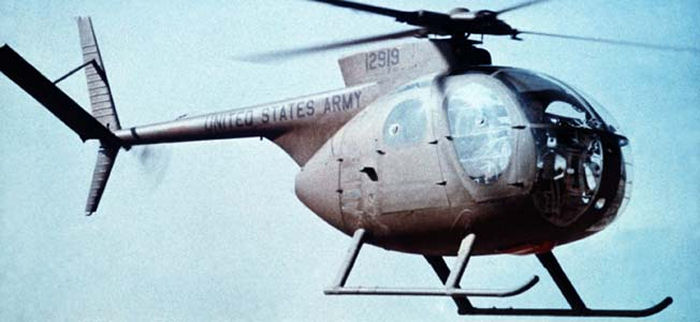 19-Jul-13 -

The first Hughes OH-6 Cayuse light-observation helicopter (LOH) prototype first flew on February 27, 1963, beginning a rich heritage as the most heralded and versatile scout helicopter in the world
Derivatives & Versions of 369 / 500 / H-6
Model
Year
History
OH-6A Cayuse

1963
1963
Winner of the US Army Light Observation Helicopter competition, eventually in May 1965, against the Bell OH-4 and the Hiller OH-5. An initial Ar ...

369A

1965
1965
KHI 369HS

1965
1965
369HE

1969
1969
369HM

1969
1969
369HS

1969
1969
369C / 500C

1970
1970
Breda Nardi NH500

1970
1970
369D / 500D

1975
1975
369 military and 500 civilian variants. 500MD Defender variant was equipped with TOW missiles

369E / 500E

1982
1982
Pointed nose and various interior improvements. Built by Hughes between 1982-1984. Then as McDonnell Douglas MD500E. 369 Military and 500E civ ...

Mc.D.D md500

1984
1984
Aircraft produced by McDonnell Douglas between 1984 and 1997. See Hughes and MD Helicopters for others