Sikorsky is refurbishing older S-61 aircraft for the
US State Department
. The new S-61T Triton program includes the upgrade and installation of composite main rotor blades, state-of-the-art glass cockpit, modular wiring harness, and modern survivability and force protection. According to the company, these enhancements result in an aircraft with improved safety, 15 percent greater performance, and a lower operating cost. Sikorsky is performing structural upgrades in its Troy, AL facility before sending the airframes to
Carson Helicopter
in Perhaskie, PA for fitting of dynamic components and interiors. The US Department of State has stated a need for up to 110 aircraft.

As of March 2018, State Department has only confirmed 14 airframes with 13 deliveries completed. Program future uncertain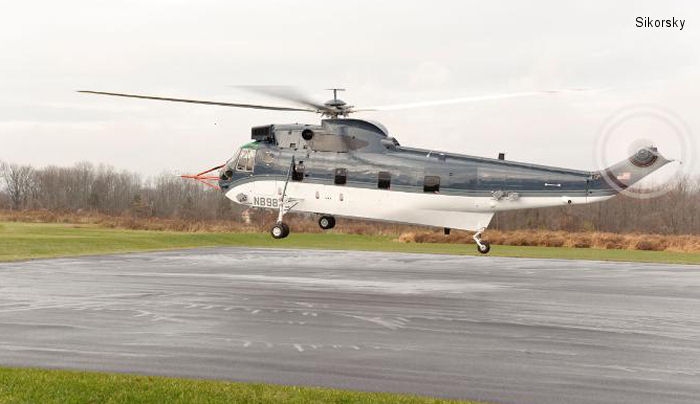 Modernized S-61T first flight, 06-Jan-14 : The modernized S-61T helicopter with an integrated glass cockpit and enhanced performance capabilities performed successful maiden test flight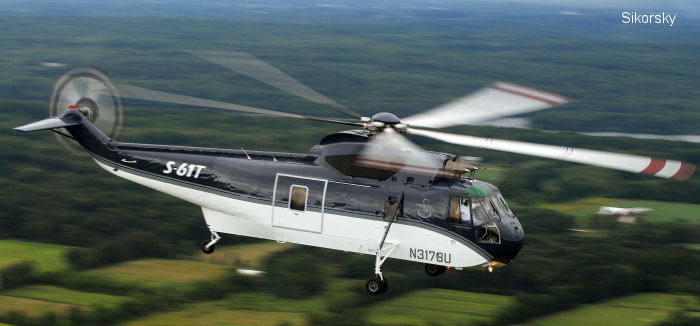 Cobham Avionics for the S-61T, 19-Feb-13 : Shelton, Connecticut - Sikorsky Aerospace Services (SAS) today announced plans to equip Sikorsky's modernized S-61T helicopter with a suite of advanced avionics provided by S-TEC Corporation/Cobham Commercial Systems (Cobham) of Mineral Wells, Texas.
List of Operators of Sikorsky S-61T Triton
From
Organisation with model S-61T Triton
1973
1980
2010
Unknown!
Help


C/N
Year
History
61-041
148969 : hss-2 US Navy; Aug91 SH-3H type HC-1 /UP-764
USN; conv SH-3H; 1994 AMARC
N969WL : State Dept from Dec10, S-61T type

61-055
148983 : hss-2 USN; conv SH-3H; 1994 AMARC
N983WW : State Dept from Dec10, conv to S-61T; See also N705WW

61-062
148988 : hss-2 USN; conv SH-3H; Feb94 as /611 USS Independence (CV-62)+
N434LF : State Dept from May11
N988AW : State Dept, S-61T type

61-121
149705 : hss-2 USN; conv SH-3H; 1994 AMARC/9H0083
N705WW : State Dept from Sep10, conv to S-61T; Oct14 pictured no+
canc 13mar17, fate unk

61-167
149898 : hss-2 USN; conv SH-3H; Sep.1980 as /AJ-731 HS-9 on USS Nimitz+
sh-3h 1989 SH-3H type HS-1 ./AR-447
N898WC : State Dept from Dec10
State Dept from Dec10; Dec13 f/f as a S-61T

61-186
1963
149916 : hss-2 USN; conv HH-3A CSAR variant
N3173U : Carson from Nov10; pictured (pic1) after conversion to +


N3173U

: Siller from May11


N3173U

: 18aug14 pictured (pic2) with County of Los Angeles, Dep+

61-222
1964
N307Y : S-61N Sikorsky S-61N-3; New York Airways, Sikorsky serial N30+


N307Y

: SFO Airlines 196?-1971; San Francisco Oakland Airlines
G-BEIC : BIH Dec76-Jan93


G-BEIC

: Brintel leasing Jan93-May94; Brintel Helicopters May94-+


G-BEIC

: CHC Scotia Aug00-Nov01
C-GROV : CHC Nov01-Jan02
CHC Sep/Dec 2003, again Feb04-Jan06
YV-1033C : Venezuela, Feb02-Aug03
C-GBSF : Executive Transport Airways Ltd Jan06-Jun08; Helijet in+


C-GBSF

: Coulson Apr10-May12
N804AR : EP Aviation 29may12 (or N840AR?), conv to S-61T ?
2013 Afghanistan

61-308
152115 : sh-3a USN; conv SH-3H; 14may92 as /613 HS-3 pictured on USS S+
N434QL : State Dept from Aug11
N115WK : Conversion to S-61T. Department of State Property

61-361
1966
LN-ORH : S-61N Helikopter Service, to EC-115
EC-FMZ : INAER for SASEMAR


EC-FMZ

: SASEMAR, pictured (pic1)
N408FS : Carson Apr/Jun 2010, N611HU ntu; conv to S-61T Triton


N408FS

: EP Aviation from Jun10
Oct13 at FOB Shank, Afghanistan
18may16 picture (pic2) at FOB Dahlke, Afghanistan

61-476
1970
G-AYOY : s61n.mk2 BCH Jun84-Jul85


G-AYOY

: BIH Jul85-Jan93; 05nov90 during an inspection starboar+
BIH May04-Sep11


G-AYOY

: Brintel Jan93-Sep00


G-AYOY

: CHC Scotia Sep00-Nov02


G-AYOY

: Veritair Nov02-May04
N457ES : Carson from Oct11
N476AW : US State Dept

61-703
1972
G-BAKC : S-61N Bristow Dec72-Apr87, to France as unk
N9119S : Croman ?-1997
Croman canc Dec10
Croman again Jun11-Apr15
C-FHCH : D.K. Heli-Cropper at Mt Lehman BC, Mar-Nov 1997
C-GJQE : Coulson 2011
N9119S : Oct13 with EP Aviation in Afghanistan
N807AR : EP Aviation from 08apr15
15jun15 at Kingsland, GA

61-757
1976
LN-OQH : s61n.mk2 S-61N-60 d/d Helikopter Services 27oct76
PT-YCF : Aeroleo Nov96-Jun05
N461AL : Air Logistics Jun06-Sep06
C-FNCH : VIH Jun06-Oct06


C-FNCH

: Cougar Oct06-Apr12
N802AR : EP Aviation from 12apr12, S-61T type?
20nov13 at Ghazni, Afghanistan

61-761
1977
N611EH : S-61N S-61N-63 d/d ERA 16feb77
VH-IMQ : Okanagan Helicopters Australia, noted Apr80, ex VH-PTF
C-GPOH : Okanagan, noted Aug81
EI-BLY : Irish Helicopters 1986
1994 Apeared in the film War of the Buttons, filmed in +
G-BXSN : Bristow Feb98-Feb01
N161AL : Air Logistics Mar01
PR-MDS : Brazil, Apr03-Jan05, to N761N
C-FHCH : VIH Helicopters Dec05-Sep06, ex N761N


C-FHCH

: Cougar Sep06-Apr12
N803AR : EP Aviation from 24apr12, conv S-61T?

61-824
1980
G-BHOF : s61n.mk2 Bristow Feb80-Apr94, to LN-ONK
Bristow Jun95-Jul99
LN-ONK : May94-May95
G-LAWS : Laws Helicopters Ltd Jul99-Nov04
G-DAWS : Air Harrods Nov04-May06
G-VIPZ : BIH May06-Jun09
Dec08 flew on this to Tresco Island, Isles of Scilly. A+


G-VIPZ

: Heli Med Ltd Jun09-Jun10
N824WA : US State Dept Jan11-Sep16, also as N408SC
N627CK : Croman Corp from Sep16; training at Yuma by Dec16
This aircraft was never designated as an S-61T. In US S+

14 C/N.