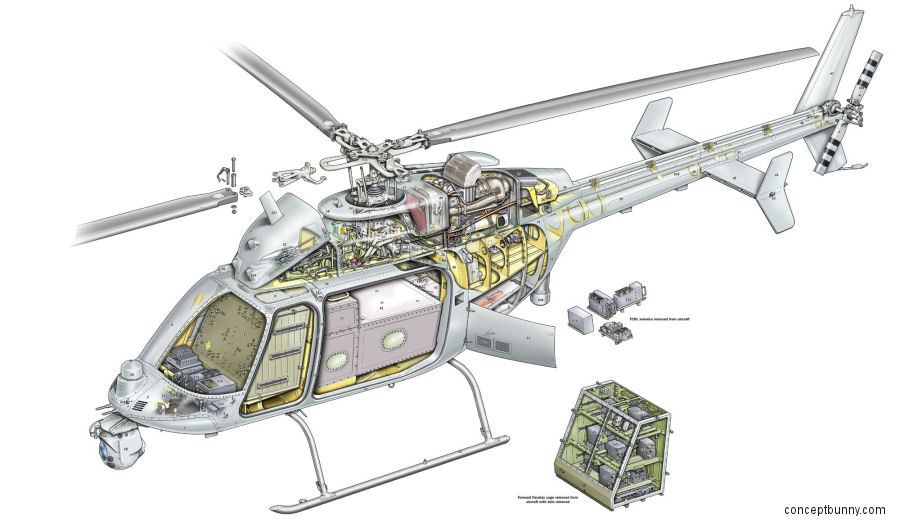 US Navy Acquired Bell 407 for MQ-8C Program, 16-Mar-18 : US Navy acquired 3 Bell 407 airframes valued $10M to be delivered by 2020 for conversion into Northrop Grumman MQ-8C Fire Scout unmanned aerial vehicles (UAV)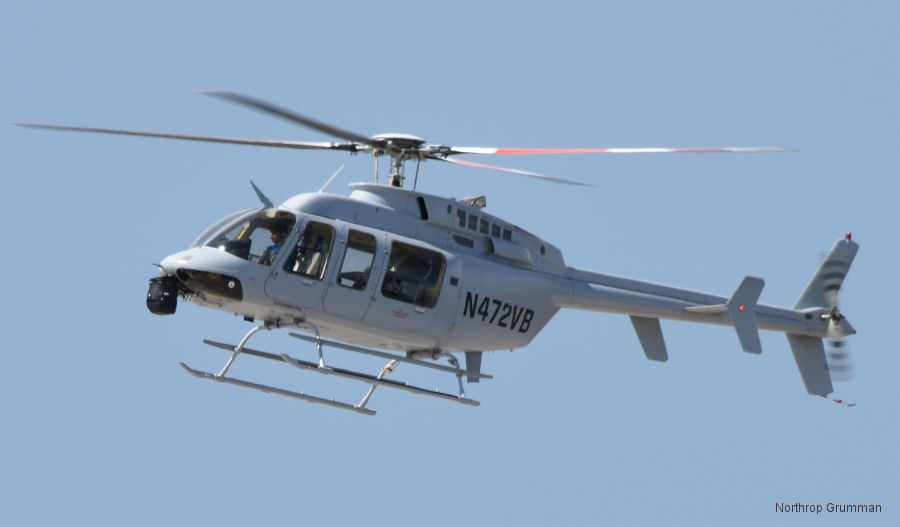 Northrop Grumman at ANTX 2017, 14-Aug-17 : Northrop Grumman demonstrated advanced autonomous technologies during Advanced Naval Technology Exercise, ANTX 2017, at Naval Surface Warfare Center (NSWC) in Panama City, Florida, August 14-18.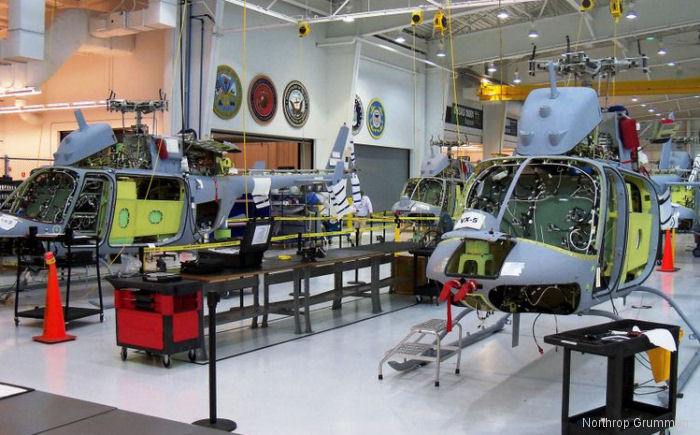 US Navy Orders 10 Additional MQ-8C, 29-Sep-16 : US Navy ordered 10 additional MQ-8C Fire Scout unmanned helicopters to Northrop Grumman bringing the total number to be procured to 29. MQ-8C is based on the Bell 407 airframe.
C/N
Mod
Built
ID In this Org
In other Org


54083
2011
N454LS: Northrop Grumman Systems Corp from Nov11

C-GMHO: Bell Canada 01/30Sep11, test serial C-GAHJ

54105
2012
N4700B: Northrop Grumman Systems Corp from Jul12

C-GRAU: Bell Canada May/Jun 2012, test serial C-FOEP

54102
2012
N4702B: Northrop Grumman Systems Corp from Jul12

C-GPQI: Bell Canada Apr/May 2012, test serial C-FOFB

54112
2012
N470UB: Northrop Grumman Systems Corp from Nov12, test serial C-GADH

54107
2012
N470VB: Northrop Grumman Systems Corp from Jul12, test serial C-GFNL

54118
2012
N472BB: Northrop Grumman Systems Corp from Nov12, test serial C-GLZC

54115
2012
N472VB: mq-8c Northrop Grumman Systems Corp from Mar13, test serial C-GLYY+

54122
2012
N476WB: Northrop Grumman Systems Corp from Nov12

54126
2012
N4771B: Northrop Grumman Systems Corp from Dec12, test serial C-GFNP

54123
2012
N477ZB: Northrop Grumman Systems Corp from Nov12, test serial C-FEXW

54132
2013
N487RH: Northrop Grumman Systems Corp from Aug13, test serial C-GLZK

54137
2013
N489UB: Northrop Grumman Systems Corp from Oct13, test serial C-GAJN

54142
2013
N4945V: Northrop Grumman Systems Corp from Dec13

54144
2013
N4946A: Northrop Grumman Systems Corp from Dec13, test serial C-GBUQ

54139
2013
N494YR: Northrop Grumman Systems Corp from Oct13

C-GWUU: Bell Canada Jul/Aug 2013, test serial C-GLZO

54138
2013
N494ZB: Northrop Grumman Systems Corp from Oct13

C-GWPF: Bell Canada Jun/Aug 2013, test serial C-GFNL

53343
Fire-X
1999
N91796: Fire-X Bell / Northrop Grumman; conv to Fire-X UAV; pictured (pic3)+

LV-ZPF: Gobierno de Salta -2004 Bell serial N8105Q; pictured (+


---

N91796: Bell Helicopters ; ex LV-ZPF, conv to ARH-70 prototype +


---

Bell/Northrop Grumman Fire-X UAV; 10 pictured (pic4) on+