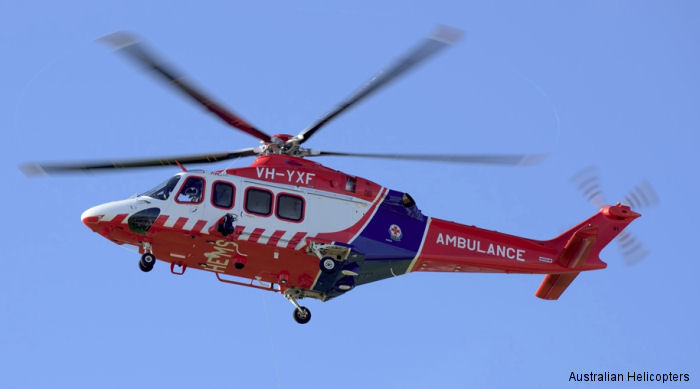 Australian Helicopters New AW139 Ambulance, 29-Jul-15 : Australian Helicopters unveiled one of the new AW139 air ambulances which will be used to support Ambulance Victoria when the 10-year contract starts next January.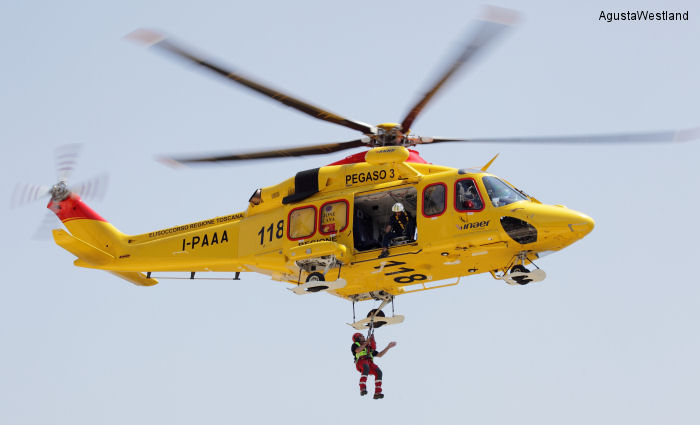 Six AW139 for Australia Air Ambulance Victoria, 07-Jul-14 : Finmeccanica – AgustaWestland and Australian Helicopters are pleased to announce the signature of a contract for AW139 intermediate twin-engine helicopters that will be operated for Ambulance Victoria under a 10 year agreement to perform Emergency Medical Service (EMS) missions.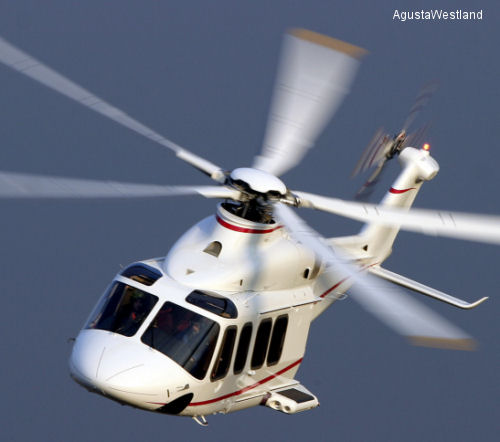 EMS Victoria to Australian Helicopters AW139, 26-Apr-14 : Following a competitive tender process, one of Australia's leading suppliers of mission-critical helicopter services, Australian Helicopters, has been awarded a 10-year contract with the Victorian Government and Ambulance Victoria.
C/N
Mod
Built
ID In this Org
In other Org


31498
2013
VH-PWY: Babcock Offshore Services Australasia Pty Ltd Feb17-Aug18

: Waypoint 2013


---

9M-AIW: Awan Ispirasi 2013-2015


---

VH-PWY: Lloyd / CHC Australia Feb16-Feb17


---

PR-CGO: CHC do Brasil Taxi Aereo, lsd TVPX from Aug18


---



31591
2014
VH-YXF: Australian Helicopters from Feb15, test serial I-EASM, I-PTF+

VH-YXF: Air Ambulance Victoria Feb15, op by Australian Helicop+


---

pictured at Wagga Wagga Airport


---

at Alfred Hospital helipad, Melbourne, VIC


---



31606
2015
VH-YXG: Australian Helicopters from Jun15, test serial I-EASG

VH-YXG: Air Ambulance Victoria Jun15, op by Australian Helicopt+


---

pictured at Wagga Wagga Airport


---

on display at Avalon 2017

31607
2015
VH-YXH: Australian Helicopters from Nov15

VH-YXH: Air Ambulance Victoria Nov15, op by Australian Helicopt+


---

pictured at Wagga Wagga Airport


---

at Essendon Fields Airport

31618
2015
VH-YXI: Australian Helicopters from Sep15, test serial I-RAIK

VH-YXI: Air Ambulance Victoria Sep15, op by Australian Helicopt+


---

pictured (pic2) at Wagga Wagga Airport

31620
2015
VH-YXJ: Australian Helicopters from Sep15, test serial I-EASG

VH-YXJ: Air Ambulance Victoria Sep15, op by Australian Helicopt+


---

pictured at Wagga Wagga Airport


---

at Bairnsdale Regional Health Service

31624
2016
VH-YXK: Australian Helicopters from Sep16

VH-YXK: Air Ambulance Victoria Sep16, op by Australian Helicopt+


---

pictured at Wagga Wagga Airport