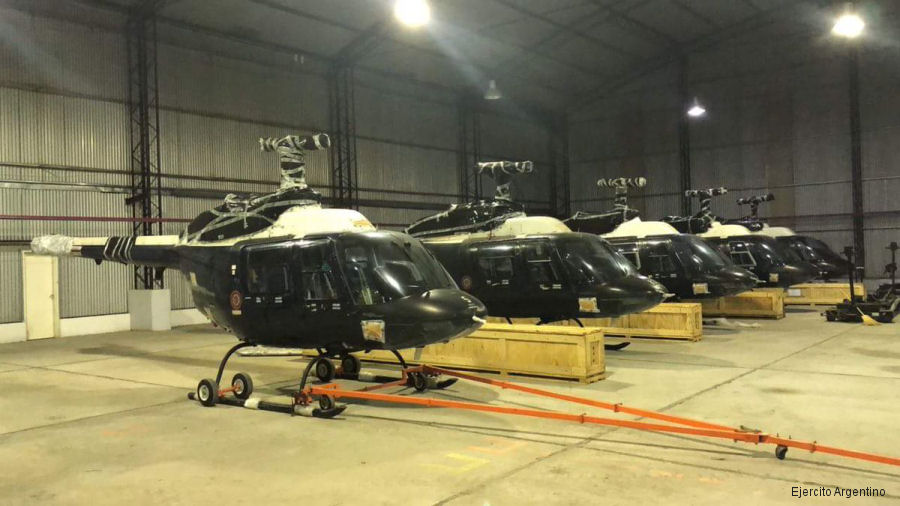 First announced in 2011, 20 former
Carabinieri
initially in exchange of the 3 out-of-service Aeritalia G222. After long delays due bureaucratic and financial problems, contract was signed on 2016. One helicopter was refurbished by Heli World near Rome (including asbestos removal) as pattern trainer for rest to be completed in Argentina. The first 5 arrived at the Puerto of Zarate in Buenos Aires province by ship on January 12, 2018 with shipment completed by mid-year.
Early 2018 was announced 5 of the 20 are to be transferred to
Gendarmeria
in exchange of 2
Huey II
.
On November 2018, 19 were transferred to FADeA (ex FMA) in Cordoba Province for refurbishment and painting.
On October 2019, was revealed that at least two will go to the
Coast Guard
C/N
Mod
Built
ID In this Org
In other Org


9201
ab206b-1
?: Ejercito from 2016 d/d Jan18

MM81047: Carabinieri CC-83

9190
ab206b-1
?: Ejercito from 2016 d/d Jan18

MM81036: Carabinieri CC-72

9191
ab206b-1
?: Ejercito from 2016 d/d Jan18

MM81037: Carabinieri CC-73

9193
ab206b-1
?: Ejercito from 2016 d/d Jan18

MM81039: Carabinieri CC-75

9195
ab206b-1
?: Ejercito from 2016 d/d Jan18

MM81041: Carabinieri CC-77

9196
ab206b-1
?: Ejercito from 2016 d/d Jan18

MM81042: Carabinieri CC-78

9197
ab206b-1
?: Ejercito from 2016 d/d Jan18

MM81043: Carabinieri CC-79

9199
ab206b-1
?: Ejercito from 2016 d/d Jan18

MM81045: Carabinieri CC-81

9200
ab206b-1
?: Ejercito from 2016 d/d Jan18

MM81046: Carabinieri CC-82

9189
ab206b-1
?: Ejercito from 2016 d/d Jan18

MM81035: Carabinieri CC-71

9188
ab206b-1
?: Ejercito from 2016 d/d Jan18

MM81034: Carabinieri CC-70

9179
ab206b-1
?: Ejercito from 2016 d/d Jan18

MM81025: Carabinieri CC-61

9180
ab206b-1
?: Ejercito from 2016 d/d Jan18

MM81026: Carabinieri CC-62

9182
ab206b-1
?: Ejercito from 2016 d/d Jan18

MM81028: Carabinieri CC-64


---

pictured Jul01, A109 CC-85 on the right and AB412 CC-01+

9183
ab206b-1
?: Ejercito from 2016 d/d Jan18

MM81029: Carabinieri CC-65

9184
ab206b-1
?: Ejercito from 2016 d/d Jan18

MM81030: Carabinieri CC-66

9185
ab206b-1
?: Ejercito from 2016 d/d Jan18

MM81031: Carabinieri CC-67

9186
ab206b-1
?: Ejercito from 2016 d/d Jan18

MM81032: Carabinieri CC-68

9187
ab206b-1
?: Ejercito from 2016 d/d Jan18

MM81033: Carabinieri CC-69

9192
ab206b-1
AE-310: Ejercito from 2016 d/d Jan18

MM81038: Carabinieri CC-74

ab206b-1
AE-311: Ejercito d/d Oct19

ab206b-1
AE-312: Ejercito d/d Oct19

ab206b-1
AE-313: Ejercito

ab206b-1
AE-314: Ejercito

ab206b-1
AE-325: FADEA GNA livery Apr20

-: from Army

ab206b-1
AE-326: FADEA PNA livery Apr20

-: from Army

ab206b-1
AE-327: FADEA GNA livery Apr20

-: from Army