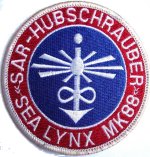 Sea Lynx Mk 88 entered service with the German Navy between 1979 and 1985. The aircraft were purchased in three batches.
Four aircraft were lost during the years of service. Between 1998 and 2001 seven new built aircraft were purchased from manufacturer Westland Helicopters Ltd., forming the 4th batch. The remaining 15 Sea Lynx Mk 88 were upgraded into the Mk 88 A by Eurocopter Germany. The fleet of German Navy Sea Lynx now consists of 22 aircraft, all Mk 88 A standard. The new standard has improved all wheather capabilities, equipped with a 360 degree Marconi Sea Spray 3000 radar, FLIR and GPS.
The usual roles are ASW/ASuW, SAR, troop and cargo transport. For ASW, the aircraft will be equipped with a Bendix dipping sonar and torpedoes Mk46 and Mk4A1.
As ASuW becomes more important, German Sea Lynx are able to fire Sea Skua Missiles and carry a .50 Cal. machine gun, the FN Herstal M3M. The aircraft are based at Naval Air Wing 3, Nordholz and are flown by 3rd Squadron. Sea Lynx are part of the F122 and F123 class frigates.

15 mk88 survivors + 7 new built Super Lynx 100, all to
Mk88a
standard, were in service in 2002
C/N
Built
ID In this Org
In other Org


220
83+01: ex G-BIHJ. w/o 03dec93

223
1981
83+02: wfu. ex G-BIHK. rebuilt as Mk88a c/n 422

G-BIHK: f/f 18 Jun 1981 as G-BIHK (reg Oct 1980, de-reg Feb 198+

225
1981
83+03: rebuilt as Mk88a c/n 404

G-BIHL: Westland Oct80-Sep81

231
83+04: wfu. ex G-BIHM. rebuilt as Mk88a c/n 427

246
83+05: wfu. ex G-17-25. rebuilt as Mk88a c/n 419

252
1982
83+06: wfu. ex G-17-26. rebuilt as Mk88a c/n 414

258
83+07: wfu. ex G-17-27. rebuilt as Mk88a c/n 421

261
83+08: ex G-17-28. w/o 30oct99

263
83+09: wfu. ex G-17-29. rebuilt as Mk88a c/n 412

266
83+10: wfu. ex G-17-30. rebuilt as Mk88a c/n 429

269
83+11: wfu. ex G-17-31. rebuilt as Mk88a c/n 417

272
83+12: wfu. ex G-17-32. rebuilt as Mk88a c/n 428

326
83+13: wfu. rebuilt as Mk88a c/n 423

327
83+14: w/o 16feb00 pictured crashed into the Caribbean Sea, 32km W +

341
83+15: wfu. ex ZG867. rebuilt as Mk88a c/n 430

342
1988
83+16: Germany navy f/f 19aug88, test serial ZG868; d/d 08sep88; +

343
83+17: wfu. ex ZG869. rebuilt as Mk88a c/n 415

344
83+18: wfu. ex ZG870. rebuilt as Mk88a c/n 420

345
83+19: wfu. ex ZG871. rebuilt as Mk88a c/n 413