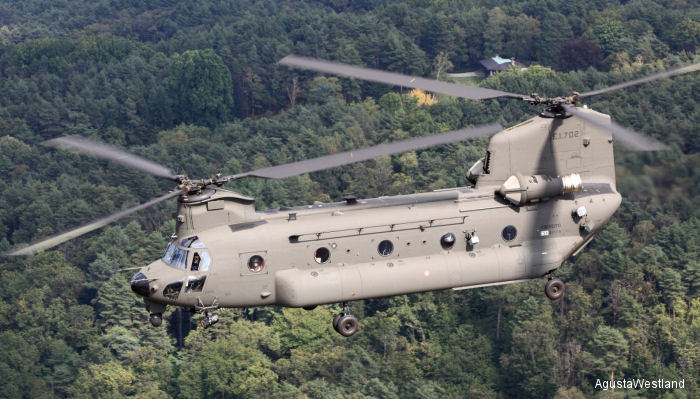 16 aircraft based on the
CH-47F
ordered in 2009 to replace the
CH-47C
with deliveries planned between 2014 and 2017.
AgustaWestland Italy
is prime contractor for systems integration, final assembly and aircraft delivery.
First 2 handed over on October 2, 2014 at Viterbo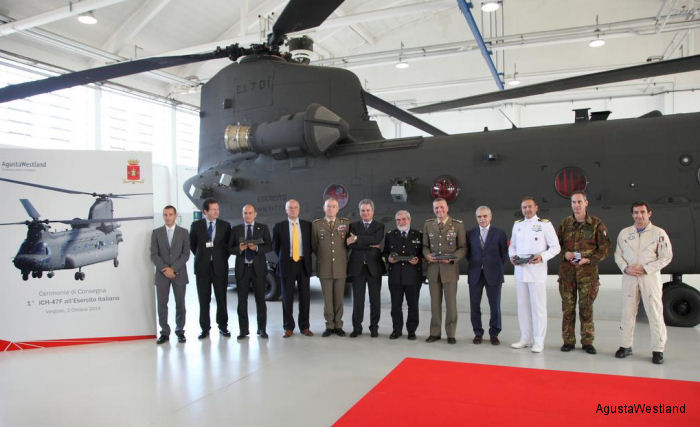 Italian Army Received First Two ICH-47F Chinook, 02-Oct-14 : AgustaWestland is pleased to announce that the Italian Army has taken delivery of its first two ICH-47F Chinook helicopters during an official ceremony held at Vergiate plant (Italy) today. The ceremony was attended by the Italian Army Chief of Staff Gen. Claudio Graziano, the Director of ARMAEREO Lt. General Domenico Esposito and representatives from the industry.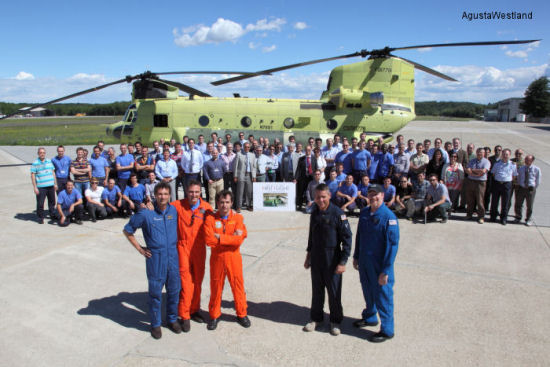 Italian Army ICH-47F Chinook maiden flight, 26-Jun-13 : AgustaWestland, a Finmeccanica company, is pleased to announce that the first ICH-47F Chinook for the Italian Army successfully accomplished its maiden flight on June 24th at Vergiate in Italy. The aircraft took to the air for 15 minutes, performing as expected carrying out basic handling tests and main systems checks.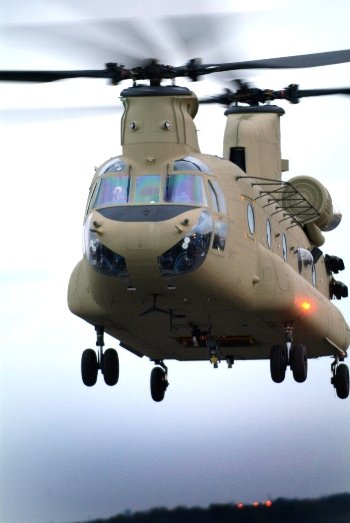 ARMAEREO Awards ICH-47F Chinook Helicopter Contract, 13-May-09 : AgustaWestland, a Finmeccanica company, is pleased to announce that it has been awarded a contract for sixteen ICH-47F Chinook helicopters plus four options for the Italian Army by the General Directorate of Air Armaments (ARMAEREO).
Boeing and AgustaWestland Sign MOU for Joint Rotorcraft Work, 06-Feb-07 : ST. LOUIS, MO - The Boeing Company and AgustaWestland, a Finmeccanica company, today announced the signing of a Memorandum of Understanding (MOU) for joint work on the next-generation Chinook helicopter for the Italian Army and other future rotorcraft opportunities.