Initially ordered in 1986 as the Bell 412SP Tactical Transport Helicopter, with deliveries by sea between Oct 1987 and Apr 1990. Entered service in 1989 and known as the
Arapaho
. Two serial batches 139-149 and 161-167, based on the last 3 of the c/n. Build numbers 87-1 to 87-16 allocated.

Norwegian Bell 412s were assembled by
Helikopter Service
from 1987. Since then, have been converted to the 412HP standard by
Heli-One
at Stavanger.
Norwegian Bell 412s celebrate 100,000 flight hours on December 2009.
They were deployed to Kosovo and Afghanistan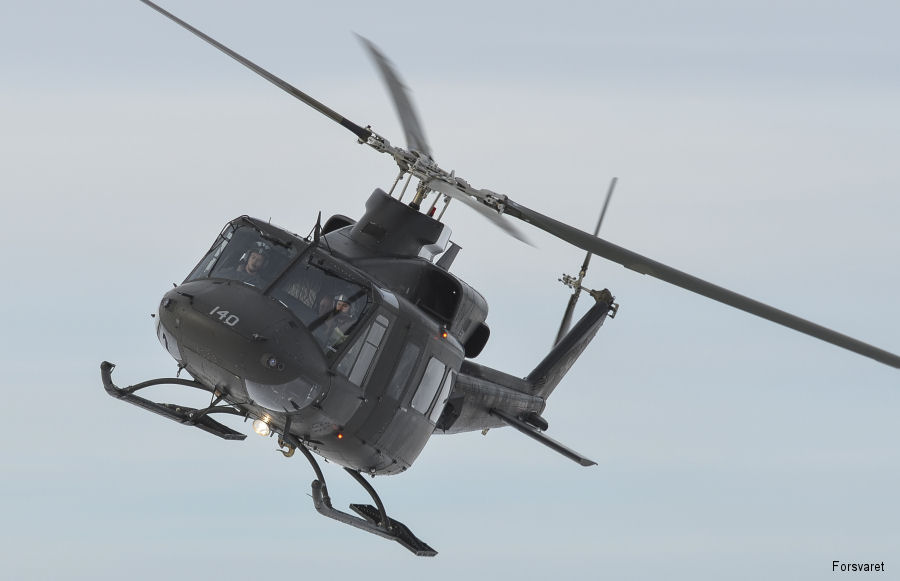 Patria to Maintain Norwegian Bell 412, 26-Sep-17 : Patria (Sweden) awarded 3-years 7.1M EUR contract for the maintenance of the Royal Norwegian Air Force Bell 412 helicopters at their Stockholm Arlanda facility
C/N
Mod
Built
ID In this Org
In other Org


33130
412sp
1987
130: RNoAF, w/o 04jan88 crashed at Bardufoss due hydraulic system+

33139
412sp
1987
139: 1987 assembled at Helikopter service; Nov87 d/d 339 Sqn RNoA+

33140
412sp
1987
140: 1987 assembled at Helikopter service; RNoAF 339 Sqn and 720 +

33141
412sp
1987
141: 1987 assembled at Helikopter service; RNoAF d/d Apr88; 339 +

33142
412sp
1987
142: 1987 assembled at Helikopter service; RNoAF d/d Aug88; 339 S+

33143
412sp
1987
143: 1987 assembled at Helikopter service; RNoAF d/d Aug88; 339 S+

33144
412sp
1988
144: 1988 assembled at Helikopter service; RNoAF 339 Sqn

33145
412sp
1988
145: 1988 assembled at Helikopter service; RNoAF 339 Sqn and 720 +

33146
412sp
1988
146: 1988 assembled at Helikopter service; RNoAF 339 Sqn

33147
412sp
1988
147: 1988 assembled at Helikopter service; RNoAF d/d Feb89; 339 S+

33148
412sp
1988
148: 1988 assembled at Helikopter service; RNoAF 339 Sqn

33149
412sp
1988
149: 1988 assembled at Helikopter service; RNoAF 339 Sqn

33161
412sp
1989
161: 1989 assembled at Helikopter service; RNoAF 339 Sqn

33162
412sp
1989
162: 1989 assembled at Helikopter service; RNoAF 339 Sqn and 720 +

33163
412sp
1989
163: 1989 assembled at Helikopter service; RNoAF 720 Sqn

33164
412sp
1989
164: 1989 assembled at Helikopter service; RNoAF 339 Sqn and 720 +

33165
412sp
1989
165: 1989 assembled at Helikopter service; RNoAF d/d Jan90; 720 +

33166
412sp
1989
166: 1989 assembled at Helikopter service; RNoAF 339 Sqn and 720 +

33167
412sp
1990
167: 1990 assembled at Helikopter service; RNoAF 339 Sqn and 720 +