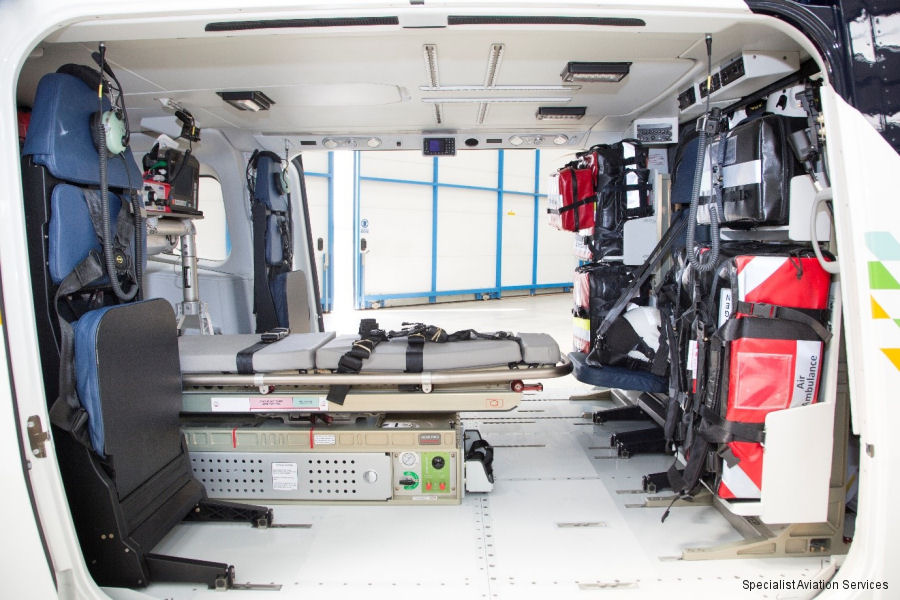 More News ...


C/N
Mod
Built
ID In this Org
In other Org
69100
2019
G-CRWL SAS from 28dic19, test serial I-RAIK

G-CRWL: Cornwall Air Ambulance 2020, op by SAS
pictured entering service
08may20 13:55 BST on a flight eastbound from Newquay Ai...
heli appeal supporters named painted underside
pictured (pic2) in bath time
pictured (pic3) and video at Porthmeor Beach, St Ives

69027
2016
G-DSAA SAS from Oct16, for DSAA

G-DSAA: Dorset & Somerset Air Ambulance (DSAA) , op by SAS, pic...
first landing at Royal Bournemouth Hospital (RBH) new ...
naming ceremony as PEGASUS at Yeovil
27apr18 09:30hs landed Bower Manor Park Bridgwater Some...
15may18 02:00 hs landed Moretonhampstead, Dartmoor
Durrington

69049
2017
G-HHEM SAS from Apr17, test serial I-RAIM

I-RAIM: Manufacturers test serial. To UK
G-HHEM: Herts and Essex Air Ambulance
13:45hs Landed Belswains School field, Hemel Hempstead
22sep17 landed at Kensington Gardens, London
Herts and Essex Air Ambulance (EHAAT); 04oct17 pictured...
EHAAT at North Weald Airfield

69061
2017
G-KSSC SAS from Dec17

I-EASJ: AgustaWestland Italia Nov17
G-KSSC: at Palatine Park

op by SAS, pictured
06mar20 JD101 landed at Goldsmiths Park, Crowborough


Broadstairs Kent
pictured (pic2) rainbow day

69014
2016
G-KSST Specialist Aviation Services from 08feb16 for KSSAAT

I-RAIS: AgustaWestland Dec15
G-KSST: In use by Kent, Surrey & Sussex Air Ambulance ( KSSAAT ...
Kent Air Ambulance from Jun16, op by SAS
pictured on display at Helitech 2016

at Kortrijk
Herne Bay Kent
pictured (pic2) thunderstorm
Milton, Sittingbourne

69023
2016
G-LNAC SAS from Sep16, test serial I-RAIS for LNAACT

G-LNAC: at Gloucestershire Airport
LNAACT Jan17-Aug21
pictured started carrying blood to undertake on-site bl...
Lincolnshire and Nottinghamshire Air Ambulance ( LNAACT...
first helicopter to land in the Hull Royal Infirmary ne...
in the middle of a field, Grantham
Dorset and Somerset Air Ambulance at Henstridge, Englan...
landed at Maidstone Hospital, Kent
Ferring West Sussex
Milton Regis Recreation Ground, Milton Regis, Sittingbo...
now with Kent Surrey Sussex Air Ambulance

69077
2018
G-MGPS SAS from Dec18

I-RAIT: Leonardo Jul18
G-MGPS: Magpas op by SAS, pictured
flew over Wisbech
just taken off from NNUH, Colney Lane, Norwich
Downham Market, landed for roughly 45mins

69055
2017
G-PICU SAS from Sep17

I-EASI: AgustaWestland May17
G-PICU: Children Air Ambulance, op by SAS; 17jul18 pictured at ...
17feb19 15:40 hs landed in Regent's Park's southeas...
14:20 hs left RCH Treliske Truro Cornwall
12apr19 flew over Wolverhampton, West Midlands
15apr19 14:53 hs flew over Wroughton, Wiltshire
at Bristol Royal Infirmary
22apr19 20:15 hs southbound over Derby, 2000ft
lunchtime at Plymouth Derriford Hospital
17:08 hs left RCH Treliske Truro Cornwall
16:30 hs at Derriford Hosp helipad, Plymouth
10:10 hs Oxford Airport to City Airport, Heliport, Manc...
Battersea heliport
19:45 hs Leicester;;Flew over Leicester
12:27 hs landed at Ipswich Hospital
flew over Bristol
Saltash towards plymouth
13:24 hs flew over Chipstead, Surrey
landed to the west of Shipbourne, departed from KRH
Danbury Essex
15:40 hs landed on Weaver's Fields, Bethnal Green
16:50 to 17:20 hrs at Grays Essex
Essex and Herts. Appears to be spare helicopter, curren...
Covering at DSAA while usual helicopter is in for servi...

69064
2018
G-SASX Specialist Aviation Services from Apr18, test serial I-EASL

G-SASX: Isles of Scilly Steamship Company, op by SAS; Island He...

69038
2016
G-TCAA SAS Aug17-Nov21, test serial I-EASJ for Childrens Air Ambulance

G-TCAA: Children Air Ambulance Aug18, op by SAS; pictured
04feb19 passed over head UPTON (waymarker) .EX Barnsley...
circling over west side of Derby. Appears to be carryi...
19may19 09:00 hs Gamston to Doncaster-Sheffield dsa
15jul19 11:00 hs landed at Grimsby rugby club, possible...
Retford, Staverton/Gloucester, Bristol, Truro, Newquay
HL9682: UI HELIJET at Yesan, South Korea from Jan22; Air Ambul...





No longer with this org.