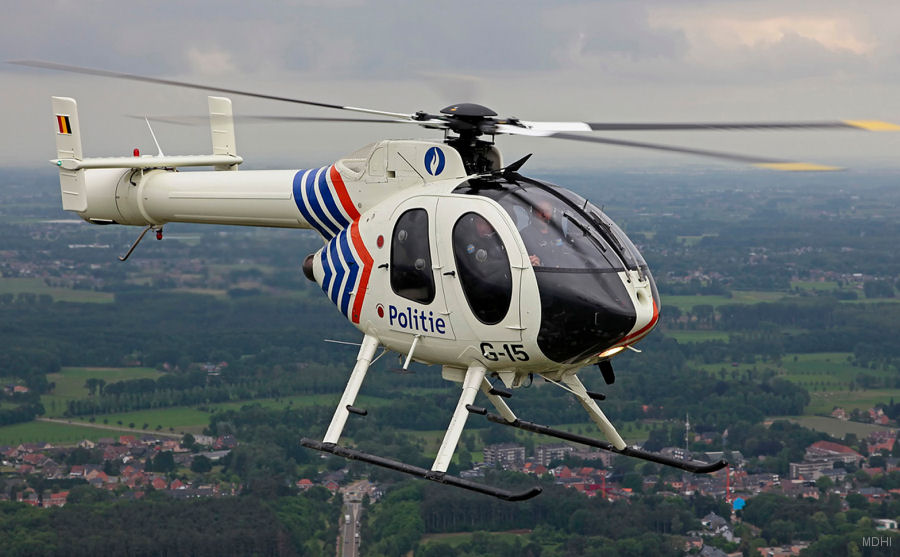 MD Helicopters, September 14, 2006 - MESA, AZ - MD Helicopters, Inc. (MDHI) today announced its fleet of NOTAR helicopters have clocked more than 670,000 flight hours since MDHI's exclusive NOTAR anti-torque technology was introduced in 1991.

MDHI's MD 520N, MD 600N and MD Explorer helicopters utilize this technology.

"As a leading member of the team that developed and fielded the NOTAR® system, our customers' successful fleet experience is an overwhelming gratification for the MD Team's effort," said MDHI Chief Technology Officer, Andy Logan.

The NOTAR anti-torque system helps MDHI provide some of the safest, quietest helicopters available. It provides a responsive FOD-resistant directional control system using the natural characteristics of helicopter aerodynamics. An enclosed variable-pitch composite blade fan produces a low pressure, high volume of ambient air to pressurize the composite tailboom. The air is expelled through two slots which run the length of the tailboom on the right side, causing a boundary-layer control called the "Coanda Effect". This results in the tailboom essentially becoming a "wing," flying in the downwash of the rotor system, producing up to 60 percent of the anti-torque required in a hover. The balance of the directional control is accomplished by a rotating direct jet thruster.

In forward flight, the vertical stabilizers provide the majority of the anti-torque; however directional control remains a function of the direct jet thruster. The NOTAR® anti-torque system eliminates all of the mechanical disadvantages of a tail rotor, including long drive shafts, hanger bearings, intermediate gearboxes and ninety-degree gearboxes.

MD Helicopters is a leading manufacturer of commercial and military helicopters. The MDHI family of rotorcraft is world renowned for their value, versatility and performance. The MD Helicopters family includes the twin-engine MD Explorer®, and single engine versions of the MD 600N®, MD 520N®, MD 500E® and MD 530F®. The NOTAR® system for anti-torque control is the exclusive property of MD Helicopters. The Company is based in Mesa, Arizona.

Patriarch Partners, LLC is an investment firm in New York and Charlotte, North Carolina which together with its affiliates, provides portfolio management services and serves as investment advisor to multiple leveraged funds and a private equity fund. Founded in 2000 by Lynn Tilton, Patriarch provides innovative financial solutions, strategic direction and operational expertise to companies undergoing periods of pervasive change. Patriarch currently monitors credit facilities in respect to approximately $5 billion dollars of assets under its management, including equity positions (majority and minority) in more than 65 companies. Lynn Tilton serves as Chairman of the Board of MDHI. Funds managed by Patriarch Partners own a majority and controlling interest in MDHI.
McDonnell Douglas MD520N
MD Helicopters MD600N
McDonnell Douglas MD900 Explorer

MD Helicopters