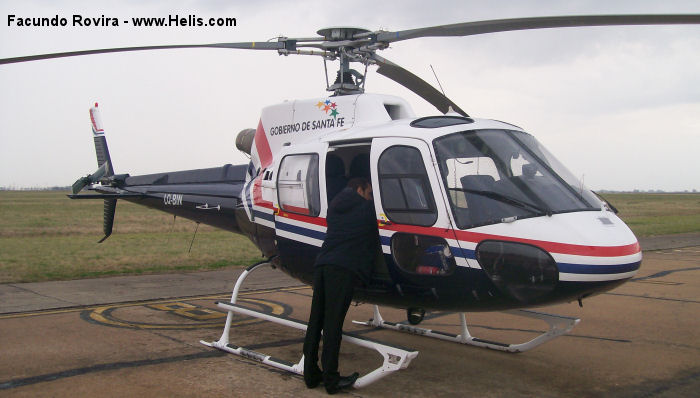 Bell 429 Increased Weight Approval in Argentina, 24-Jul-12 : Fort Worth, TX - Bell Helicopter, a Textron Inc. company, announced today that the Administración Nacional de Aviación Civil in Argentina has joined the growing number of countries who have approved the increased maximum gross weight for the Bell 429 based on Transport Canada's certification.
Model
C/N
Built
ID
Bo105CBS-5
0917
1996
? : Santa Fe Province from Dec14 via Flight Express SA, Bs As; 03dec1 ...

HB350B3 Esquilo
4230
2007
LQ-BIN : Santa Fe Province, test serial PP-MZC
: 25feb09 pictured (pic1) at Coast Guard heliport Rosario
: 24oct12 video at Coast Guard heliport, Rosario
: 13aug14 pictured (pic2) at inauguration of Police heliport LADH 2 ...
: 10jan16 pictured (pic3) during searching of fugitives

429
57178
2013
LQ-FVF : 06sep14 video arriving for first time at Santa Fe

Bo105CBS-4
0847
1991
LQ-ZHO : Santa Fe Province police from Aug15; pictured (pic2), 911 titles
: 10jan16 pictured (pic3) at Sauce Viejo. AS350 LQ-BIN on backgroun ...

429
57178
2013
LV-FVF : Gobierno de la Provincia de Santa Fe Sep14

A109a
7142
LV-WJC : ex Argentine Army AE-333. std after lost tail on flying and hard ...


5 Construction Numbers in this organisation found