A Company, 1st Battalion
Idaho Army National Guard
B Company, 1st Battalion Hawaii Army National Guard /
Washington Army National Guard
C Company, 1st Battalion California Army National Guard. Hstorically the 126th Medical Company (Air Ambulance) CA/NV/WA ARNG. From 2008 C is part of 66th Theater Aviation Command
A Coy, 1-168th GSAB (
Idaho
ANG) spent May 2012 until Feb 2013 deployed to Bagram AB, as part of
ISAF
.

News of 168th Aviation Regiment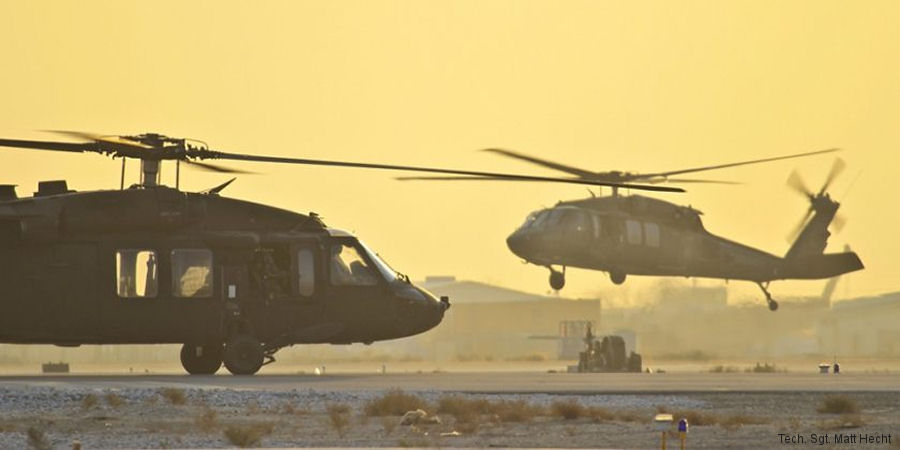 First Female to Lead Idaho Unit into Combat, 30-Mar-18 : Major Nicole Washington was the first female officer in Idaho National Guard's history to lead a unit to war as its senior ranking officer when deployed to Afghanistan with Co A, 1-168th GSAB in 2012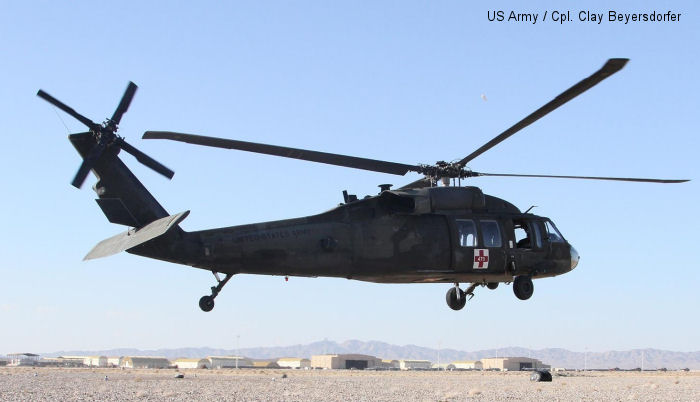 168 Av Regt MEDEVACs in Afghanistan, 12-Dec-13 : SHINDAND AIRBASE, Afghanistan by Cpl. Clay Beyersdorfer, ISAF Regional Command South - Eight soldiers make their way into a dimly-lit tent on a brisk December morning at Shindand Air Base, Afghanistan.
Years
Location
ICAO/FAA
2012/13
Bagram
OAIX




168 AVN List of helicopters

Help Us
C/N
Version
Built
In this Org
In other Org
uh-60l
00-26863 : US Army; Dec11 Co C, 1-168th AVN, California Army National Guard

uh-60l
00-26864 : US Army; 2006 1-168th AVN HI ARNG; 2011 still

uh-60l
00-26870 : US Army; 2006 1-168th AVN HI ArNG

uh-60l
01-26882 : US Army; 2006 1-168th AVN, HI ARNG

uh-60l
01-26883 : US Army; 2006 1-168th AVN. HI ArNG

70-2706
uh-60l
01-26894 : US Army HH-60L type; Dec11 Co C, 1-168th AVN, California Army National Gua+

70-2710
uh-60l
01-26895 : US Army HH-60L type; Dec11 Co C, 1-168th AVN, California Army National Gua+

70-2814
uh-60l
02-26964 : US Army HH-60L type; Dec11 Co C, 1-168th AVN, California Army National Gua+

N964SB : Santa Barbara Fire Dept (SBCFD) from Feb19
: set to be retrofitted as a firefighting aircraft for Santa Barbara County +

uh-60l
02-26965 : US Army HH-60L type; Dec11 Co C, 1-168th AVN, California Army National Gua+

70-2779
uh-60l
03-26987 : US Army; conv to HH-60L; 2010 Co C 1-168th AVN CA ARNG; 2017 still

N703JP : DHS from Feb19; CBP?

M.8713
ch-47f
04-08713 : 2017 asg B Co, 1-168th AVN, WA ARNG

70-2865
uh-60l
04-27020 : US Army HH-60L type; Dec11 Co C, 1-168th AVN, California Army National Gua+

- N158TF : ntu Dec19

M.8030
ch-47f
06-08030 : Oct16 1-168th AVN, WA ARNG; Jul18 B Co 1-168th GSAB, Oregon ARNG pictured +

M.8720
ch-47f
06-08720 : 2017 asg B Co, 1-168th AVN, WA ARNG

M.8747
ch-47f
07-08747 : 2017 asg B Co, 1-168th AVN, WA ARNG

M.8073
ch-47f
09-08073 : 2017 asg B Co, 1-168th AVN, WA ARNG

M.8878
ch-47f
12-08878 : 2017 asg B Co, 1-168th AVN, WA ARNG

M.8880
ch-47f
12-08880 : 2017 asg B Co, 1-168th AVN, WA ARNG

M.8882
ch-47f
12-08882 : 2017 asg B Co, 1-168th AVN, WA ARNG

M.8883
ch-47f
12-08883 : 2017 asg B Co, 1-168th AVN, WA ARNG

41266
oh-58a
71-20405 : 1993 asg 1-168th AVN WA ARNG

41987
oh-58a
72-21321 : 1995 asg 1-168th AVN WA ARNG

70-070
uh-60a
78-23007 : US Army; Dec11 Co C, 1-168th AVN, California Army National Guard

N803PJ : PJ Helicopters from Mar15
: 27jul16 flying over the Sand fire near LA
: 04aug16 flying over Cold Fire, Lake Berryessa, CA
: placed into service at Fort Wainwright, Fairbanks, Alaska for Bureau of La+

70-150
uh-60a
79-23333 : US Army; Dec11 Co C, 1-168th AVN, California Army National Guard

N540JS : BHI from Feb15

70-263
uh-60a
80-23505 : Dec11 Co C, 1-168th AVN, California Army National Guard

70-266
uh-60a
80-23508 : Dec11 Co C, 1-168th AVN, California Army National Guard

70-343
uh-60a
81-23621 : US Army; Dec11 Co C, 1-168th AVN, California Army National Guard

70-497
uh-60a
82-23674 : Dec11 Co C, 1-168th AVN, California Army National Guard

70-804
uh-60a
84-23970 : US Army; Dec11 Co C, 1-168th AVN, California Army National Guard

70-1005
uh-60a
86-24508 : US Army; Dec11 Co C, 1-168th AVN, California Army National Guard

70-1101
uh-60a
87-24591 : US Army, UH-60A+; 2016 Co C 1-168th AVN CA ARNG

70-1290
uh-60a
88-26070 : Det1 Co 1-168th AVN NV ARNG

uh-60l
92-26409 : Co C 1-168th AVN