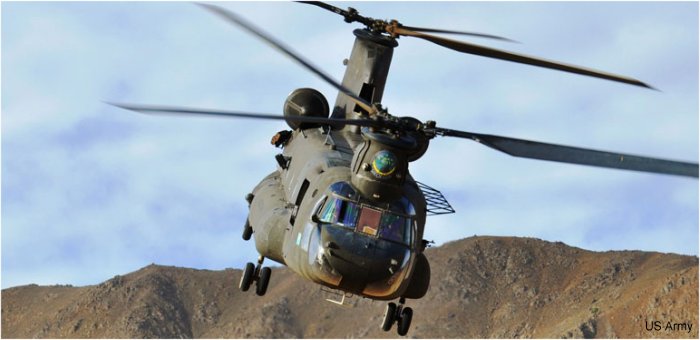 Aimed as a low cost re-manufacture of the CH-47D and to extend the model life
to 2060
, the CH-47F first flew in 2001 and the first production machine came off the Boeing Pennsylvania line in July 2004.
All F-models are built with a completely re-designed and newly manufactured airframe. While some aircraft are assembled with "recycled" components from D-models, approximately 40 of the F-models produced as of 2014 are "new builds".
Main features includes new 4.868 shp Honeywell engines, improved avionics and an upgraded airframe with larger single-piece sections to reduce part count thus reducing vibrations and the need for inspections and repairs.
Specifications CH-47F Chinook
Derivatives & Versions of CH-47F Chinook
Model
Year
History
MH-47G Chinook

2004
2004
Based on the CH-47F with the CAAS glass cockpit, the MH-47G Special Operations Aircraft (SOA) are used by 160th SOAR. They were first delivered ...

HH-47H Chinook

2006
2006
The HH-47, a variant based on the special operations aircraft MH-47G, was selected by the USAF as the winner of the Combat Search and Rescue ( C ...

CH-147F Chinook

2012
2012
CH-47F variant for the Canadian Forces. First flight June 24, 2012

AW ICH-47F Chinook

2013
2013
AgustaWestland and Boeing signed an industrial agreement for the joint manufacture of the ICH-47F in July 2008. Under the agreement AgustaWestlan ...

CH-47F Block II

2019
2019
The CH-47F Block II Chinook featured an improved drivetrain to transfer greater power from the engines to the all-new, swept-tip Advanced Chinook ...

German CH-47 Chinook

2022
2022
Based on the CH-47F Block II, a Chinook Extended Range (ER) variant is proposed for the German Heavy Lift Helicopter program