News about Boeing CH-47F Chinook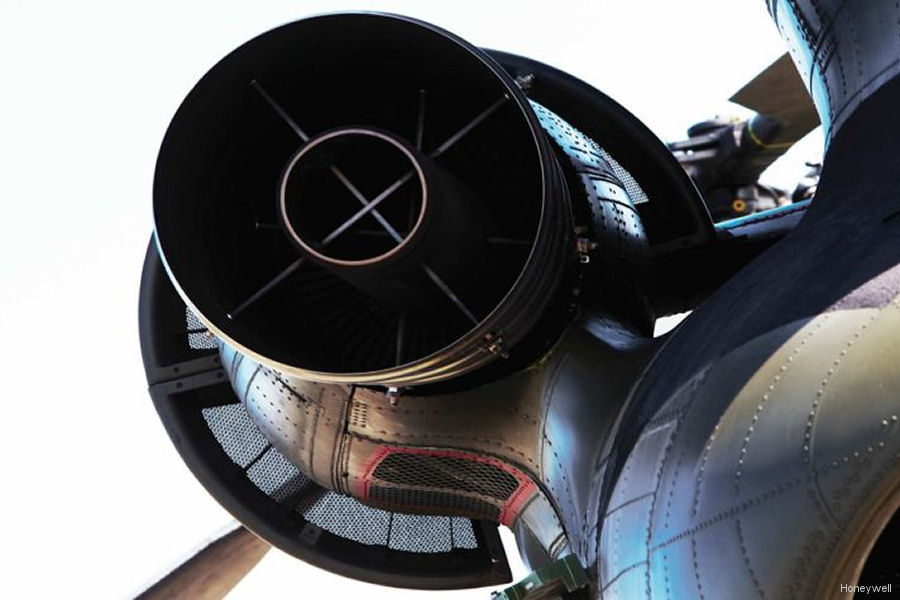 Honeywell Wins T55 Contract for US Army Chinooks, 15-Oct-20 : #T55 Honeywell awarded US Army 5-year IDIQ (Indefinite Delivery, Indefinite Quantity) contract for the repair and overhaul of T55-GA-714A used by CH-47 Chinook helicopters ensuring mission readiness for heavy-lift helicopters fleet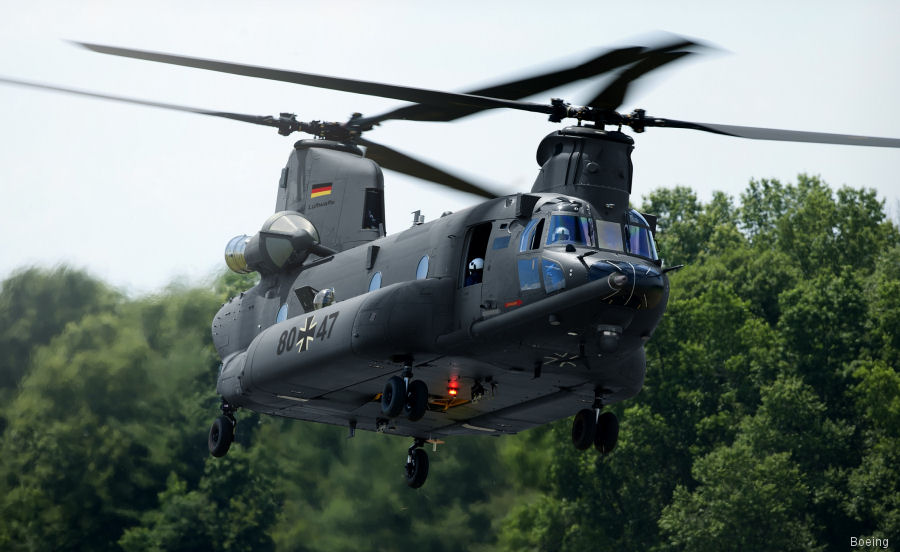 T55 Support in Germany for Chinook, 18-Sep-20 : #T55 Rolls-Royce Deutschland under license of Boeing and Honeywell will perform local support of the T55 engines if the CH-47 Chinook is selected in the Transporthubschrauber (STH) heavy-lift helicopter requirement to replace the current CH-53G fleet in the Bundeswehr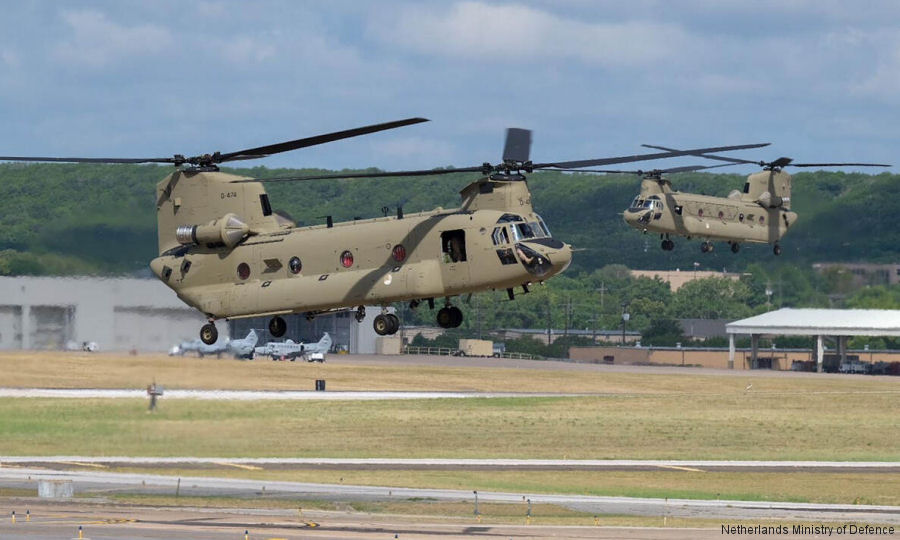 New Chinooks Delivered to the Netherlands, 16-Aug-20 : #Chinook The Royal Netherlands Air Force (RNLAF) received the first 2 of additional 14 CH-47F Chinooks to replace the remaining D models used by 298 and 302 (training) squadrons. The new helicopters are from the MYII CAAS variant which will be also applied to the 6 existing F aircraft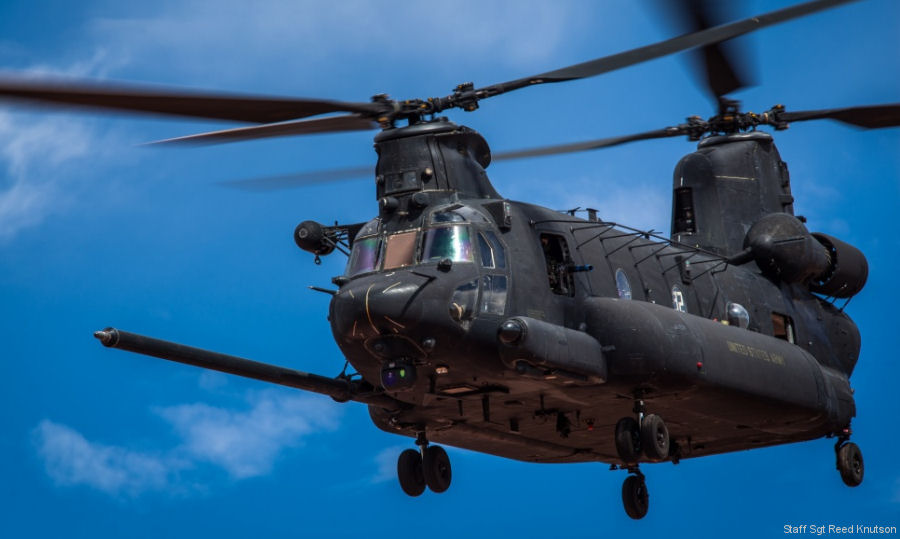 US Army Orders Nine MH-47G Block II for $265M, 31-Jul-20 : #Chinook Boeing receives $265M contract for 9 MH-47G Block II Chinook for the US Army special forces. Twenty-four helicopters are now in order with the first one to be delivered this year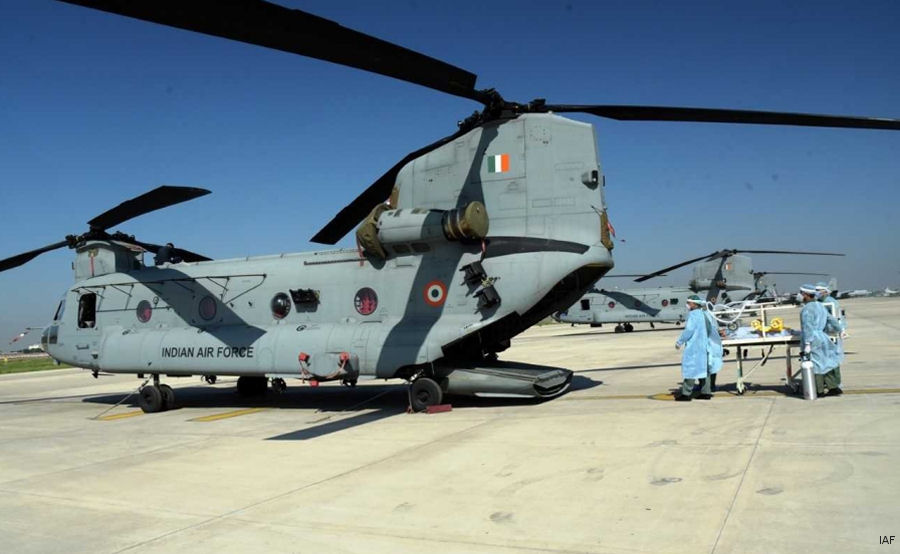 Indian Air Force Developed ARPIT Pod, 12-Jul-20 : #ARPIT The Airborne Rescue Pod for Isolated Transportation (ARPIT), a indigenously developed stretcher to evacuate Coronavirus (COVID-19) patients, entered service in the Indian Air Force (IAF)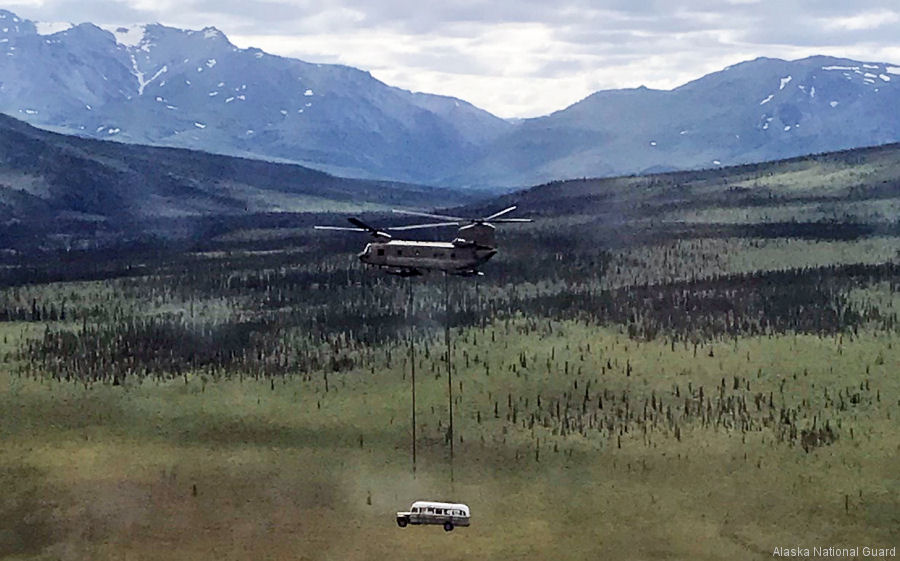 Alaska Guards Chinook Airlifts "Into the Wild" Bus, 22-Jun-20 :

#Bus142 "Bus 142" of the book and movie "Into the Wild" was finally extracted from the Stampede Trail west of the Teklanika River by an Alaska Army National Guard CH-47F Chinook helicopter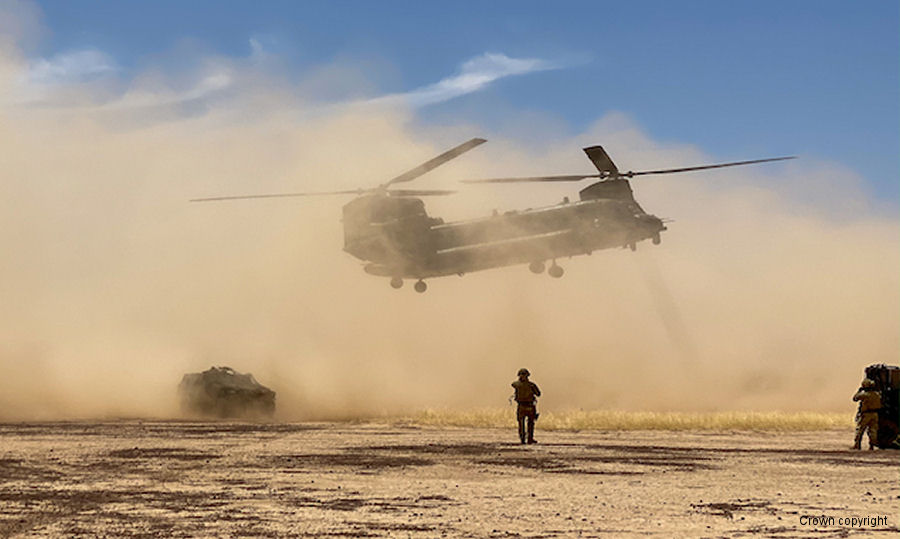 RAF Chinooks to Remain in Mali, 12-Jun-20 : Three RAF Chinooks and 100 personnel will remain in Mali as UK extends its commitment to supporting French counter-terrorism operation in the Sahel. The helicopters have been deployed in country in non-combat roles since 2018 under Operation Newcombe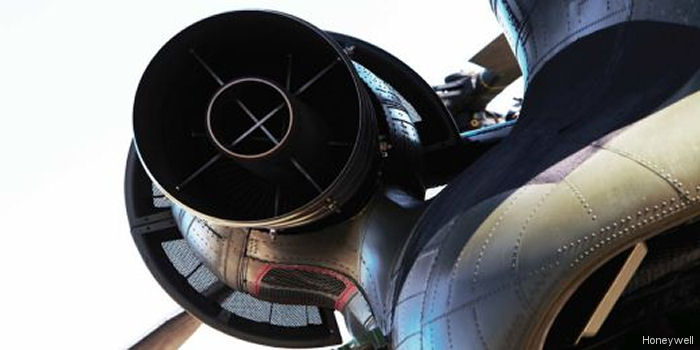 Next Generation Engine for US Army Chinook, 08-Jun-20 : #Chinook Honeywell to demonstrate to the U.S. Army its new T55-GA-714C for the CH-47 Chinook helicopter at Fort Eustis. The all-new engine variant is 25% more powerful and consumes 10% less fuel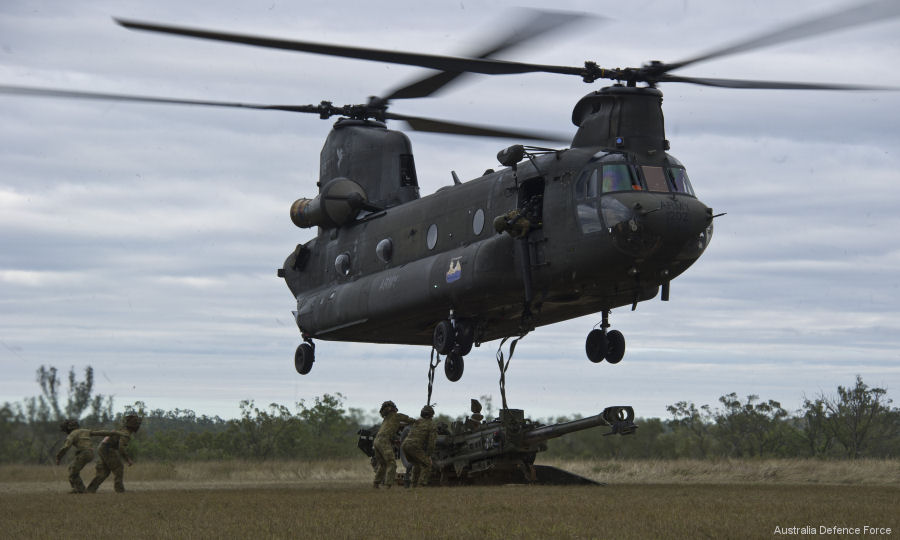 International Chinooks Maintenance Contract, 28-May-20 : #Chinook Triumph Group in Pennsylvania awarded 6-year contract extension for maintenance, repair and overhaul (MRO) services of CH-47 Chinook helicopters of an undisclosed country.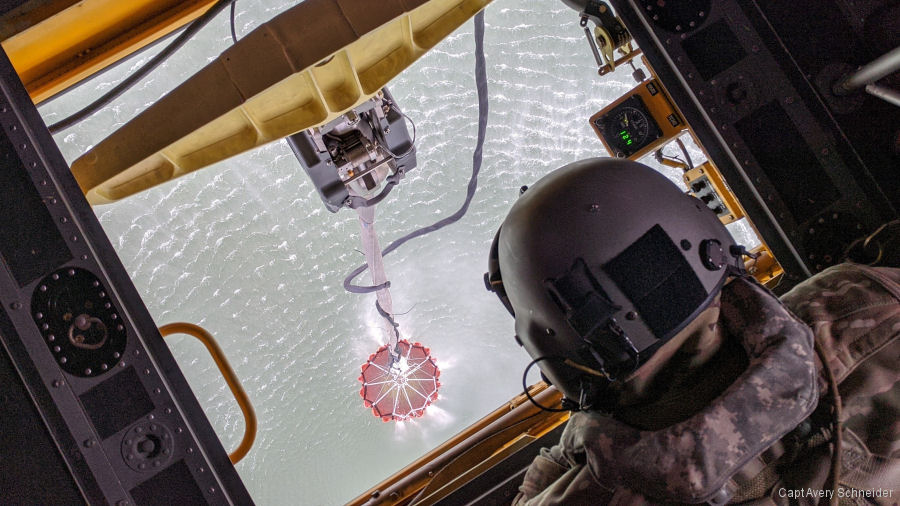 NY Guards Chinook in Water Bucket Training, 14-May-20 :

#firefighting New York Army National Guard CH-47F Chinook completed firefighting training with a bambi bucket on Lake Ontario at Hamlin Beach State Park to prepare crews in the fight against wildfires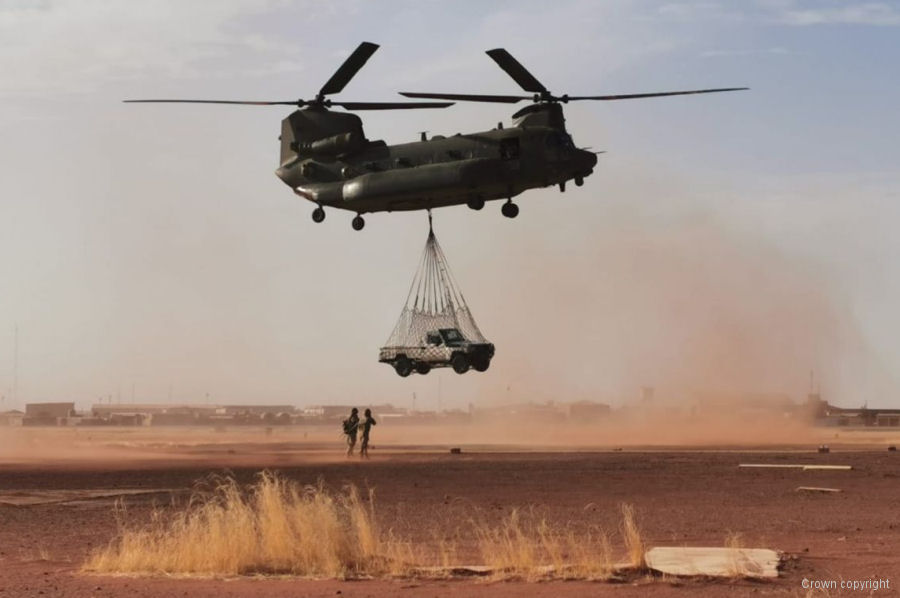 RAF Chinooks Pass 2000 Hours Milestone in Mali, 07-May-20 : #Barkhane Royal Air Force Chinooks achieved 2000 flight hours supporting French operation Barkhane in Mali. Since July 2018, the British helicopters have moved over 1.000 tonnes of freight and over 12.000 passengers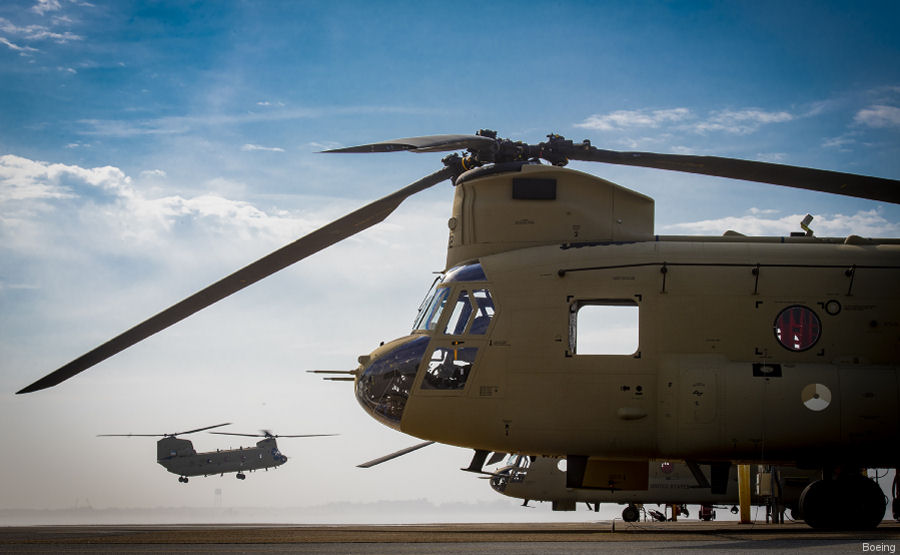 First CH-47F Chinook for the Netherlands, 03-Apr-20 : #delivery The Royal Netherlands Air Force (RNLAF, Koninklijke Luchtmacht) received the first of a new batch of 14 CH-47F Chinooks. Netherlands is one of eight NATO nations to operate the heavy-lift helicopter and received six CH-47F in 2012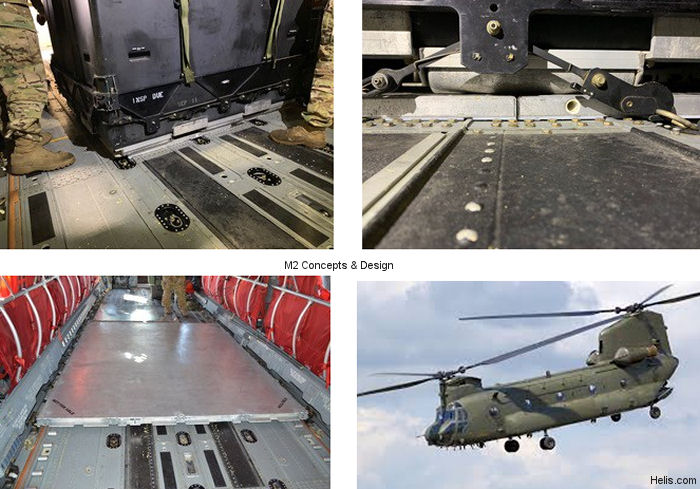 ERFS Tank Shoring System for CH-47 Chinook, 24-Mar-20 : #ERFS S.A.F.E. Structure Designs signed agreement with M2 Concepts & Design to manufacture and distribute its cable enabled shoring system for extended range fuel system (ERFS) tanks on the MH/CH-47 Chinook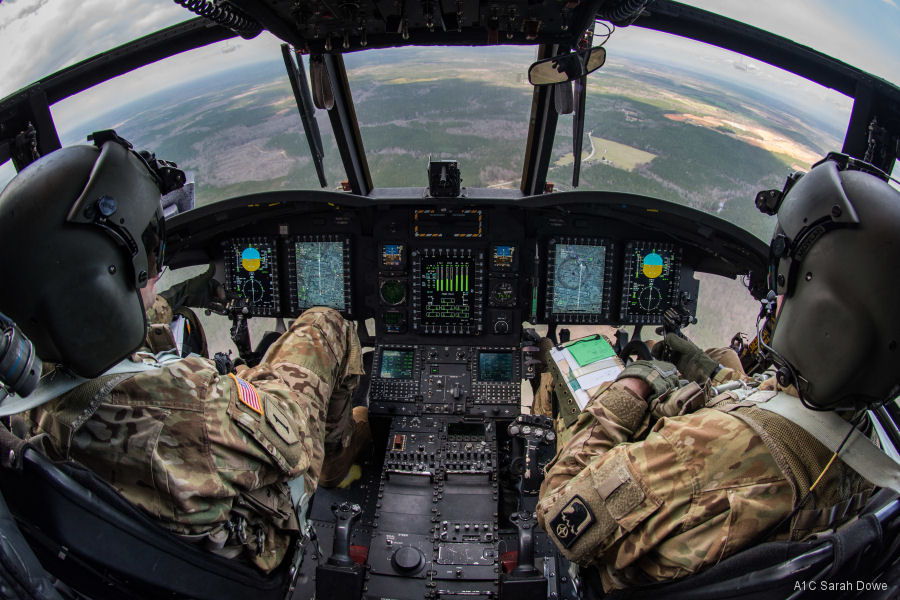 159th GSAB 244th Bravo Company, 15-Mar-20 : #Chinook US Army 159th General Support Aviation Battalion (GSAB) 244th Bravo Company "Freight Train" Chinook helicopter training in Virginia with the 359th Transportation Company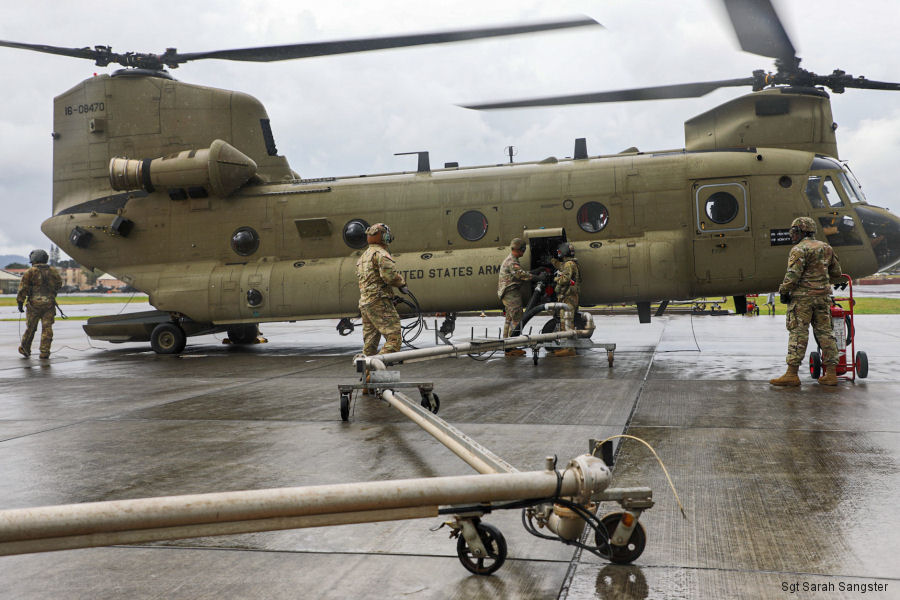 Army's "Fat Cow" Fueling Operation, 16-Feb-20 : #FatCow Hawaii' 25th Combat Aviation Brigade practice refuel of UH-60 Black Hawk and AH-64 Apache helicopters from CH-47F Chinook during training in Forward Arming and Refueling Point (FARP) procedures at Schofield Barracks
More News ...
07-Feb-20 - Singapore Chinooks Ended Bushfires Mission #AustraliaBushfires
17-Jan-20 - Chinook Block II New Advanced Rotor Blades #ACRB
14-Jan-20 - Boeing Submitted Chinook Proposal to Germany #Chinook
16-Oct-19 - Honeywell to Upgrade Chinook' T55 Engines #T55
23-Sep-19 - California Guards Chinook Rescue Injured Hiker #MountWhitney
20-Sep-19 - ChipCHECK Auto Analysis Tested by Australia in TS19 #TalismanSabre
16-Sep-19 - NY Guards Medics Learn Medevac Skills #NationalGuard
11-Aug-19 - Paratroopers in Leapfest Competition #leapfest
30-Jul-19 - RCAF Chinook Female Pilot Recognition #WomenPilot
11-Jul-19 - Dutch Chinooks APU Maintenance Contract #Chinook
09-Jul-19 - RAF Chinooks Extends Deployment in Mali #Chinook
01-Jul-19 - Illinois' Guard Chinooks Training at Fort McCoy #Chinook
25-Jun-19 - Computer Based Training for Canadian Chinook #Chinook
13-Jun-19 - Boeing MH-47G Chinook Block II New Contract #SpecialOps
01-Jun-19 - Congress Urges Army to Continue Chinook Production #Chinook
21-Apr-19 - L3 MAS to Continue Support Canadian Chinook #Chinook
05-Apr-19 - Final Acceptance for Australian Chinook Trainer #training
28-Mar-19 - CH-47F Block II First Flight #Chinook
25-Mar-19 - CH-47F Chinook Enters Service in India #Chinook
22-Mar-19 - Chinook in Nebraska Flood Response 2019 #NebraskaFloods
11-Feb-19 - First CH-47F Chinooks Arrived to India #Chinook
03-Jan-19 - Boeing to Upgrade 17 Spanish Chinook to

CH-47F

#Chinook
27-Dec-18 - RAF Chinooks Reinforce French Mission in Mali
30-Nov-18 - Canadians Prepared for Mali with Virtual Reality #Simulator
09-Nov-18 - US Army Chinook Support Contract #Chinook
06-Oct-18 - Boeing to Support US Army Chinook Rotor Blade #Chinook
03-Oct-18 - Meggitt to Support Black Hawk and Chinook #IDIQ
15-Aug-18 - Canadian Chinook Declared Ready in Mali #peacekeeping
27-Jul-18 - India Apache and Chinook First Flight #IndiaApacheChinook
18-Jul-18 - Boeing Support for Dutch Apaches and Chinooks FIA 2018
13-Jul-18 - CAE Joins Chinook Team for German Competition #STH
11-Jul-18 - Four More Special Ops MH-47G for US Army #aircraft
27-Jun-18 - First Chinook Block II Moves to Final Assembly #aircraft
11-Jun-18 - Australian Army CH-47F Support Contract #avionics
25-May-18 - Eight CH-47F Chinook for Saudi Arabia #sales
05-May-18 - Oregon Guards Chinook in Homeland Mission #DisasterRelief
01-May-18 - Joint Combat Search and Rescue in Afghanistan
25-Apr-18 - Boeing Announced German Team for H-47 Chinook
25-Apr-18 - Rohde & Schwarz Radios for H-47 Chinook
06-Apr-18 - Boeing to be at the ILA Berlin 2018 Show
04-Apr-18 - Spanish Army to Upgrade Chinooks to CH-47F
03-Apr-18 - Boeing Maintenance for Canadian Chinook
26-Mar-18 - Chinook First Flight Trials on HMAS Choules #Chinook
21-Mar-18 - Merlin and Chinook Trials on HMS Queen Elizabeth
19-Mar-18 - RCAF Chinook and Griffon to Mali for MINUSMA #peacekeeping
15-Feb-18 - Honeywell Overhauled 1000th T55 Engine
14-Dec-17 - Six Dutch CH-47D Chinooks to be Upgraded to F
03-Oct-17 - Vector 35 Years Servicing the Chinook Helitech 2017
28-Jul-17 - Boeing to Build Three CH-47F Block II Test Aircraft
28-Jun-17 - Boeing Recognized Vector for Chinook Support
01-Jun-17 - Chinook Components to be Manufactured in Germany
15-May-17 - Boeing Recognized Columbia's Chinook Repair Work
12-Dec-16 - CH-47F Maintenance Training System in Australia
08-Dec-16 - Saudi Arabia Requests 48 CH-47F Chinook
16-Nov-16 - US Army CH-47F's Cockpit Support Contract
07-Nov-16 - Singapore Orders CH-47F Chinook and H225M
25-Oct-16 - LORD Delivers First IVCS for CH-47F Chinook
25-Oct-16 - US Army Chinook Landing at PCX Aerostructures
14-Oct-16 - Australia New Chinook Trials Completed
06-Sep-16 - New Vibration Control System for CH-47 Chinook
23-Aug-16 - Australian CH-47F on Trials Aboard HMAS Adelaide
01-Jul-16 - 82nd Airborne Received Chinook MYII
24-Jun-16 - Australian Army Received 3 More Chinooks
23-Jun-16 - Chinook Rear Crew Trainer
06-Jun-16 - FL Technics Supports MH-47G Chinooks in Lithuania
24-May-16 - India Chinooks with Internal Public Address System
08-May-16 - CH-147F Chinook Responding to Alberta Wildfires #AlbertaStrong
03-May-16 - Sling Load Inspector Certification Course
21-Apr-16 - US, South Korea in Large-scale River Crossing Exercise
14-Apr-16 - Netherlands to Receive 12 More Chinooks
14-Apr-16 - Buckley Air Force Base Chinook Detachment
28-Mar-16 - Rockwell Collins CAAS for India CH-47F Chinook
25-Mar-16 - 12th CAB Chinooks Training in Grafenwoehr
24-Feb-16 - RCAF Aircrew Ready for CH-147F Chinook
12-Feb-16 - 40th CAB and 366th Chemical Co Train CBRN in Kuwait
08-Feb-16 - RCAF Graduates First Class of CH-147F Chinook Aircrews
21-Dec-15 - Three More CH-47F Chinook for Australia
18-Dec-15 - 12th CAB New Chinooks Supports 173rd Airborne
07-Dec-15 - 14th and Last Chinook Mk6 Delivered to RAF
23-Oct-15 - Chinooks Arrive At RAF Benson
29-Sep-15 - India Orders 22 Apache and 15 Chinook Helicopters
14-Sep-15 - Landing Gear for Black Hawk and Chinook
09-Sep-15 - Australian Chinooks on Budget, Ahead of Schedule
25-Aug-15 - 12th CAB Receives Brand New MYII Chinooks
31-Jul-15 - New York NG Chinooks in Parachute Competition
21-Jul-15 - New York Army National Guard Sling Load Training
16-Jul-15 - Chinook Sling Load a Bridge
13-Jul-15 - 160th SOAR Trains with British Royal Air Force
02-Jun-15 - RAF Chinook Mk.6 Simulators and Training System
02-Jun-15 - New Merlin HC.4 Simulators at Yeovilton
28-May-15 - Rockwell Collins to Support Canadian CH-147F
27-May-15 - RCAF Chinook Training Underway in Petawawa
22-May-15 - CH-147F Chinook Technical Training Facility
05-May-15 - First Two CH-47F Chinooks to Australian Army
30-Apr-15 - AAR Earns Boeing Gold Performance Excellence Awards
15-Apr-15 - CH-147F Maintenance Training Center Opens in Canada
23-Mar-15 - DSCA Announced New CH-47F Batch to Netherlands
11-Mar-15 - First Canadian CH-147F Flight Engineer Earns His Wings
18-Feb-15 - Chinook Contract to Vector Aerospace Almondbank
17-Feb-15 - Boeing Five-Year Extension to Support RAF Chinook
12-Jan-15 - US Army CH-47F Chinook Avionics Training Systems
12-Jan-15 - Chinook Maintenance Training Devices to Canada
20-Nov-14 - California Army National Guard Move Up to CH-47F
14-Nov-14 - CH-147F Chinook tested in Northern Canada
29-Oct-14 - New York Army National Guard Move Up to CH-47F
27-Oct-14 - US Army 300th CH-47F Chinook Ahead of Schedule
23-Oct-14 - Workhorse concludes CH-47F verification process
01-Oct-14 - First New-Build MH-47G Special Operations Chinook
12-Sep-14 - 584th SMC conducts sling load training
20-Aug-14 - CH-47F Chinook arrived at Soto Cano Honduras
29-Jul-14 - Boeing Delivers First US Army Multiyear II Chinook
30-Jun-14 - Boeing Completes Delivery of Canadian CH-147F
16-Jun-14 - RAF unveil new Mark 6 Chinook
23-May-14 - Environmental program at Great Gull Island
16-May-14 - 12 new CH-47F to Camp Humphreys, South Korea
08-Apr-14 - LORD Improved Vibration Control System for CH-47
02-Apr-14 - Kratos training systems for US Army CH-47F
27-Mar-14 - Australia CH-47F Townsville facilities a step closer
25-Jan-14 - Task Force Reaper at Camp Marmal Afghanistan
11-Dec-13 - Georgia Army National Guard CH-47F Chinook
22-Nov-13 - Ohio Army National Guard New Helicopters
22-Oct-13 - Netherlands Chinook new CAE simulator
08-Oct-13 - Boeing delivers 5th Canadian CH-147F Chinook
07-Oct-13 - CH-147F first CAAS cockpit
11-Sep-13 - Fleet Canada to support the CH-147F
14-Aug-13 - Canada CH-47F includes Terma EWMS
27-Jun-13 - Boeing delivers Canada 1st CH-147F Chinook
14-Jun-13 - US Army Signs CH-47F MYII Contract
11-Jun-13 - US Army contract for up to 215 CH-47F
24-May-13 - Portable maintenance for Canadian Chinooks
15-Apr-13 - First Flight of the UK Chinook Mk6
08-Feb-13 - Chinook COOLS Cargo Roller System #COOLS
24-Oct-12 - Terma delivers ChAMPS for Dutch Chinooks
05-Oct-12 - Boeing awarded 5yrs logistics Chinook contract
20-Sep-12 - General Dynamics Canada in CH-147F program
23-Aug-12 - 50 years of Chinook. Remembering Frank Piasecki
25-Jul-12 - More Canadian contracts for support the CH-147F
11-Jul-12 - Canadian CH-147F completes first flight
22-Jun-12 - 100th Modified Chinook to US Army
02-Apr-12 - US Army CAAS Cockpit
11-Jan-12 - 14 FMS CH-47F Chinooks for Australia and the UAE
04-Nov-11 - Boeing Submits Multiyear Proposal for US Army CH-47F
21-Sep-11 - Boeing opens newly renovated Chinook manufacturing facility
22-Aug-11 - Boeing receives UK contract for 14 new Chinooks
20-Apr-11 - Last MH-47G delivered
26-Jan-11 - First Flight of RNLAF CH-47F Chinook
14-Dec-10 - New CH-147 Chinook Infrastructure At CFB Petawawa
03-Aug-10 - CH-47F Chinook Fielded by US Army 10th Mountain Division
21-Jul-10 - Boeing Celebrates Production of 100th CH-47F Chinook
29-Jan-10 - Boeing Helicopter Support Program to Provide Lift for Canadian Industry
05-Jan-10 - CH-47F Chinook Fielded by 5th US Army Unit
08-Dec-09 - Turkey Request CH-47F Chinook Helicopters
23-Oct-09 - Boeing Proposals to India for Apache and Chinook
10-Aug-09 - Canada buys 15 CH-47Fs
23-Apr-09 - Australia Requests CH-47F Chinook
13-Apr-09 - CH-47F Chinook Fielded by US Army 82nd Airborne Division
26-Feb-09 - First CH-47F Chinook Multiyear I Delivered
18-Nov-08 - Boeing CH-47F Chinook Helicopter Fielded by US Army 1st Cavalry Division
26-Aug-08 - Boeing Awarded US Army Contract for 191 CH-47F Chinook Helicopters
24-Apr-08 - Air Force Releases New Amendment to CSAR-X RFP
07-Apr-08 - CH-47F Chinook Fielded by US Army 4th Infantry Division
27-Feb-08 - US Army Contracts 11 New CH-47F Chinook
09-Jan-08 - Boeing Delivers 36 Chinook Helicopters in 2007
07-Jan-08 - Boeing Submits HH-47 CSAR Proposal to USAF
14-Aug-07 - CH-47F Chinook Fielded to First US Army Unit
16-Jul-07 - Full Rate Production and Fielding of CH-47F Chinook
18-Jun-07 - CH-47F Chinook Completes US Army Operational Test Flights
04-May-07 - Officials react to CSAR-X report
19-Feb-07 - New CH-47F Begins Operational Test Flights with US Army
15-Feb-07 - Netherlands Ordered Six CH-47F Chinooks
03-Jan-07 - Boeing Awarded US Army Contracts for CH-47F
09-Nov-06 - Boeing Awarded U.S. Air Force Combat Search and Rescue Contract
25-Oct-06 - New Boeing CH-47F Takes Flight
14-Aug-06 - Boeing Selects Honeywell Engines for CSAR-X Program
15-Jun-06 - Boeing Unveils New CH-47F Chinook Helicopter to US Army
14-Nov-05 - Boeing Announces Tandem Rotor Entry
03-Oct-05 - Production Begins on New Boeing CH-47F Chinook for the US Army
12-Jan-05 - Boeing Signs $549 Million Chinook Contract
22-Jul-04 - Boeing Delivers First Production CH-47F Chinook
07-May-04 - Boeing Delivers First MH-47G Special Operations Chinook
12-Jul-01 - Boeing Marks New Chinook Rollout, 40th Anniversary of Original