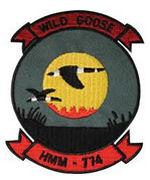 Wild Goose
, tail code
MQ
, United States Marine Corps Reserve
1958 - Marine Transport Helicopter Squadron 774 (HMR-774)
1962 Apr/Sep - HMM-774
1969 - Reactivated as HMM-774
1971-1979 : CH-46A
1974-1981 : CH-46D
1982 -         : CH-46E
On 2014, began transition to the V-22 Osprey.
Scheduled to continue support training with 8 CH-46E until October 2015 and redesignated
VMM-774
HMM-774 was the last unit to operate the CH-46 before the final one retired in 2015.

News of Marine Medium Helicopter Squadron 774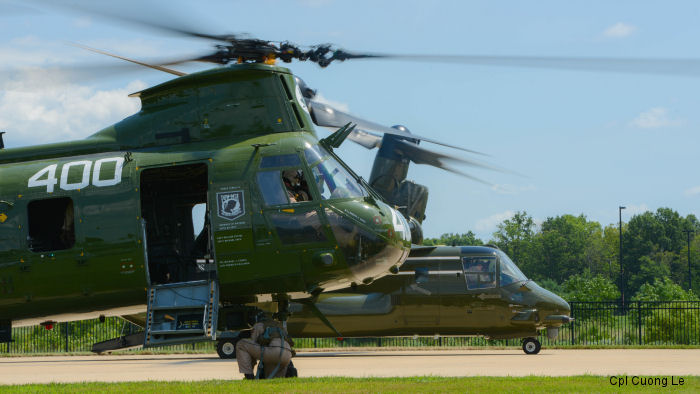 CH-46 Sea Knight Final Flight, 02-Aug-15 :

Marines CH-46 Sea Knight made its final flight to the Smithsonian Institution National Air and Space Museum's Steven F. Udvar-Hazy Center, in Chantilly, Virginia.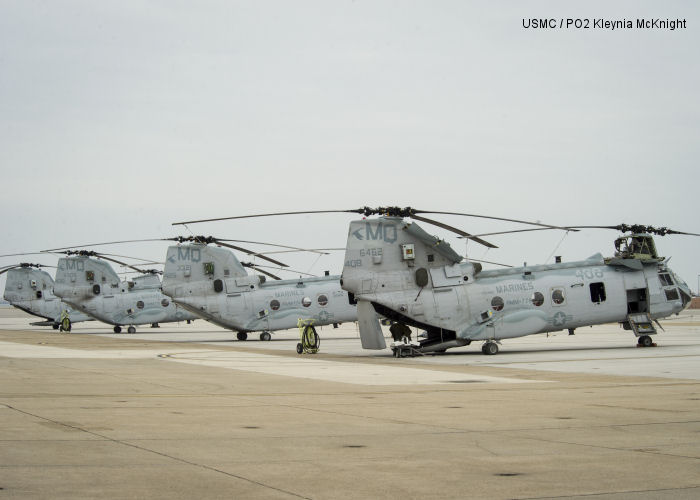 HMM-774 prepares to retire their CH-46, 09-Feb-14 : NORFOLK, Va by Mass Communication Specialist 2nd Class Jared E. Walker, Navy Public Affairs Support Element East - The Marine Medium Helicopter Squadron 774 (HMM-774), stationed out of Norfolk, Va., is currently in the process of retiring their CH-46E Sea Knight transport helicopters, whose service spans 50 years, while transitioning to the V-22 Osprey tilt-rotor aircraft.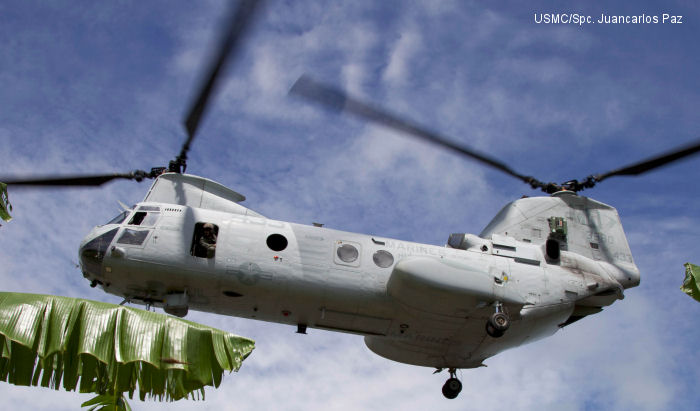 HMM-774, The Eyes in the Sky for AMPHIB – SPS 12, 10-Nov-11 : USS OAK HILL, At Sea by Cpl. Josh Pettway - Hundreds of miles in the air, across vast distances over the sea, one small, a close-knit group of Marines flies knowing that the mission success of other service members weighs heavily on their shoulders.
HMM-774 Continuing Promise operations in Nicaragua, 29-Sep-10 : BLUEFIELDS, Nicaragua By Cpl. Alicia R. Giron - Marines from Marine Medium Helicopter Squadron 774 were the sole transportation for Continuing Promise personnel to conduct humanitarian civic assistance operations in and around Bluefields, Nicaragua, Sept. 14-24.
HMM-774 List of helicopters

Help Us
C/N
Version
Built
In this Org
In other Org
2109
CH-46A
1965
151959 : BV-107M, c/n 2109, ff?; del USMC 19Nov65 as CH-46A 151959; asgd Boeing FR +

2141
CH-46A
1966
152520 : USMC CH-46A d/d 01Apr66; asgd Boeing FR Morton PA; xfer HMM-165 12Apr66; x+

152520 : USN; redesig HH-46A 04Mar74; xfer NAS Whidbey Island 19Feb75; further uni+

2143
CH-46A
1966
152522 : BV-107M, c/n 2143, ff?; del USMC 12Apr66 as CH-46A 152522; asgd Boeing FR +

152522 : Converted to HH-46D
: US Navy; 11aug92 pictured as SAR Helo HH-46D type at NAS Point Mugu, Cali+
: HH-46D HC-3 / SA-04

2200
CH-46D
1966
152578 : BV-107M, c/n 2200, ff?; accepted BuWepsRep, FR Morton PA as CH-46A 152578 +

152578 : xfer HX-21 Mar08
: US Navy; 20 pictured with HX-21 at Yuma, AZ
: Nov12 retired to Naval Air Museum at Patuxent River, MD

2209
CH-46D
1966
153321 : BV-107M, c/n 2209, ff?; accepted BuWepsRep FR Morton PA as CH-46A 153321 2+
: March 2012, with HMM-774 at NAS Norfolk after serving 4 tourS in OIF was t+
: , HMM-774 /MQ-425

2265
CH-46D
1967
153369 : transf to HMM-774
: the aircraft was NOT retired by HMMT-164. It was transferred to HMM-774 w+
: 01aug15 I crewed this Bird for the Marine Corps CH-46 retirement flight wi+

153369 : 1972 as HC-6 /HW-03, Navy squadron home ported in Norfolk, VA. Great mach+

2293
CH-46D
1967
153395 : HMM-774 /MQ-432; Jan11 still

- 153395 : Sep17 this bird is now at home in Wisconsin. Owned by Russell Military Mus+

2331
CH-46D
1967
153980 : BV-107M, c/n 2331, ff:?; accepted BuWepsRep FR Morton, PA as CH-46D 153980+
: 27aug10 pictured as HMM-774/MQ-433 at Port Limon, Costa Rica during Contin+
: 10nov11 as HMM-774 /MQ-433 with USS Oak Hill (LSD 51) during Amphibious So+

2365
CH-46D
1967
154014 : BV-107M, c/n 2365, ff?; accepted BuWepsRep, Morton, PA as CH-46D 154014, 2+
: 07mar12 pictured as HMM-774 /MQ-431 during Emerald Warrior 2012 near Talla+

2408
CH-46D
1968
154801 : BV-107M, c/n 2408, ff?; accepted BuWepsRep, FR, Morton, PA as CH-46D 15480+
: HMM-774 /MQ-435

2410
CH-46D
1968
154803 : BV-107M, c/n 2410, ff?; accepted BuWepsRep, FR, Morton, PA as CH-46D 15480+

2415
CH-46D
1968
154808 : BV-107M, c/n 2415, ff?; accepted BuWepsRep, FR, Morton, PA as CH-46D 15480+
: HMM-774 /MQ-436; Jun14 still

2422
CH-46D
1968
154815 : BV-107M, c/n 2422, ff?; accepted BuWepsRep, FR, Morton, PA as CH-46D 15481+
: HMM-774 /MQ-426

2453
CH-46F
1968
154846 : BV-107M, c/n 2453, ff?; accepted BuWepsRep, FR, Morton, PA as CH-46D 15484+

2454
CH-46F
1968
154847 : BV-107M, c/n 2454, ff?; accepted BuWepsRep, FR, Morton, PA as CH-46D 15484+

2462
CH-46F
1968
154855 : BV-107M, c/n 2462, ff?; accepted BuWepsRep, FR, Morton, PA as CH-46F 15485+
: HMM-774 /MQ-420
: , HMM-774 /MQ-420

2471
CH-46F
1968
155302 : BV-107M, c/n 2471, ff?; accepted BuWepsRep, FR, Morton, PA as CH-46F 15530+

2477
CH-46F
1968
155308 : BV-107M, c/n 2477, ff?; accepted BuWepsRep, FR, Morton, PA as CH-46F 15530+
: , HMM-774 /MQ-430

2479
CH-46F
1968
155310 : 1996-2002 HMM-774 /MQ-412

2502
CH-46F
1969
156432 : USMC CH-46F accepted BuWepsRep, FR, Morton, PA 24Mar69; xfer HMM-163 10A+
: Sep10, pictured as HMM-774 /MQ-437. One of eight CH-46 deployed to Nicarag+
: HMM-774 /MQ-437

- 156432 : May 2015, towed to IAT Craven College as ground instructional airframe / M+

2503
CH-46F
1969
156433 : BV-107M, c/n 2503, ff?; accepted BuWepsRep, FR, Morton, PA as CH-46F 15643+
: HMM-774 /MQ-434

2513
CH-46F
1969
156443 : BV-107M, c/n 2513, ff?; accepted BuWepsRep, FR, Morton, PA as CH-46F 15644+

2514
CH-46F
1969
156444 : BV-107M, c/n 2514, ff?; accepted BuWepsRep, FR, Morton, PA as CH-46F 15644+
: still as HMM-774 /MQ-424

2531
CH-46F
1969
156461 : BV-107M, c/n 2531, ff?; accepted BuWepsRep, FR, Morton, PA as CH-46F 15646+

2532
CH-46F
1969
156462 : Jun12 with HMM-774
: , HMM-774 /MQ-408

N462WR : State Dept from Feb15

2572
CH-46F
1969
157673 : as HMM-774 /MQ-422

N673WN : US State Dept from Apr14; pictured at Fort Worth, TX
: flew by the beach at Melbourne, FL