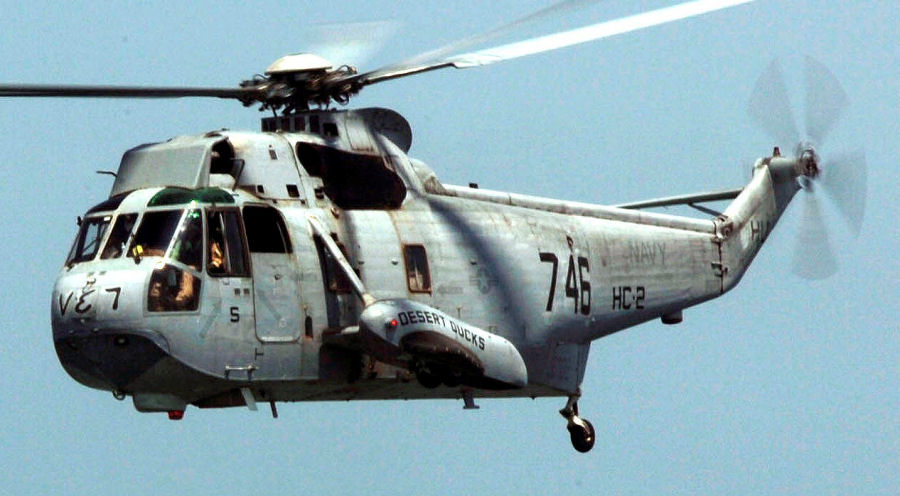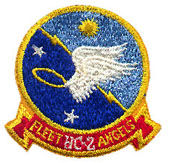 Fleet Angels
, tail code
HU
01 Apr 1948 as
HU-2
01 Jul 1965 redesignated HC-2
1977 Disestablished
1987 Reactivated
2006 Helicopter Sea Combat Support Squadron TWO (
HSC-2
)
---
1964-1967. Reported to HU-2, Lakehurst, spring of 1964, Med cruise Forrestal CVA 59, 64-65; FDR CVA 42 (Useless Sad and Sorry, Filthy Dirty Rusty),1965, several short cruises; CVA-61 and 66. Considering the lives saved and lost, it was a privilege to " Walk among Heroes", they were indeed, Fleet Angels.

1965 thru 1967, I was in HC2 det66
USS America
(CV-66)

1965-1966 in HC-2 at Lakehurst and enjoyed air ship tavern made Med cruise on America

1966-1968, I was there as a training operator assigned to the Link trainers providing simulated flight training 4 pilots until our whole unit was transferred to FAETULANT early 1968

1967, I was aboard USS Forrestal (CVN-59) with Det.59 off the coast of Vietnam during the Fire. In 1968 ditto on the USS America (CV-66)

1967, Sailor HC2 on USS Independence

1967 HC-2 detachment aboard USS America in the Med. Rescued survivors from USS Liberty, attacked by Israelis during Six Days War.

May67 to Oct68, I was the communications guy for the squadron. I handled all the traffic between HC-2 headquarters and the USS Forrestal when the big fire happened. It was a real experience! Really enjoyed serving with HC-2 after doing a bit of a stint on the USS Zellars (DD777) chasing Russian subs from the fjords of Norway! Phil RM2

1967 - 1969 I worked in the Mainteance Office. Really enjoyed the
FAM
flights down the Jersey Coast

1967-1969, I was with HC-2. Made two Westpac Cruises on USS.Forrestal in 1967 and USS America in 1968. I was the Squadron CDI and when not aboard ship was stationed at NAS Lakehurst, located in NJ

1967-1969, SAR crewman USS FDR CVA-42 and USS Independence (CVA-62)

1967-1969, I was with HC 2, Detr-62 assigned to the USS Independence. We did multiple tours along the east coast, and a NATO cruise in 1969

1968-1969, I was a rescue Air crewman. Detached to 4 different carriers. Best duty in the navy

1968 to 1970, I was attached to HC-2 Lakehurst, NJ. Squadron provided SAR support to
East
coast carriers and an occasional
West PAC
. I made the 1970 FDR (CVA-42) Med cruise. we flew UH-2A/Bs

1969-1971, I was an Attached to HC2 as active duty and I too did the 1970 Med Cruise Det 42 aCher my active duty I continued as a reservist until 1980 when HC2 was stationed at NAS Bermuda. -

1970 AE-2 onboard America CVA-66 Westpac cruise, a chance to see the world before I was discharged

1970 HC-2 asg USS Shangri-La (CVS-38) world cruise, vietnam

1970-1971, spent time in HC-2 as the Comms Yeoman/mail. Enjoyed my stay , was too short

Oct70-Dec73 AE-2 and SAR A/C at HC-2 Lakehurst NATOPS AC Training PO Great times!

1971-1973, HC-2 as AZ2 one of the Woodys working in the maintenance office. Enjoyed those I worked with and my time at Lakehurst.

1990s, as an AE1(AW) I was there, twice Deployed to Detachment 2 in Bahrain, and once to Detachment 1 in Naples Italy

1991-1992, Naples for me. Grey Ghost Airlines

Models
Helicopter Combat Support Squadron Two Operations