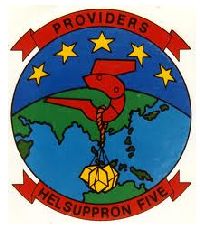 Providers
, tail code
RB
, was first established on September 1st, 1967 when splitted from
HC-1
. In March 1972 was renamed
HSL-31
(Helicopter Anti-Submarine Squadron Three One).
On February 1984, HC-5 is reactivated flying the H-46 Sea Knight for vertical replenishment in resupplying ships at sea until 2005 when is redesignated
HSC-25
(Helicopter Sea Combat Squadron Two Five) after transitioning to the MH-60S Seahawk
---
Aug/Sep 1967, I was in HC-1 when the announcement came out that a new training squadron was to be formed, HC-5. I volunteered, and was on the roll of those first to transfer

When HC-5 was formed (1967) it also had a Minesweeping mission. The squadron had three (3)
RH-3A
s, a converted Sikorsky SH-3A, configured for Minesweeping. Believe the Navy had nine (9) of the RH-3s, the other six (6) were located in Norfolk, VA and Panama City Beach, Florida. We short cruised, out of Long Beach, on the USS Catskill (MCS-1) (Mine Countermeasures Ship). I left the Squadron in 1968 and went to HC-2; the RH-3s were still there when I left.

Master Chief told me the RH-3As that had been in HC-7 ended up as SAR helos at Whidbey Island Wash. As an AMS2 I was on HC-7 Det 113 and took the birds to HC-7 via the USS Catskill via Wake Is.

I got to Imperial Beach just after HC-5 was formed and just before the official name change from NAAS Ream Field to NAS Imperial Beach. I trained on the H-2s and RH-3As and was assigned to the Catskill detachment. Before I was involved in too much training on the "mine sweeping" from the air, the big reserve cut back hit. Honestly, not too disappointed in not going. It was pretty damn dangerous just training off Long Beach! Those cable spools would come back in sometimes with major "over runs" or as we fishermen call them, big back lashes!

Oct68, I checked into HC-5 and was assigned to the electronics shop as an ATAN and within a month I was an AT3. We were mostly using UH2-Cs but still had some A/B models plus an H-19 and an H-34 and a couple of H3s - 1 SH-3 and 1 RH-3. Our tail codes by then were TD, which I remember very clearly as we had to make radio checks on radio gripes using TD and the number of the A/C. I qualified as an Aircrewman just before I left the squadron in October 1969. I made two 2 week deployments on the USS Providence during that year for missile exercises. We delivered mail and provided medevac for a heart attack victim and later a hand injury.

Jan69, The Minesweepers were transferred to
HC-7
as Det-113 we rode the USS Catskill (LSV-1) to Japan with stops in Hawaii and we had a beer or two at Wake Is. I left the Det when we got to Atsugi and it made only a short Det to Taiwan before transferring back to the states HC-5 again I think.