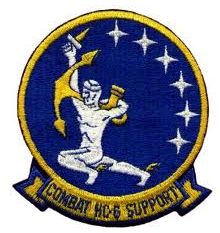 1949 - Helicopter Utility Squadron TWO (
HU-2
) at NAS Lakehurst
1952 - HU-2 Det.1 at NAS Norfolk
1960 - HU-4 Det.1 at NAS Norfolk
1965 - All HU units redesignated Combat Support Squadrons (HC)
1967 - HC-4 Det.1 resedesignated HC-6
1971 - HC-6 Det.53 form
HM-12
April 2005 - redesignated to
HSC-26
( Helicopter Sea Combat Squadron Two Six )
From 1987 they flew exclusively the H-46D Sea Knight
In 2002 they transitioned to the MH-60S Knighthawk
---
I was stationed in Norfolk, VA when we were
HC-4
Det 97. While I was stationed there the squadron changed to HC-6. I was a AE2 and did a few cruises to the Caribbean. while stationed (TAD) we lost a H34 of the fleet oiler USS Neosho (AO-143). I was also in the Med on the
USS Sylvania
(AFS-2) with 2 H46. I don't remeber names but there was an ADR1 named Ronny Rogers and our commander was a Lt Cdr named Don Blish. I was an air crew member and did VERTREP from the Sylvania and SAR when in Norfolk. I was a plane captain on the H46 and H34. I wish I remember more but that was a long time ago. Thanks for read my jiberish. Bill Rauer AE2

1965-1967, I was originally in HC-4 and am a plank owner for HC-6 flew as air crew SAR on UH-34, RH-3 and CH-46 helos, my name is Ray Christian (Chris) my rate was AE2 that period was 65-67 spent a tad on USS Sylvania I remember Ron Rogers as Plane Captain during our detachment. We had Lt cdr. Caldor in charge of our detachment in the med. aboard USS Sylvania. I re-enlisted in 1967 and had two more yrs scheduled to go to Vietnam aboard the Wasp outfitted with cobra helos., but I came down with Diabetes and was medically discharged in July of 69.My Navy time was a wonderful part of my life and am very great full to have served. Thank you for sharing those memories, I believe we were there together at HC -. I had a TR4 roadster while at the base in Norfolk and had a full head of auburn red hair

1965-1968 I was stationed at HC 6 . We did airborbpne minesweeping and also search and rescue. Was on the USS Ozark on several cruses and also during the search for the USS Scorpion. We made several deployments to the Caribbean and also to the Med and North Atlantic. We visited Copenhagen, Norway and several other countries. Flew with Cdr. Belto, Cdr. Hatcher and several others wgpho I cannot remember. It was a great time in my life. -

1966, Went to HC 4 Det Norfolk from Millington as ADJAN. Went on line crew. Became aircrew and flew in 34s, h3's and then 46. Went to Cherry Point 2 different times for training. Went to Med to Det. 97 on the USS Saratoga that ferried 2 new helos. Served about 10 months or so and came back around Christmas. Went in powerplants. Made ADJ2 and stood SAR. Served with Ron Rogers, Mscisz, Markon and others I wish I could remember the names. Got 3 month early out and came home to WV.

1966-1969, I was with the squadron when they changed from HC-3 Det Norfolk to HC-6 out of airframes as a corrosion control inspector for the 34s and as a collateral duty inspector for the CH-46 and made several deoloyments with them. I have an orginal HC-6 patch witch my father helped design when he was the First-Lieutenant officer for the squdron

1966-1970, worked on the VIP crew. We had 2 SH-3A Helicopters too fly the admirals from Norfolk. Later worked in power plant shop. Went on I detachment to Med on USS Seattle (AOE-3). Harris

1967, Steve Griffith AE2, I transferred from HT8 in Pensacola to HC6 in Norfolk. Spent some time on USS Sylvania ASF-2. That was my first experience at sea. Do remember that we hit a terrible storm not too many days out. We had a lot of stuff that was set up on the flight deck to be transferred the next day I think, and some of them ended in in the ocean. I do remember that our CO, Don't remember his name, he like to go drinking with the boys, and then try to fly that chopper the next day, he was not a very good pilot to start with. How we use the sneek hooch aboard by way of the helicopter, and trade with a mess crews for a can of peaches. Another assorted silly memories

1967-1969 Jim Tillman aka Tex. AE2/plane Captain, USS Sylvania (AFS 2) my best buddy on cruse was Joe Schuerger AX2

1967-1970, Mike Moore NAS Norfolk, Air Crew, USS Ozark (MCS–2), USS La Sale (LPD-3), Apollo Recovery Mission Training, MCM 1st Crewman, SAR. Airframes H-34, H-46, RH-3A Multiple Deployments. All in all it was a hoot!

1968-1969, Andy Wernosky, AE2. After 18 months at Sigonella, Sicily got orders to HC-6, good squadron, good friends. Made one short cruise on the USS Boxer with an H-34. Got orders to Rosey Roads and "out". Still remember a couple of guys from our shop, Jim Tillman, Bill Rauer, Alan Siebold. That's all! "Ski".

1968-1972, I was assigned to HC-6 at NAS Norfolk. Worked in the maintenance office with Chief Rambo and Commander Bolton. As an AZ3 we handled aircraft logs and records. Received my Aircrew Wings in 1969. I deployed to the Mediterranean aboard the
USS Concord
(AFS-5) in 1970. Still have great memories from my Navy days and I don't want to forget the friends I made while in HC-6.

1969 I got to HVC-6 in 1969. The barracks wee new, I started in transit and then the barracks. I was stabbed in the barracks after coming off watch on the line. The head was sealed off for a while (I heard) and I went to Portsmouth. I was in Portsmouth 6 months and had limited duty in supply. The Skipper was Bolton. Does anybody remember this incident? Just curious, after thirty days in the hospital, I was officially no longer in HC-6. My favorite pilot when there was a Lieutenant commander Chilicote. Don't know the correct spelling. He wanted to take me up, give me thecontrols and allow me to fly. He wanted me to go TAR. Couldn't happen. Upon being allowed to full duty, got stationed in Quonsett with HS-7

1969, CDR Boulton had his car painted similar to the SH-3's by the Airframes shop if I remember right Grayish bottom section, white upper. When presented to him the had a faux rotor head on the roof.

1969-1971, I was in HC-6 Naval Air Station, Norfolk, Virginia. CDR John Woodward was my first CO, CDR Beverly Witherspoon was my second CO. One of our Pilots was Lt. Kevin Delaney who flew with HAL-3 in Viet Nam and won every medal other than the Medal of Honor. Later made Admiral. Great squadron. Great fliers. Great sailors all!!! Ralph Sallusti

1970-72, I was in HC6 Squadron for 2 years stationed in Norfolk VA. We took 2 UH-46s on Med tour on the
USS Detroit
(AOE-4) for 6 months serving the sixth fleet. I was a crew chief. I would love to have this emblem for my jacket. While in Med we escorted Vice President Agnew in Morrocco.

1971-1973 as a AMH2 worked for Chief Petty Office Garbitt as Training Petty Officer in corrosion control department. Best duty station ever...Learned a lot helped with future job a GE Evendale Plant. Got best advice to "Do Every Thing Expected of You,Nothing More Nothing Less".

1972-late 73, I worked at HC-6 at the VIP section of the squadron. We flew the Sikorsky H-3 transporting VIPs and other higher -ups.Ams-3 David Sadorski

1973-1975, Nate Caldwell. I was assigned to HC-6's LSO/LSE (Landing Signalman Officer/Enlisted) school as the clerk, learned a lot about flying, helio ops,and the game of cribbage. This squadron got me hooked on aviation, and have worked with aircraft at airports since. Attachments/DETS were Med cruises primarily aboard the USS Concord. Best years of my short years of service were with HELSUPPRON SIX. To those who have commented, thank you for your service

1974-1976, Tom Balgenorth AT2 at the time (formerly black shoe FTM) Attached to VIP, then AT shop then ASDO. As an FTM I spent 4 years in the Med aboard the
USS Springfield
(CLG-7) home ported in Gaeta Italy. Can say after HC-6...secret.

Oct74-Nov76, I was an E3 female yeoman,/personalman wannabe in HC6. I worked in the operations office as a secratary/communications and message boards. Help log in pilot info in the log books. Took care if the confidential and secret boards. Typed stuff for pilots and junior officers. Made lots of coffee and cleaned and painted pipes for a couple of inspections. Spent the first 6 months at HC6 TDY to the chow hall as a mess cook and had the dubious distinction of being the mess cook of the month for 3, or maybe four months. My name when I was there was Patricia Wagner. After August 1976 till end if enlistment I was married and my name than was Patricia Specht. I recall there were good times and good friends. There were 2 helicopter accidents while I was there where we lost enlisted ship mates. One in the Med while a crew was on deployment, and one at PAX river on a routine training flight. I remember very few names of my fellow workers, but I remember 2 of the helicopter pilots. There was a Lt Commander Milk Soldo, i think, and an Ensign Kuntz. Being in the Navy and serving at HC6 was the most awesome thing i did with my life, with the 3xception of raising my two beautiful daughters and now being grandma to my 6 amazing, beautiful, and intelligent grandkids.

1975-78, 1980-83, John Harrell, AT/USN, 2 tours at HC6 and 3 med cruises, 2 on the San Diego and 1 On the Santa Barbara

1975-1979, AE2 Al Gilchrist. Med cruise
USS Seattle
(AOE3) Enjoyed the job. Not so much the chain of command.

1975-1977, Justin Smith AD2, worked in Powerplants Division. Med cruise on the
USS Concord
(AFS-5). Enjoyed my time there and worked with some very good people.

1976-1980, Sal Giardina was in HC-6, did three Med cruises and assisted in the persian gulf during the
Iranian hostage crisis
aboard the
USS San Diego
(AFS-6). Was powerplants supervisor and crew chief, re-enlisted in 1980 for orders to
HC-16
Pensacola

1977-1979, I was in HC-6, did three med cruises. Was a aviation electrican and crew chief, later on became a natops instructor. Went to work in 1980 at
Boeing helicopters
( who made the Sea-Knight) and Im a flight test Inspector there.

1977-1980, served 2 Dets aboard the Butte and Sylvania seen the back end of the helo gone wicked wanda and candy floss with popeye on the stubwing should have stayed in

1978, I was stationed at HC-6 January to March, started and completed FRAMP (Fleet Replacement Aviation Maintenance Program) School. Then went on to my permanent duty station HC-16 at NAS Pensacola.

1978-1981, Jose Henriquez, HC-6 . I also cruised on the San Diego with Sal. We actually wrote a blues song together and perfomed it in Sicily

1978-1981. Steve Smith "Smitty" (AD1): SAR Swimmer, 1st Crewman, NATOPS Instructor, Plane Captain School POIC, ADI, Chief Bottle Washer and Comshaw Artist. Med Cruise USS Seattle; numerous short dets: NATO Operation "Iron Fist" to the N. Atlantic, Caribbean cruises, etc. Got out in 1981; worked at Pax River for four years (Test Pilot School,Rotary Wing Test Directorate) for Dyncorp test flyin while attending college at night to obtain my bachelor's degree. Took an H-46 tech rep job with Boeing in 1984 at various locations, primarily supporting Marine Corps 46 squadrons. Spent two years on Okinawa (The Rock); earned my master's from USC. Left Boeing in the 90s and worked for GE Aircraft Engines, Moog Aircraft Group (F/A-18 Program manager), etc. Retired last year to live the good life on the sandy shores of Lake Michigan.

1978-1981, HC-6 Allen J Bradley (AJ) SAR swimmer , Crewchief, Aviation Electrician ,SAR evaluator Aircrew Training; 1978 HC-3 at NAS North Island, San-Diego CA completed Aircrew training, SAR, SERE, and then was sent to HC-6 in Norfolk; 1978 Detached aboard
USS Mt Baker
(AE-34); 1979 during Iranian
Hostage Crisis
at
USS San-Diego
(AFS-6); 1980 Med cruise with Sal, Jose, and Mark ( remember the Toga Party in Tel Aviv Israel?) and the
USS Nassau
(LHA-4); 1981 in the Caribbean.

1979, I was assigned to QA. Petty Officer Shirley Oeschler was my leader.

1979-1981, I was in HC-6 as we transitioned from the old hanger to the new hanger over by
Whileby Spit
side of NAS. I was on Det11 on board the
USS Kalamazoo
(AOR-6) while the actual move took place. Det11 did a Med/IO cruise Apr/Nov 1980. First HC-6 det to serve in IO and Persian Gulf. Chapman

1979-1982, Dave Allen ENS to LT. Cruised with Det 11
USS Kalamazoo
(AOR-6) (LCDR Doyle McClung OIC) Apr/Nov 1980 Med/IO
152563
and
152567
I believe. Cruised with Det 6
USS Seattle
(AOE-3) (LCDR Owen McClean OIC) 1981 - again to Med/IO
152563
and I believe
152555
. There were about 96 pilots in the squadron at least 22 of which were LCDRs. At least 21 H-46s and something like 4 VH-3s. It was a large squadron for sure.

1979-1982, Richard Elzinga, AMS2 - I was assigned to the "Executive Transportation" division, we had the 4
VH-3 Sea King

1979-1983 Mark Waite AD-3 did two Med cruises was also on the USS San Diego with Sal Giardina. Served has plane captain on #10. What's up Sal? Also did a cruise on the
USS Seattle
(AOE-3). We crossed the equator but:, did not have time to become shellbacks to busy supplying the fleet and flying supplies into Beirut.

1982 MED-IO, Glenwood Walker was an AE assigned to the
USS Butte
(AE-27) I was injured while serving as hook-up man during VERT-REP operations. If anyone remembers, please drop a line

1982-1985 Aboard the
USS Santa Barbara
(AE-28)

1983-1984 Mike Hampton, An / Plane Capt., USS Savannah (AOR-4), Bermuda Triangle, Panama Canal, 1st Det to replenish the SASSY SARAH, Saratoga enroute to Beirute . I worked line Division for PO amh1 Rigney. ( I miss him Dearly ) I.O., Med, My hats off to Maintenance Control- Thanks for raising me, molding me to be a MAN. I should not of done split tour. HC6 is where it is at. I still wear my belt buckle.

Why are there 8 stars on the HSC-26 Chargers badge? Does anyone know what they stand for?

02-Oct-02 -

An MH-60S from HC-6 conducting flight deck landing qualifications on USS Winston Churchill (DDG-81) completed first hoist rescue at sea after attending a distress call for a fishing boat
Models