The
Ridge Runners
, tail code
YP
was formed in December 1951 as Marine Helicopter Squadron-Light HMR/L-163. Redesignated HMM-163 in 1962. During their Vietnam intervention the squadron was also known as
Evil Eyes
.
1951-1960 : HRS-1/2/3
1960-1967 : CH-34D (HUS-1)
1968-1980 : CH-46D
1971-1980 : CH-46F
1980-2011 : CH-46E
December 2, 2011 redesignated as
VMM-163
---
January 1961, HMR-163 was aboard the USS Bennington (CVS-20). Airlifted the floating battalion to Bangkok Thai. Was visited by CIA reps aboard ship and interviewed all crew chiefs and pilots. Some were chosen to go to work for
Air America
. Several planes were repainted to keep the Marine signs from showing and given to Air America. Some maint. personel went with the planes to
Udorn
Thailand. The enlisted personel were required to rejoin the squadron after six months .We were not allowed to talk about this untill some years later. Several of the crew chiefs still get together every year. Probably lots more info from each individual. Thanks, Wm.D. Wilson

January 1961, I was the Disbursing Clerk for HMR-163 aboard the USS Bennington (CVS-20). John Kriska.

1962 at Soc Trang, Vietnam

1964-1968, the squadron served with distinction in combat earning a Presidential Unit Citation and the Navy Unit Commendation along with many personal awards. Since returning to the United States, a vigorous training program designed to produce combat ready CH-46 aircrews has been pursued with many thousands of flight hours flown in support of training. HMM-163 received the Chief of Naval Operations Aviation Safety Award in 1980, 1982, 1983, 1984, 1985, 1989, and 1996, while Five Meritorious Unit Commendations (MUC) for the periods of 1 July 1978 through 31 December 1980, 1 January 1982 through 31 December 1983, 30 September 1983 through 30 September 1985, 22-28 January 1987, and 1 January 1986 through 31 July 1987 acknowledge the squadron's hallmark of superior performance. The squadron was also named the MCAA Helicopter squadron of the Year in 1979, 1981, 1985, 1990, and 2002.

July 1965, HMM-163 was assigned to the
USS Iwo Jima
(LPH-2) for our float phase. On August 18-19, 1965, OPERATION STARLITE became the largest battle since the Korean war. The Iwo Jima was off the coast of the Phuoc Thuan peninsula. We flew a vertical envelopement and landed our marines of Lima company, 3/7 inland on the Van Tuong complex.

April 1968, I got my Combat Air Wing with HMM-163 in Viet Nam Quang Tri airbase until they left Quang Tri I think August or Sept, and the whole Squadron of UH-34D moved to Marbel Mountain, to be disbanded and turned over to the Arvn. At which time I was gettin Short and ready to rotate Home.

1991, HMM-163 Composite was aboard the
USS Peleliu
(LHA-5) for deployment to the Persian Gulf. Squadron did humanitarian work in the Phillipines when Mt. Pinatubo erupted

1991, HMM-163 was on
USS Tarawa
(LHA-1); 2001 HMM-163 was on
USS Pelelieu
(LHA-5)

1996, HMM-163(REIN) was on USS Tarawa (LHA-1) for WESTPAC cruise. Participated in Operation Southern Watch and Operation Desert Strike.

News of Marine Medium Helicopter Squadron 163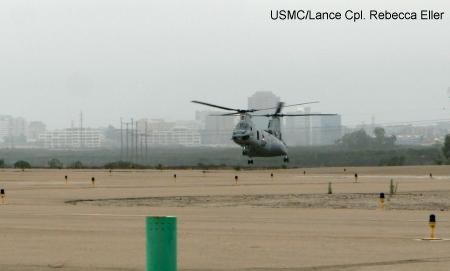 Last CH-46E flight before re-designation, 01-Dec-11 : MARINE CORPS AIR STATION MIRAMAR, Calif. -- Marine Medium Helicopter Squadron 163 flew its last flight of the CH-46E Sea Knight before re-designating as a Marine Medium Tiltrotor Squadron with MV-22B Ospreys, Nov. 30. HMM-163 is scheduled to re-designate as VMM-163, Dec. 2.