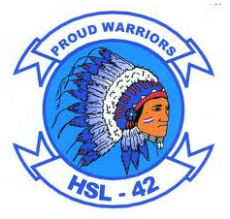 Proud Warriors
, tail code
HN
flew the SH-60B Seahawk from 1984
From 2008 they also operated UAVs
MQ-8B Fire Scout
During 2012 they transitioned to the MH-60R Seahawk
HSL-42 were disestablished January 15, 2013 at NAS Jacksonville Hangar 1122 and, at the same ceremony, redesignated as
HSM-72
---
I was on the first
USS De Wert
(FFG-45) that took 2 on. I would like to be in touch with the guys.

1986, I was attached to HSL-40 training unit, then moved to HSL-42 Det.1 in 1987. Cruised 1 time on
USS Halyburton
(FFG-40), then remainder with
USS San Jacinto
(CG-56), Plane captain for a/c 421, 423, 424, and 425. AT3 Manco at that time

1989, I was attached to HSL-42, went on six month deployment with Det.1 Deployed on
USS San Jacinto
(CG-56). Carl Barker Scoggins Chief Rau CMDR Durkin

News of Helicopter Anti-Submarine Squadron Light 42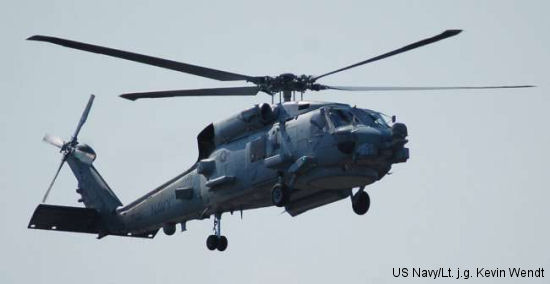 End of an era: HSL-42 transitions to HSM-72, 23-Jan-13 : NAS JACKSONVILLE by Lt. j.g. Tim Boyce - The "Proud Warriors" of HSL-42 were disestablished Jan. 15 at NAS Jacksonville Hangar 1122 and, at the same ceremony, redesignated as HSM-72.
HSL-42 final deployment with SH-60B, 22-Jun-12 : By Mass Communication Specialist 2nd Class (SW/AW) William Jamieson, USS Jason Dunham Public Affairs - USS JASON DUNHAM, At Sea (NNS) - Helicopter Anti-submarine Squadron Light (HSL) 42 Detachment 7 "Proud Warriors," begin its last deployment while embarked aboard guided-missile destroyer USS Jason Dunham (DDG 109), June 22.
C/N
Version
Built
In this Org
In other Org
70-385
sh-60b
162095 : 1985-1988 asg HSL-42 Det.1 /421 at NAS Mayport, FL
: 1985 spring first deployment as HSL-42 Det.1 in USS Underwood (FFG-36), th+

70-386
sh-60b
162096 : 1985, HSL-42 Det 2 first deployment USS Doyle (FFG-39)

- : RAN instructional airframe

70-390
sh-60b
162100 : HSL-42 /HN-424 at NAS Mayport, Fl (when?)

70-391
sh-60b
162101 : US Navy; 1995 HSL-42./HN-423; Apr09 HSL-40./HK-416

70-394
sh-60b
162104 : US Navy.; jun1994 deployed aboard USS Normandy CG-60. HSL-42/HN-425

70-400
sh-60b
162110 : USN; HSL-42 w/o 26jun86

70-413
sh-60b
162122 : USN; 2000 HSL-42; 09aug02 Striken from US Navy list

70-414
sh-60b
162123 : US Navy; 1995 HSL-42./HN-433; Apr09 HSL-40./HK-410

70-423
sh-60b
162131 : USN; HSL-42 /HN-434; 2018 HVF West Llc at Tucson, AZ

- 162131 : Pima Air

70-603
sh-60b
163243 : USN; 2009 HSL-42

70-658
sh-60b
163908 : USN; 2010 HSL-42

70-2239
sh-60b
164818 : USN; 2011 HSL-42

70-1932
sh-60b
164849 : USN; 2011 HSL-42 /HN-420 special camo

70-2270
sh-60b
165109 : USN; 2011 HN-432/HSL-42

70-2272
sh-60b
165111 : USN; 1998; 2010 HSL-42; Dec12 HSL-42 /HN-437

N-1
mq-8b
167784 : US Navy; Dec09 HSL-42 Det.7; pictured

N-2
mq-8b
167785 : US Navy; Dec09 HSL-42 det.7

N-4
mq-8b
167787 : US Navy; Feb11 HSL-42 det.7

N-15
mq-8b
168212 : US Navy; Feb11 HSL-42 det.7 /N-15