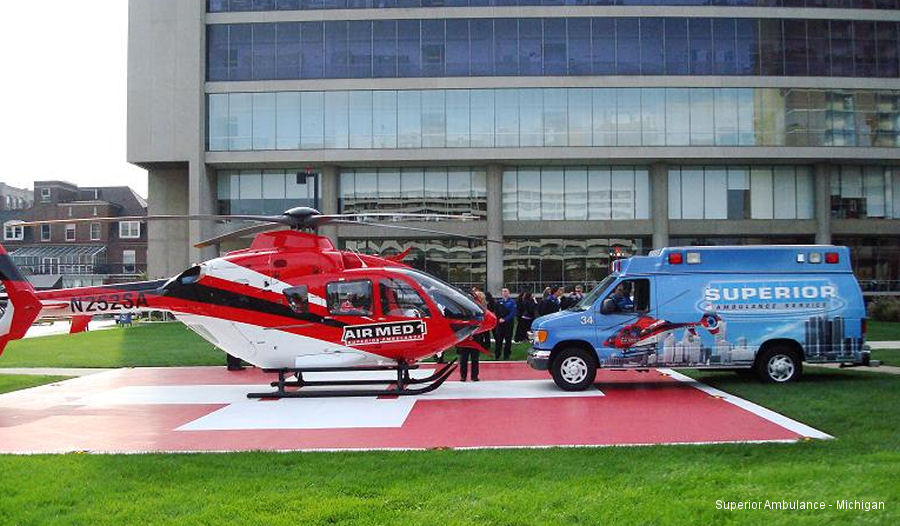 Established 2005, servicing Southeast Michigan. Part of Superior Ambulance, one of the largest, family-owned ambulance companies in the U.S.
Previously operated by
Metro Aviation
Since 2016 operated by Pentastar Aviation based at Oakland County International Airport (
KPTK
).
In July 2021, returned to be operated by Metro Aviation.
News of Superior Air Ambulance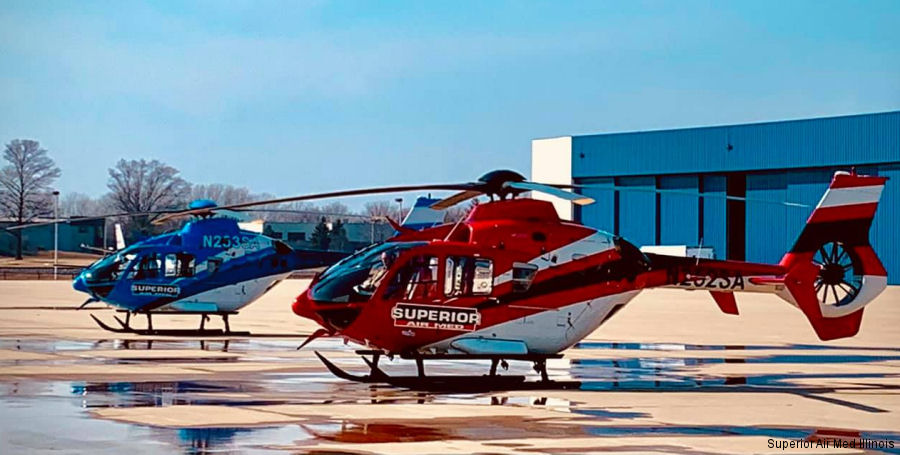 Superior Air Med Returns to Metro Aviation, 14-Jun-21 : #Superior Metro Aviation will operate EC135 air ambulance helicopters for Superior Air Med in Waukesha, Wisconsin and in West Chicago and Kankakee, Illinois
Pentastar Aviation EC135 for Michigan Ambulance, 07-Sep-16 : Waterford, Michigan – Pentastar Aviation has been selected as a provider of management services and direct air carrier operations for Superior Air-Ground Ambulance's EC-135 helicopter. The aircraft will be based at Oakland County International Airport (KPTK), with operations primarily supporting the Henry Ford Health System.
Years
Models
Eurocopter EC135P1
Eurocopter EC135P2+


Superior Air Ambulance List of helicopters

Help Us
C/N
Version
Built
In this Org
In other Org
0707
ec135p2+
2008
N252SA : Superior Air Ambulance, Michigan op by Pentastar from 2016; pictured

N534AE : American Eurocopter Aug08
N252SA : Metro Aviation May/Aug 2009
N252SA : Bennet Aviation at Elmhurst, IL from Aug09; Air Med 1, Superior Ambulance +

0054
ec135p1
1998
N312SA : Bennet Aviation Llc at Elmhurst, IL from Jan 18; Superior Air Ambulance,+

D-HECM : Eurocopter Germany, to N4056V
N4056V : American Eurocopter from Jun98
N135SJ : Virginia Commonwealth University, VCU LifeEvac Virginia, op by Air Methods+
N135SJ : Medical College of Virginia (VCU), noted Dec04
N135SJ : TGH, canc
N135SJ : PennSTAR 2009-2017?, (N63UP)

0095
ec135p1
1999
N832AM : Superior Air Ambulance /AirMed 1 2009?-Apr14, op by Metro Aviation

N5228W : American Eurocopter 1999
N313MS : Northwest MedStar
N313MS : ex. NorthWest MecdStar; STAT MedEvac 6
N832AM : Metro Aviation Feb06-Sep14
N911KB : Metro Aviation from Feb14
N911KB : Life Air Rescue from Sep14, op by Metro Aviation; pictured; Apr18 still
: Life Air Rescue op by Acadian Air Med / Metro Aviation from 01aug19