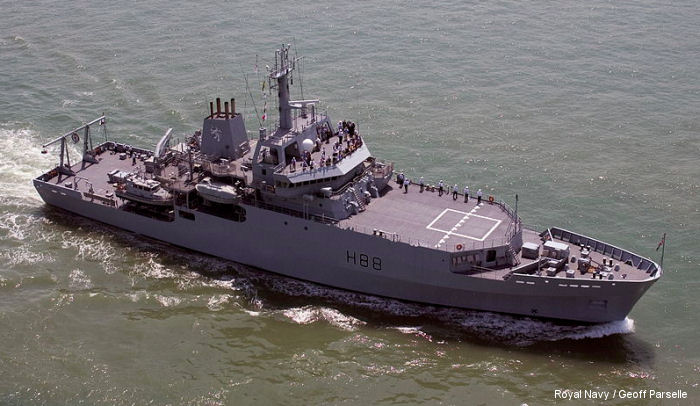 Multi-purpose Hydrographic survey ships with a secondary role in mine countermeasures.
Can achieve 16.9 knots with newly scraped and conditioned hull.

72
crew
3740
full load (tn)
90.60
length (m)
16.80
beam (m)
5.50
draught (m)
9300
range (nm)
16.90
max speed (knots)
2
Naval Gun single 20 mm
The Max option implies only aircraft of this model onboard
2 units
2000-jun-19
Ordered
H87 HMS Echo
2000-jun-19
Ordered
H88 HMS Enterprise
2002-mar-4
Launched
H87 HMS Echo
2002-may-2
Launched
H88 HMS Enterprise
2003-mar-7
Commissioned
H87 HMS Echo
2003-oct-17
Commissioned
H88 HMS Enterprise
2004
Deployment
H88 HMS Enterprise Maiden deployment to Mediterranean
2005
Deployment
H88 HMS Enterprise Middle East deployment
2007
Deployment
H88 HMS Enterprise West African deployment
2008-jul-25
Deployment
H88 HMS Enterprise At Portsmouth 25-27 Jul for Meet Your Navy 2008
2009
Deployment
H88 HMS Enterprise East Africa and Gulf deployment
2011-jan-11
Port Visit
H87 HMS Echo visit to Malta, until 15 Jan.
2013
Deployment
H87 HMS Echo departed for 18-month surveying deployment in the Mediterranean, Red Sea, Indian Ocean and the Gulf.
2013-sep
Refit
H88 HMS Enterprise Completed refit at A and P Falmouth, which included hull re-finishing, upgrades to satellite comunications, propulsion deep maintenance and hydrographic echo sounder.
2014-jun
Deployment
H88 HMS Enterprise departed HMNB Devonport for 35 month deployment, initially in the Mediterranean. Returned 17 Apr 2017.
2015-jul-3
Deployment
H88 HMS Enterprise Operation Weald relieved HMS Bulwark on station in the Mediterranean for anti people-smuggling operations.
2015-dec-1
Deployment
H88 HMS Enterprise 2 crewmen being medevac by Spanish frigate Canarias helicopter SH-60B Seahawk
2017-jul
Deployment
H88 HMS Enterprise Assumed flagship role of NATO SNMCMG2 in Mediterranean Sea during Jul 2017.
2017-oct-7
Port Visit
H88 HMS Enterprise visited Touon.
2018
Refit
H87 HMS Echo dry-docking period in Falmouth, included a through cleaning of the hull bottom below the waterline.
2019-apr
Refit
H88 HMS Enterprise 6 week dry-docking period in UK Docks Teesside, Middlesborough.
2019-apr-30
Port Visit
H87 HMS Echo visited Batumi, during 3 weeks of operations in the Black Sea.
2020-may
Refit
H87 HMS Echo 6 week dry-docking period in UK Docks Teesside, Middlesborough.
2020-aug-10
Deployment
H88 HMS Enterprise arrived in Beirut from Cyprus, to remap approaches and port sea floor as part of UK aid to Lebanon, following Port Explosion on 4 Aug.
2023-mar-31
Decommissioned
H88 HMS Enterprise at HMNB Devonport.