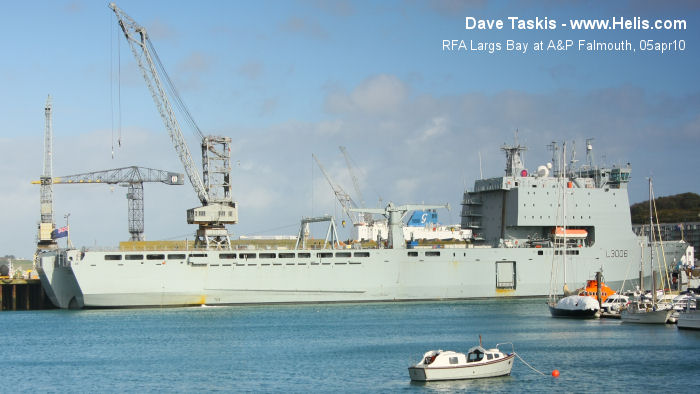 Add new event for this unit

| | |
| --- | --- |
| Year: | |
| Month: | <- (1/12) Optional |
| Day: | <- (1/31) Optional |
2000-dec-18
Ordered
2001-oct-1
Laid down
originally proposed to be named Quiberon Bay
2003-jul-18
Launched
2006-mar-2
Trials
contractors trials before final completion.
2006-dec-17
Commissioned
2007-mar-3
Suffered engine room fire en route HMNB Devonport. Subsequently towed into Plymouth Sound, arriving on 6 Mar.
2007-nov-17
Deployment
815 NAS 215 Flt Lynx HMA.8 embarked RFA Largs Bay for a 7 month anti-narcotics mission in the Caribbean, returning in Jun 2008.
2008-jun
Aircraft
assigned 815 Sq Lynx HMA.8 ZD261 as Largs Bay Flt / 352 by Jun 2008 until c May 2009
2008-jun-4
Port Visit
George Town HSB visiting Grand Cayman
2008-jul
Port Visit
HMNB Portsmouth Meet Your Navy 2008 at HMNB Portsmouth 25-27 Jul 2008 for Meet Your Navy
2009
Aircraft
815 NAS 219 Flt Lynx HMA.8 embarked RFA Largs Bay for a South Atlantic deployment
2009-jul-4
Port Visit
To George Town, Grand Cayman, departing 6 Jul.
2010-feb-3
Deployment
Port au Prince Operation Panlake In response to the magnitude 7.0 earthquake which hit Haiti on 12 Jan 2010, RFA Largs Bay left SMC Marchwood on her humanitarian mission arriving off Port au Prince on 18 Feb, returning on 29 Mar.
2010-jul
Deployment
Exercise Auriga 2010 Participated in the Amphibious component of Ex Auriga, with USS Kearsarge, HMS Albion and HMS Ocean, until Aug 2010.
2011-apr
Decommissioned
To decommission as part of the UK Oct 2010 Strategic Defence Review
2011-apr-6
Fate: transfered
Sold to Australia as ADFS Choules.
2011-dec-13
Commissioned
Fremantle Harbour Commissioning into RAN as HMAS Choules (L100) at Fremantle, to replace recently decommissioned HMAS Kanimbla.
2013-jul-15
Deployment
SWBTA Talisman Saber 2013 Jul13 - Aug13 at the coast of Shoalwater Bay Training Area
2015-jul-7
Deployment
Dundee Beach Talisman Sabre 2015 participated in Exercise Talisman Sabre 15, carrying 2nd Battalion Royal Australian Regiment (2RAR).
2017-mar-28
Deployment
Hamilton Island Airport Relief Operations Cyclone Debbie called at Brisbane to take on emergency relief supplies for Whitsunday Islands, Queensland, in the aftermath of Cyclone Debbie.
2018-mar
Trials
Conducted first of type operating trials in the Coral Sea with Army CH-47F A15-306, from 5 Avn Regt.
2020-jan-2
Aircraft
off Mallacoota Bushfire Assist Australian Bushfires 2019-2020 standing off Mallacoota in company with mv Sycamore, to assist in evacuation of population after some of the worst bush fires in Australian recorded history. HMAS Choules deployed with 808 Sq NH-90 A40-045 embarked.