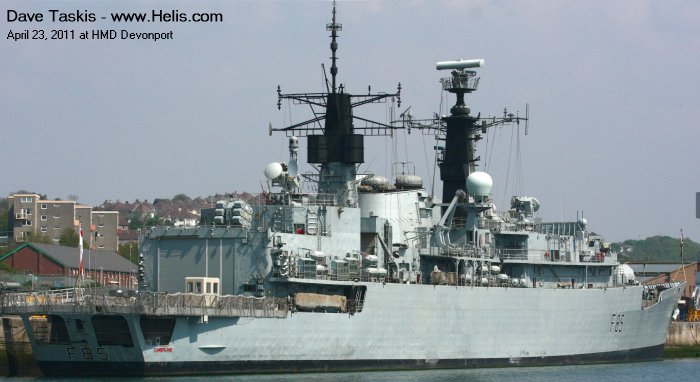 | | |
| --- | --- |
| | |
| IMO: | 4907127 |
| MMSI: | 234587000 |
| Flight Deck: | CL |
| Call Sign: | GAAP |
| Shipyard: | Yarrow |
1984-oct-12
Laid down

Laid down

Yard No 1032
1986-jun-21
Launched

Launched

was also known as The Fighting Sausage.
1989-may
Aircraft

Aircraft

829 Sq Lynx HAS.2 XZ256 assigned as Coventry Flt/350-CL, until c Dec 1991
1989-jun-10
Commissioned

Commissioned

1990-apr-18
Deployment

Deployment

Task Group 318.1

departed Portsmouth for western North Atlantic deployment as part of TG 318.1, escorting HMS Ark Royal (flagship), HMS Glasgow and HMS Brave, supported by RFA Fort Grange and RFA Olna. Returned to HMNB Portsmouth on 28 Jun.
1990-oct
Deployment

Deployment

departed HMNB Devonport for South Atlantic deployment, relieving HMS Danae.
1990-dec-22
Deployment

Deployment

She sailed to South Georgia just before Christmas arriving at Grytviken on 22 December. She sailed along the coast of South Georgia and returned to Grytviken on Christmas Eve. On Christmas Day she hosted the soldiers of the South Georgia garrison aboard for Christmas Day lunch of venison. The stag had been shot the day before by a sniper from the garrison; part of the garrison s duties being to control the deer population on the Island.
1993
Deployment

Deployment

spent some of 1993 as West Indies Guardship
1998-sep-15
Deployment

Deployment

Operation Swanston

stood by off Albanian coast to support British nationals, until relieved by HMS London on 22 Sep.
1999-mar
Aircraft

Aircraft

on board Lynx XZ721
2005-aug-08
Deployment

Deployment

Departed HMNB Devonport for a 4 month disaster relief and anti-drug Caribbean deployment.
2008-mar-15
Port Visit

Port Visit

Spiller's Wharf visited Tyneside, tied up alongside Spillar Wharf in Newcastle
2009-may-24
Deployment

Deployment

left HMNB Devonport with 815 Sq 210 Flight Lynx ZD259 embarked, for a 7 month deployment to the Arabian Gulf on anti-piracy and asset protection mission, returning on 1 Dec 2009.
2009-dec
Refit

Refit

Updates to weapons systems and communications suite by Babcock at HMD Devonport.
2010-sep-30
Deployment

Deployment

departed HMNB Devonport for five and a half month (planned) maritime security and anti-piracy deployment in Arabian Gulf and Indian Ocean,returning on 16 Apr 2011.
2010-oct-31
Deployment

Deployment

relieved HMS Somerset as the duty frigate in the Arabian Gulf
2010-dec-26
Deployment

Deployment

escorted FNS Charles de Gaulle carrier group through the Straits of Hormuz
2011-feb
Deployment

Deployment

relieved as Op Telic on-watch frigate by HMS Iron Duke in mid Feb 2011.
2011-feb-23
Deployment

Deployment

Benghazi Operation Deference departed Souda Bay and ordered to Benghazi, Libya to evacuate over 200 souls to Grand Harbour, Malta, arriving on 26 Feb 2011, prior to commencement of Operation Unified Protector
2011-mar-03
Port Visit

Port Visit

visited Merseyside for the last time before decommissioning, departed 7 Mar.
2011-apr-16
Port Visit

Port Visit

Returned to HMNB Devonport for final time, prior to decommissioning.
2011-jun-23
Decommissioned

Decommissioned

The Fighting Sausage decommissioned at HMNB Devonport, in advance of her out of service date, following the Oct 2010 Defence Review. In 2004, planned decommissioning date had been 2017.
2012-feb-16
ships hull towed from Devonport to Portsmouth Harbour, arriving 17 Feb, to be stripped before sale or scrapping
2013-apr
Fareham Creek by Apr 2013 was laid up in Fareham Creek
2013-jul-27
Fate: scrapped

Fate: scrapped

Aliaga

Shipbreakers

sold for scrap to Layal, Turkey and departed from Portsmouth on 4 Nov 2013, under tow and arrived Aliaga on 14 Nov. The last Type 22 frigate had been recycled/dismantled by 7 Apr 2014.
Add new event for this unit

| | |
| --- | --- |
| Year: | |
| Month: | <- (1/12) Optional |
| Day: | <- (1/31) Optional |
Aircraft

Yarrow
, Scotstoun