Helicopter Westland Sea King HAS.1 Serial wa 667 Register XV696 used by Fleet Air Arm RN (Royal Navy). Built 1971. Aircraft history and location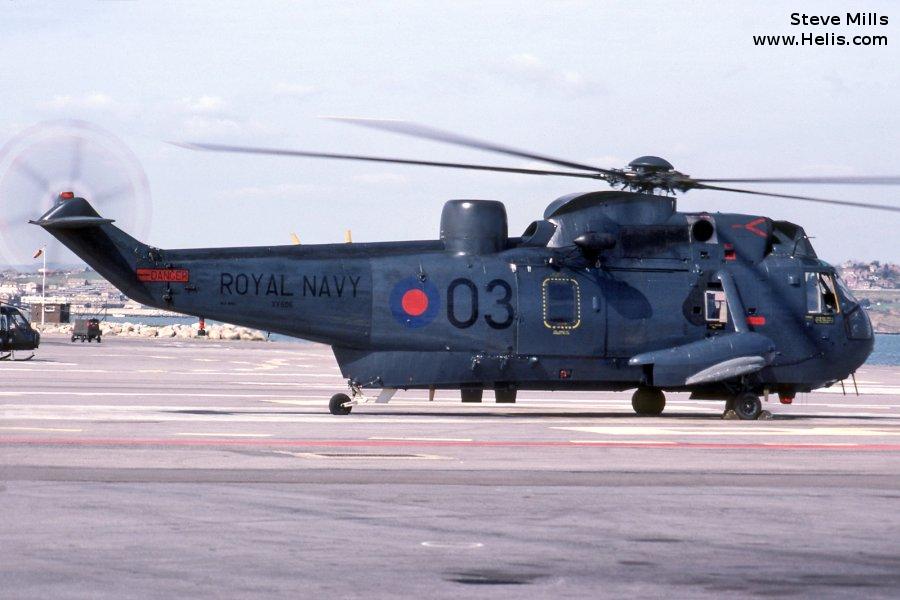 XV696

Fleet Air Arm

feb71

1971-02
RN HAS.1 f/f 18jan71 d/d 04feb71
1972-12
411-BL
HAS.1 820Sq/411-BL by Dec 1972 still Sep 1973 still Feb 1977 820 NAS
1977

Westland Sea King HAS.2A conv. HAS.2A RNAY Fleetlands 1977
814Sq/265-H by Aug 1978
814Sq/268-B by Dec 1980
814Sq/268 by Mar 1982. 814 NAS
1982-05-13

A

Anchorage Delta
mv Atlantic Causeway 825Sq/68 landed on mv Atlantic Causeway evening of 13 May 1982, for South Atlantic 825 NAS Operation Corporate
1982-06-04
Accident Toppled over following landing in a bog on Lookout Hill, Falkland Islands and damaged on 4 Jun 1982 as 825 Sq /268, cannibalised (eg tail to ZA310) during campaign, collected by RFA Engadine on 8 Jul from San Carlos and then extensively repaired in UK
NASU-VL Jul 1982. 825 NAS Operation Corporate
1983

Westland Sea King HAS.5 conv to HAS.5 1983, 810Sq/503 by 1986 still 1988, /503 at Fleetlands Jun 1991. 810 NAS
1984-04-03

B

EGDP
RNAS Portland about to depart from RNAS Portland 03Apr84 whilst operating for 810 NAS coded (5)03



1991

Westland Sea King HAS.6 conv HAS.6 1991, 826Sq B Flt/132 by Jan 1992 still Mar 1993 (deployed HMS Cornwall from Jul 1992, to HMS Chatham Jan 1993), 819Sq B Flt/699-PW by Jul 1993, 819Sq/708-PW by Apr 1995, 819Sq/267-N by Nov 1998
1999-07-07
RFA Argus 814 NAS / 267-N, disembarked RFA Argus on 7 Jul 1999
2001-02
G.I. Gosport by Feb 2001.
2001-08-23
267-L

C

HMS Sultan
G I Airframe noted at HMS Sultan, Gosport.
| | |
| --- | --- |
| | |