Helicopter Westland Sea King HAS.1 Serial wa 665 Register XV677 used by Fleet Air Arm RN (Royal Navy). Built 1970. Aircraft history and location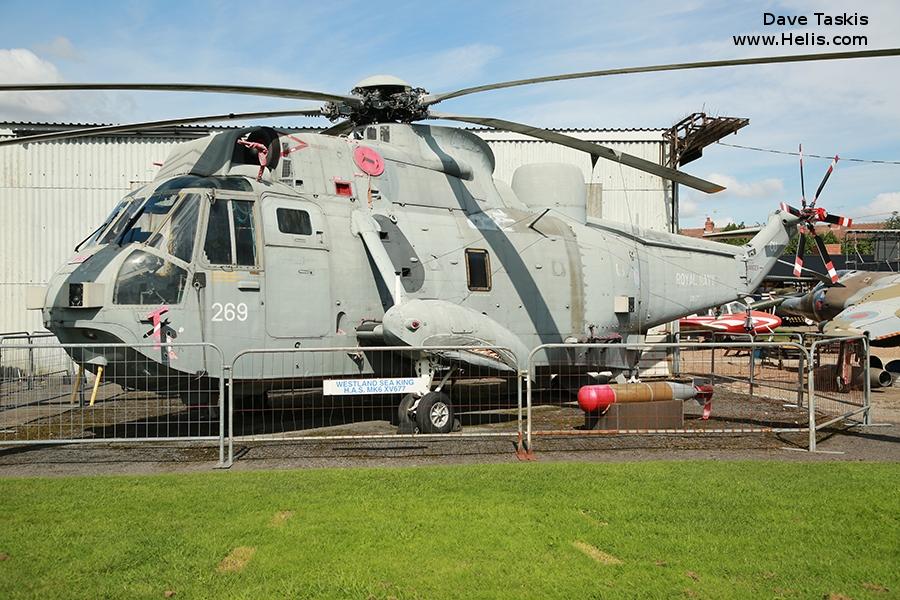 XV677


Westland Sea King HAS.6 HAS.1 f/f 18dec70, d/d 22jan71
conv HAS.2A
conv HAS.5
conv HAS.6
served with 706Sqn, 814Sqn, 819Sqn and 825Sqn
Sold to a private owner 706 NAS
HAS.1 820Sq /410-BL by Jan 1973, 814Sq /270-H by Mar 1974, NATIU trials a/c by Jan 1975. 814 NAS

Westland Sea King HAS.2A Fleetlands for HAS.2A conv Nov 1977, 706Sq/595-CU by Aug 1978 still Jul 1979, 825Sq/591 May - Sep 1982. 706 NAS
1979-07-25

A

EGDR
noted at RNAS Culdrose Air Day coded 595-CU with 706NAS 706 NAS

Westland Sea King HAS.5 Fleetlands for HAS.5 conv Jul 1984. NASU CU by May 1985, 819Sq/705-PW by Aug 1985, still Jun 1986, (819Sq/707-PW by 1988 ?). 819 NAS

Westland Sea King HAS.6 Fleetlands for HAS.6 conv May 1989 810Sq /501 by May 1990, 814 Sq/269-N by Sep 1993 still Jan 1995. Fleetlands store by Jun 1997. 814 NAS
RN in 1996 on HMS Invincible R05 type:HAS.6 /N-269 814Sqn. 814 NAS
1999-07

B

HMS Sultan

G I Airframe

to A2619 /269 by Jul 1999 G.I. Gosport still there Mar 2005, to Aeroventure (South Yorkshire Aircraft Museum) July 2006.

jul06

-
The airframe is currently stored at HMS Sultan awaiting it'
s relocation to AeroVenture, Doncaster.
25/07/06 - Moved to AeroVenture, Doncaster, UK, home of South Yorkshire
Aircraft Museum&nbsp
2019-09-05

C

EGCI

Exhibit

at Aeroventure, Doncaster in 814 Squadron marks.