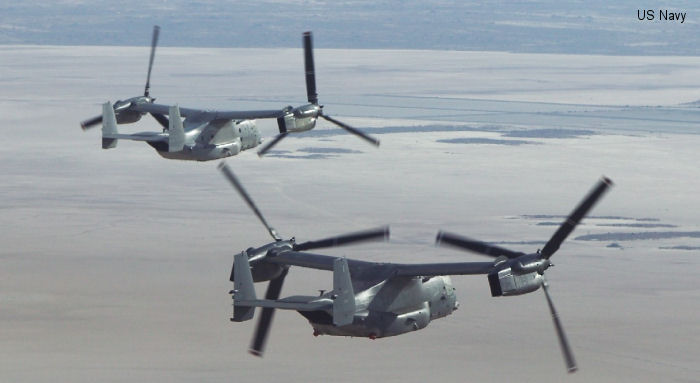 The Bell/Boeing V-22 tiltrotor is a revolutionary, vertical and short take-off and land (V/STOL), multi-purpose aircraft with excellent high-speed cruise performance. This advanced technology rotorcraft performs a wide range of V/STOL missions as effectively as a conventional helicopter, while equally capable of achieving the long-range cruise efficiencies of a twin turbo prop aircraft. Within this challenge, the Joint Services (USMC, USN, USAF, USA) specified in detail the operational requirements of the V-22. The joint requirement defined missions, airframe size constraints, payload handling, and other operational capabilities required to meet the needs of all the U.S. Military.win turboprop aircraft.

Six Full Scale Development (FSD) airframes of the V-22 (i.e. prototypes) were produced, c/n D0001 - D0006; only five were fully completed, the sixth never having its wings mated was used for ground live fire ballistics tests at NAWC China Lake. Twelve additional airframes assigned BuNos 164389 - 164400 were cancelled and never built.

The tiltrotor aircraft is manufactured under a 50-50 strategic alliance between
Bell Helicopter
and
Boeing
. As of 2011, the V-22 Osprey program of record calls for 360 aircraft for the US Marine Corps, 50 for the Air Force Special Operations Command (AFSOC) and 48 for the US Navy.
Bell/Boeing V-22 News archive
Through the end of 2014, Bell Boeing has delivered 242 MV-22 to the USMC and 44 CV-22 to the USAF.
Model
Year
History
CV-22
1997
USAF pre-production variant

MV-22
1997
Six Engineering Manufacturing & Development (EMD) MV-22 were ordered by USMC, but only four built; c/n D0007 - D0010; & two cancelled, (BuNo 1649 ...

MV-22B Osprey
1999
Production model ordered for USMC as MV-22B. First 22 airframes (c/n D0011/24, D0026/33) built as Low Rate Initial Production (LRIP) MV-22B airc ...

CV-22B Osprey
2005
USAF Special Operations variant equipped with extra fuel tanks and terrain following radar

V-280 Valor
2017
The V-280 Valor is Bell's third generation tilt-rotor designed for the the US Army's Joint Multi-Role (JMR) / Future Vertical Lift (FVL) progr ...

CMV-22B Osprey
2018
US Navy Carrier Onboard Delivery (COD) variant