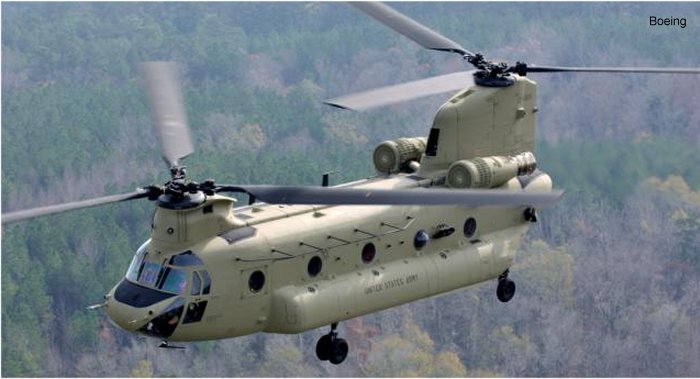 First 2 prototypes rolled-out in May 2002. First production model,
Lot 1
, delivered on July 2004 along with the
MH-47G
special operations variant. First of 352 production CH-47F rollout ceremony held June 2006 with first unit IOC achieved August 2007.
As of December 2012, 220 CH-47F Chinooks have been delivered to the US Army with a 464 total ordered.
The multiyear II (
Chinook MYII
) configuration incorporates a number of product improvements such as the new Cargo-On-Off-Loading system (
COOLS
) that enables rapid re-configuration of the floor for cargo missions and the Cargo Platform Heath Environment system that provides real-time health monitoring to further reduce maintenance actions and ultimately reduce the overall life cycle cost of the product. All of Army CH-47F Chinooks are scheduled to have COOLS by 2018.
As October 2014, 300 helicopters have been delivered to 18 active and National Guard units.
Block I
production for US Army scheduled to continue up to 2020.
In 2017, Boeing awarded contract to build three Engineering and Manufacturing Development (EMD)
CH-47F Block II
with expected delivery in 2023 and eventually upgrade more than 500 Chinooks to the new configuration. CH-47F Chinook Block II EMD performed
first flight
on March 2019.
On April 2019, the US Army announced intention to cut the planned Block II upgrade arguing that new priorities were focused in possible conflicts against China or Russia where the Chinook is not longer necessary as it was in Afghanistan. Funds were to be transferred to other programs such as the
FLRAA
. On May, the House Appropriations Defense subcommittee ruled against the Army changes.
First delivery of the Block II model is scheduled for 2023.
For other CH-47 Chinook variants in US Army service see: