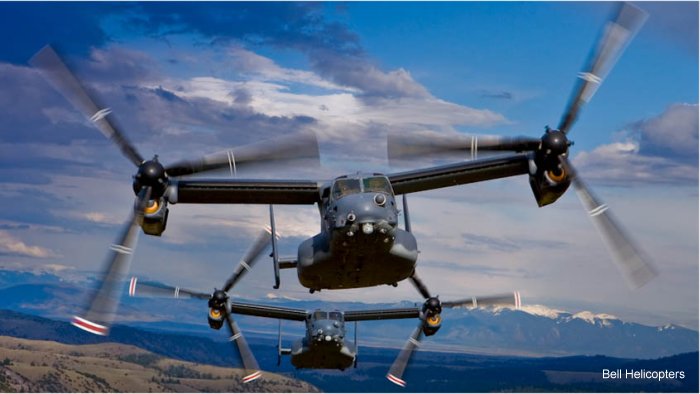 The USAF Special Operations Command (USSOCOM) replaced the
MH-53 Pave Low
with the
CV-22B Osprey
variant which is equipped with extra fuel tanks, terrain-following radar and many advanced defensive electronic systems.
In September 2000, the first 2 CV-22 aircraft were delivered to Edwards AFB for testing. On August 2006, the first production aircraft were delivered to 58th SOW, Kirtland AFB, NM.
In November 2008, took place USAF first operational deployment when four CV-22B were
sent to Mali during Exercise Flintlock
. The Ospreys flew nonstop from their base at Hurlburt Field, Florida doing aerial refueling. 8th SOS (Special Operations Squadron) reached Initial Operational Capability on 16 March 2009.
In June 2009, 8th SOS flew humanitarian missions in Honduras and later that year performed a three-month deployment in Iraq.
On 9 April 2010, USAF CV-22B 06-0031 crashed near Qalat, Zabul Province, Afghanistan, killing four.
On 13 June 2012, 8th SOS CV-22B 06-0032 crash on the Eglin Range, north of Navarre, Florida during a routine training mission, the five crew members aboard were taken to local area hospitals. A combat loss replacement aircraft was ordered the same month.
On January 2013, further 3 new CV-22 were ordered following by another 7 in June.
On 21 December 2013, three CV-22 Ospreys while attempting to evacuate US citizens from the town of Bor, South Sudan were hit by small-arms fire by rebel forces forcing them to diverted to Entebbe, Uganda.
In February 2019, 4 Ospreys visited for the first time DaNang Vietnam during second presidents Trump/ Kim summit
A total of 54 CV-22 aircraft are scheduled to be delivered by the end of 2021
On August 16, 2022 as part of a safety stand down AFSOC grounded its 52 CV-22B Osprey after two incidents of "hard clutch engagement" in the past six weeks