In 1978,
Norway
send four Bell UH-1B to
Lebanon
supporting the
UNIFIL
. The helicopter was from the 720 sqn. and the personnel were from 339, 719 and 720 sqn. This unit was called
NORAIR
and they operated from Naqura in southern Lebanon. All the helicopters was painted white with UN marked on the cargo door. One helicopter was lost in this operation. A replacement for the crashed helicopter was send to Lebanon in 1979.

An Italian unit,
ITALAIR
, replaced the Norwegians from july, 3 1979.

The prime Norwegian component of the United Nations Interim Force in Lebanon
UNIFIL
completed at the end of Jul 1979, to be replaced by a rotating multi-national commitment.
The UN Mandate was renewed in 2006 following the war with
Israel
in southern Lebanon, under UN Security Council Resolution 1701.
Brazilian Navy
units have been operating from Beirut since 2011.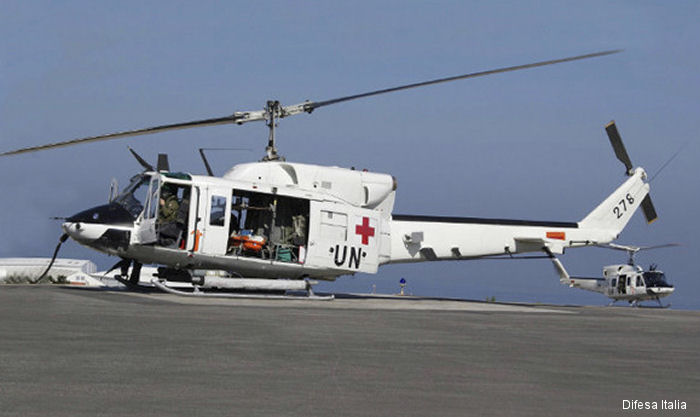 ITALAIR performed Medevac Flight in Lebanon, 21-Jan-16 : Since 1979 italian helicopters from ITALAIR has performed more than 39,000 hours of flying in the skies of Lebanon and Israel with over 1700 medical evacuations of sick or injured people.
Not all models shown may have taken part in the Operation
Some of the units could be operating fixed wing aircraft at the time, check every unit for details

Individual helicopters