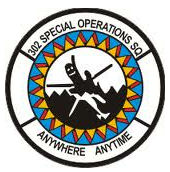 1956 - 302 Air Rescue Squadron ( 302 ARS ), Air Force Reserve (AFRES)
1966 - 302 Aerospace Rescue and Recovery Squadron ( 302 ARRS )
1974 - 302 Special Operations Squadron ( 302 SOS )
1987 - 302 Tactical Fighter Squadron ( 302 TFS )
The 302nd Rescue Squadron flew HU-16B Albatross aircraft before being transferred to the Air Force Reserve. In 1971 they received HH-34J Choctaw (refurbished SH/UH-34J Seabat) helicopters. The unit transitioned into HH-3E Jolly Green Giants and UH-1H Hueys in 1974.

---
1950s My Father flew with this squadron in the Air Force reserves out of Luke Air Force Base. He flew the HU-16B Albatross. He died in 1960. I am trying to find information about my father as I was 12 when he died

Late 70s, I was assigned to the 302 SOS as a flight Medic at Luke AFB flying HH-3E and UH-1H Hueys. Dale Day.

Late 70s, I was assigned to the 302 SOS in maint. at Luke AFB. Joyce

1985-1987, I worked in the 302d SOS Reserve Unit at Luke Air Base, AZ. The Commander was Lt Col Richard Davis. I worked for the Director of Operations (DO) Maj Thomas W. Spencer. The guys were flying the CH-3 Jolly Green Giant helicopter. They flew rescue missions, military special training flights and flew missions with the Navy Seals using Night Vision Goggles (NVG). I was the Secretary to the DO. Winona Cox

The 302nd SOS was still flying in 1990-1991. They deployed to Desert Shield/Desert Storm. I was with Base Flight at Luke from 1977-1985 on the UH-1s. I dont recall all the tail numbers over the years, but 6625 and 6648 were Ps. 6620 was an F. 493 was a P and is a static display in the Hurlburt Field Airpark.

Years
Location
ICAO/FAA
1960/87
Luke AFB
KLUF




302nd SOS List of helicopters

Help Us
C/N
Version
Built
In this Org
In other Org
58-915
hss-1n
145678 : USAF, ex USN 145678; 1971 302nd ARS

145678 : del USN as HSS-1N, 145678, unk; redesig UH-34J, Oct62; wfu & stor MASDC as+

58-1272
hss-1n
148014 : USAF, ex USN 148014; 1971 304th ARS; to 302nd ARS

148014 : del USN as HSS-1N, 148014 unk; redesig SH-34J, Oct62; wfu & stor MASDC as +
- C-GMMR : Keystone Aerial Harvesting at Nakusp, BC 1980-1983; nicknamed IGOR;
: Terr-Air Rotary from Jan83; pictured at Langley Regional airport, Langle+

58-1278
hss-1n
148019 : USAF, ex USN 148019; 1971 302nd ARS

148019 : del USN as HSS-1N, 148019 unk; redesig SH-34J, Oct62; wfu & stor MASDC as +

58-1313
hss-1n
148938 : rts & xfer NARF Pensacola, FL, 22APR71; redesig HH-34J, unk; xfer 302nd AR+

148938 : del USN as HSS-1N, 148938 unk; redesig SH-34J unk; wfu & stor MASDC as HD0+

58-1326
hss-1n
148942 : USAF, ex USN 148942; 1971-1974 302nd ARS

148942 : USN HSS-1N, redesig SH-34J Oct62; to MASDC as 3H???? unk; Jun71 to USAF +
- N942HH : Apr85-Apr11; canc
- 148942 : 26jun15 pictured in paintball park, Bothwell, Manitoba, Canada

58-1343
hss-1n
148953 : USAF, ex USN 148953; 1971 302nd ARS

148953 : del USN as HSS-1N, unk; redesig SH-34J, Oct62; unit xfers unk; wfu & stor +

58-1353
hss-1n
1961
148957 : USAF, ex USN 148957; 1971 302nd ARS

148957 : Sikorsky HSS-1N, c/n 58-1353, ff?; del USN as 148957, 26Jun61; soc as SH-3+
- TI-SPJ : conv S-58ET, unk; xfer MAP to Costa Rica Ministry of Security as S-58ET, T+

61-508
ch-3c
1963
63-9676 : del USAF as CH-3C 63-9676, 31Dec63; conv CH-3E unk; xfer 20th Heli Sq, Udo+

61-543
ch-3c
1965
65-5692 : Sikorsky S-61R, c/n 61-540, ff?; del USAF as CH-3C 65-5692, 10Jan65; conv +

61-548
ch-3c
1966
65-5697 : Sikorsky S-61R, c/n 61-548, ff?; del USAF as CH-3C 65-5697, 09Mar66; conv +

61-609
ch-3e
67-14707 : USAF; Sep78 pictured with 302nd SOS AFRES at Luke AFB, Arizona; conv HH-3E+

714707 : xfer 3aug72: soc 14mar73.
L82103 : Tunisia, ex USAF 67-14707