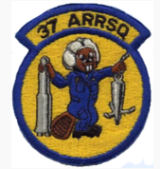 The 37th ARRS was activated during the Korean War when helicopters were first used for medical evacuation.
The
Jolly Green
served during the Vietnam War where in addition to their helicopters they also flew the Grumman HU-16 Albatros amphibious flying boat and the HC-130 specialized variant of the Hercules transport. They carried out numerous search and rescue operations in combat areas and participated in the evacuations of Phnom Penh (Cambodia) and Saigon (Vietnam) and also provided service during the assault on Koh Tang Island during the Mayaguez incident.
After the Vietnam War, 37th ARRS was deactivated, only to be reactivated in December 1973.
Det.1 had HH-1H at
Davis-Monthan AFB
for missile site support during the mid 70s until closing in late 1985
Det.2 had UH-1F at
Ellsworth AFB
Det.3 had UH-1F and HH-1H at
Grand forks AFB
, later
79 RQF
(Rescue Flight)
Det.4 at
Little Rock AFB
Det.5 at
Malmstrom AFB
since 1964 until redesignated
40th Helicopter Flight
in 1998
Det.6 at
McConnell AFB
Det.7 at
Minot AFB
, later
54 HF
Det.8 at
Vandenberg AFB
, later
76 HF
Det.9 at
Whiteman AFB
Det.10 at
F. E. Warren AFB
, later
37 HS
---
When 37 ARRS was reactivated on 1 Dec 73, there were 9 geographically separated detachments and a
headquarters flight
at FE Warren AFB WY. The headquarters flight was later redesignated as a detachment. All of the detachments had UH-1F helicopters and supported operational missile wings except for Det 8 which had UH-1Ns and supported missile test and evaluation activities at Vandenberg AFB. Dets 2, 3, 5, 7, and 10 supported Minuteman III wings. Dets 1, 4, and 6 supported Titan II wings. In 1974, MAC reorganized combat rescue units in Europe that were flying the HH-1H. One closed down. I believe it was at Aviano AB Italy. Another was at Zaragoza AB Spain and converted from HH-1H to UH-1N. All the HH-1H aircraft from Europe were shipped to the US and were distributed to the three dets of the 37 ARRS that supported Titan II missiles. The HH-1H had a much shorter fuel range and it was not feasible to support the more widely dispersed Minuteman III sites with these aircraft. I was stationed at Little Rock AFB and ferried 70-2485 from Plattsburgh AFB NY to Little Rock on September 9-12, 1974. This was our second HH-1H to arrive. Dets 1, 4, and 6 received their HH-1H aircraft at approximately the same time and continued to fly them until Titan II missiles were deactivated in the mid-80s. As the Titan II units deactivated, the HH-1Hs were sent to Minuteman III bases (see note about Det 3 ). When the
40 ARRS
detachments began deactivating in 1988, all the HH-1Hs were replaced by UH-1Ns. h3driver

HQ 37th ARRSq:
MAC was reactivated at FE Warren AFB, WY 01dec73. They were located upstairs in a former Atlas Missile assembly building designated as Building 1250. ARRSq-FLT was located downstairs in the same building.

Detachment 1, 37th ARRS:
at Davis Monthan AFB in 1974-1978 we had UH-1F to start and soon were changed to HH-1H tail number were 70-2471,70-2472 and 70-2458.. I was crew chief of 2471 and also hoist instructor enjoyed flying..

Detachment 1, 37th ARRS: 1974-76, I was Ops Officer and one of two pilots selected to become rescue hoist operator instructors on the HH-1H's so the unit could be certified to use the built in rescue hoists and begin training the NCO hoist operators (Robby Lynch was the other pilot selected) . I made the first two (civilians) saves credited to the unit using the hoist. Mike Randolph

Detachment 2, 37th ARRS:
I was a crew chief on
65-7959
UH-1F. I was in it when the picture of it was taking of MT. Rushmore. I was inlisting for my second time. 1972 to 1979 was the years at Ellsworth AFB.

1967-1971 at Ellswoth, Sgt. Romero, 28th OMS then went sea. Crew chiefed several incl. 232 The only TH-1 model with TACAN system...dock 80

Detachment 2, 37th ARRS: 1981-1985 at Dock 80 EAFB, SD. After receiving my 5 level at Kirkland AFB,NM in 1983 I was the crew chief of UH-1F
65-7959
until I separated in Sep85! I still reside in Rapid and spend my winters in Vegas. I.S. Jenkins, A1C USAF. Thunder Hueys rule!

Detachment 2, 37th ARRS: Mar82-Jun85, as a USAF Security Policeman assigned to the 45th Missile Security Squadron at Ellsworth, my fire team often flew aboard UH-1Fs and UH-1H's assigned to the 37th ARRS. We were members of the Airborne Fire Team (security over-watch for warhead movement convoys within the 44th SMW Missile Field (Ellsworth)). We flew with several pilots during those years, the most notable to us at the time having been 2Lt Marsha L. Allen, a sharp officer and academic standout, native of Duncanville, Texas, who held the distinction of being Ellsworth's ONLY female pilot. She was also only the 2nd female chopper pilot in all of Military Airlift Command at the time (Det 2, 37 ARRS being a MAC tenant unit assigned to support of 44th Strategic Missile Wing (SAC) Minuteman IIs. My fire team flew with Lt Allen just a week or two prior to her death. On 1 Sep 1982 her aircraft experienced a catastrophic tail-rotor failure and she was the sole fatality of the crash that injured two others during a routine missile field communications cable survey, approximately 15 miles NW of rural New Underwood, SD. Two years later I cross-trained into the USAF History Program (792X2/3HO71) from Jun '85-10 Jul '96) and now in my retirement, I am writing a book that includes memorial mention of Lt. Allen. I am, unfortunately, unable to reach next-of-kin for her to request their permission for same, but welcome any and all information on her or that particular IFE and resultant accident. I also do not know the tail number of the aircraft involved, but I do know this accident was the 2nd of three serious crashes that involved fatalities aboard UH-1 airframes, (9 Oct 1971, 1 Sep 1982, 29 May 1986) all Cold War line-of-duty deaths in support of Minuteman II operations in South Dakota. In my book I mention 1LT Allen and the other crashes mentioned above in tribute to their lives and their sacrifice. I am not attempting any latter-day muck-raking or post-mortem investigation as to causes. Again, any and all information in relation to ANY of the previously-mentioned Det 2, 37th ARRS crashes at Ellsworth would be deeply appreciated. Bret S. Whitmore, formerly TSgt, USAF.

Detachment 3, 37th ARRS:
was at Grand Forks AFB, Grand Forks, North Dakota. HQ for Det 3 was F. E. Warren, WY

Detachment 3, 37th ARRS: I was at Grand Forks AFB 1974-1978. We had five UH-1F aircraft in support of the missle fields

Detachment 3, 37th ARRS: I was the crewchief on HH-1H
70-2461
when it crashed, I had assisted with launching the aircraft that afternoon and was the last to see the crew alive. Horrible day. I was given the call sign plate from the instrument panel after the investigation. The aircraft was soon replaced by 70-2458 which I crewed until I left the program in 1994. We had 5 HH-1H while I was there, 70-2461, 62, 63, 65, and 58. We made the transition to the 79th RQF about the same time that the MAC to AMC transition took place. All of the aircraft left when the grand forks missile wing was decommissioned around 86-87. Looks like they are all still listed with AMARC.

Detachment 3, 37th ARRS: my name is Mark Nelson, I was stationed from late 1974 to 1978.I flew as observer/medical recovery/and missile convey coverage. I was a one deep position who both flew and did pilot records/sorties.

Detachment 3, 37th ARRS - Grand Forks AFB. I was at Det 3 from 1978 - 1982. I worked on the 5 UH-1F before they were decommissioned and transitioned to display models for other bases. We received 5 HH-1H models and during the transition we double parked the units in the detachment hangar. We were support for the missile field, and had a mission requirement to be air ambulance. I think the HH-1H came to us some time in 1980/1981 time frame.

Detachment 4, 37th ARRS
: Little Rock AFB, AR. Supported the 308 Strategic Missile Wing flying priority parts and crews to the 18 Titan II missile sites until the missile wing deactivated in August 1987. All helicopters, 70-2460, 70-2470, 70-2484 and 70-2485 were flown to Hill AFB after we deactivated the Det. 70-2460 is on static display at Little Rock AFB, Ar. 70-2470 is on display at Hill AFB museum. 70-2484 is I believe was sent to AMARG DMAFB, AZ after a parachute was caught in the rotor system. I know the accident happened, but not sure if the actual aircraft was sent to DM or not. 70-2485 was still in service as of last year, at Lackland AFB, San Antonio Texas.

Detachment 6, 37th ARRS
: McConnell AFB, Wichita Kansas, I was assigned from March 1975 to February 1977. We were assigned 70-2469, 70-2473, 70-2474, and 70-2475. Daniel Green

Detachment 6, 37th ARRS: HH-1H pilot from May 1975 to October 1979. D. Howerton

Detachment 6, 37th ARRS: I was assigned at McConnell from July 1975 to April 1981. Donnie Gross

Detachment 7, 37th ARRS:
Minot AFB, flew from june 74 to 78 in UH-1F. Had 6 of those as I recall. We were 37arrs, but flew mostly missile support: missile crews drove to their control centers

Detachment 7, 37th ARRS : Feb71-Aug72, I was stationed at Minot with the Uh1F det In the 5th OMS Why is there no record of the Huey that crashed in 72 killing five security policeman?(the pilot survived

Detachment 7, 37th ARRS: I was stationed at Minot AFB from 31jan79 to 20apr87. We switched from having 5 F-model Hueys (1215--put on display on base...I hoisted it up there with an A-16 Crane and Pony,1238, ??66, ??65 are the ones I remember) right after I got there to 5 HH-1H Hueys. H-model tail numbers I remember: 2476, 2477, 2483, 2486.

Detachment 8, 37th ARRS:
Vandenberg AFB, 3 UH-1N, I was there 1985 until the maintenance went contract in 1988. They flew missile support, clearing the range for actual missile and NASA launches. Very active air rescue missions. They were going to start space shuttle support missions but the shuttle operation was mothballed at Vandenberg after the Challenger disaster in 1986.

Detachment 8, 37th ARRS: Vandenberg AFB, I was stationed there from 1984 to 1988 when it went contract maintenance. I was a Mechanic and got to watch the Titan Missile blow up as it exited the silo. I worked for MSgt Strong DCM and MSgt Reedy First Sgt we had three Huey UH-1N Models. They flew missile support, clearing the range for actual missile and NASA launches. Very active air rescue missions. They were going to start space shuttle support missions but the shuttle operation was mothballed at Vandenberg after the Challenger disaster in 1986 as someone stated above very correct, what a great Unit. I met Bo Derek and Charleston Heston while stationed there and the beach was great for us broke new Amn to utilize. Do they still have the restaurant Bollero in the town I enjoyed going there it was owned by Bo Derek. -

Detachment 9, 37th ARRS
: Whiteman AFB, 1972-1976 My Dad, Marvin Allen was a SGT in the 37th ARRS MAC. He was a 43150D Helicopter Mechanic. He passed away in 2013, looking for more details about his service

Detachment 9, 37th ARRS: Whiteman AFB, 2 TH-1Fs and 2 UH-1Fs. I was there from Jun75 to Jan79. The UH-1Fs were possibly
65-7914
and
65-7915
. They flew missile support for Minuteman IIs.

- 1985, the UH-1F was still active in the 37 ARRS Dets 2,5,9,10 when I left. Dets 1,3,4,6,7 had HH-1H and Det 8 had UH-1N