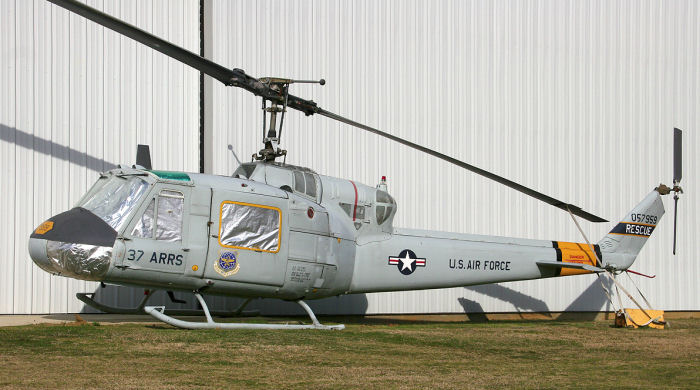 Originally designated as
UH-48
missile sites support helicopter, the Huey UH-1F was the Bell 204 Air Force variant of the Army UH-1B/C but with a General Electric T58 engine rather than the Lycoming used on other models at the time. The resulting aircraft had the shorter cabin of the UH-1B, but with the longer tail boom, rotor and transmission of the UH-1D.
The UH-1F was introduced into the USAF inventory in February 1964 with production ending in 1967. Many of the aircraft served in Southeast Asia, and some were converted to the armed
UH-1P
for psychological warfare role . The last UH-1F was retired from the USAF in the early 1980s and replaced by the 205 variant
HH-1H Huey
The basically similar
TH-1F
was for instrument and hoist training .
BuNos 63-13141 / 13165 : UH-1F c/n 7001 / 7025
BuNos 64-15476 / 15501 : UH-1F c/n 7026 / 7051
BuNos 65-7911 / 7965 : UH-1F c/n 7052 / 7106
BuNos 66-1211 / 1224 : UH-1F c/n 7107 / 7120
BuNos 66-1225 / 1250 :
TH-1F
c/n 7301 / 7326
BuNos 66-15358 / 15361 : Cancelled UH-1F. Possible sent to
Colombian Air Force