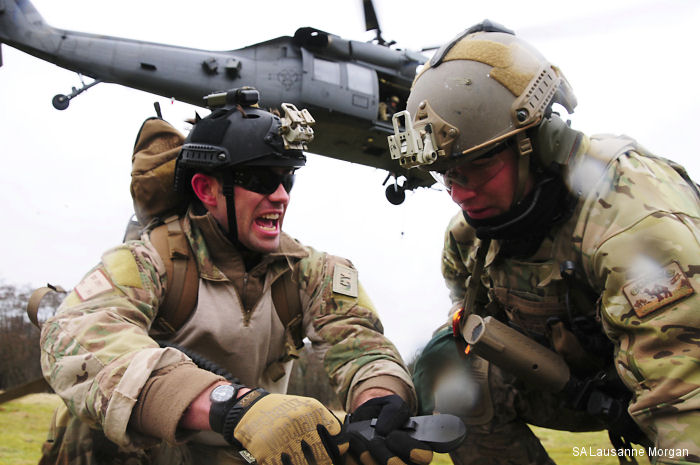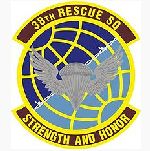 1952-1956 - 38th Air Rescue Squadron (38 ARS)
1966-1989 - 38th Aerospace Rescue and Recovery Squadron (38 ARRS)
1989-1994 - 38th Air Rescue Squadron (38 ARS)
1994-2001 - 38th Rescue Flight (38 RF)
2001- - 38th Rescue Squadron (38 RQS)

Employs combat-ready pararescue (PJs) and supporting personnel worldwide. Maintains combat-ready status as a Guardian Angel rescue squadron. This squadron trains, equips and employs combat rescue officers, pararescue, survival, evasion, resistance and escape (SERE) specialists and supporting personnel. Its members accomplish all five execution tasks of Personnel Recovery, specializing in survivor contact, treatment and extraction in denied, uncertain and hostile territories.
---
38th ARRS, Det.12 was the last Pedro HH-43 to fly in Thailand. Was at Utapao RTAB and the unit changed aircraft in August 1975 to the UH-1N. All of the HH43s from Ubon, Udorn, Karat were all flown to Utapao for dismantling. The unit was closed 31 January 1976

| | | | | | |
| --- | --- | --- | --- | --- | --- |
| | C/N | Version | Built | In this Org | In other Org |
| | 61-513 | ch-3c | 1964 | 63-9681 : del USAF as CH-3C 63-9681 21May64; conv CH-3E; xfer 38th ARRS, Ton Son Nhu+ | |
| | 61-514 | ch-3c | 1964 | 63-9682 : del USAF as CH-3C 63-9682 22May64; xfer 40th ARRS, Det 5, TAWC, Eglan AFB,+ | |
| | 61-515 | ch-3c | 1964 | 63-9683 : del USAF as CH-3C 63-9683 27May64; xfer 44th ARRS, Homestead AFB, FL Apr7+ | |
| | 61-517 | ch-3c | 1964 | 63-9685 : 38th ARRS w/o 06nov65 hit by ground fire during CSAR of an A-1E. Was 1st J+ | |
| | 61-518 | ch-3c | 1964 | 63-9686 : del USAF as CH-3C 63-9686 14Jul64; xfer 1370th OMRON, Turner AFB, GA 1967+ | |
| | 61-519 | ch-3c | 1964 | 63-9687 : del USAF as CH-3C 63-9687 14Jul64; conv CH-3E; xfer 100th SRW, 432nd TDG, + | |
| | 61-528 | ch-3c | 1965 | 64-14225 : Sikorsky S-61R, c/n 61-528, ff?; del USAF as CH-3C 64-14225, 08Mar65; conv+ | |
| | 61-534 | ch-3c | 1965 | 64-14231 : 38th ARRS, w/o 29nov66 crashed | |
| | 61-553 | ch-3c | | 65-12778 : USAF; conv to HH-3E; 38th ARRS w/o 20jan66 during SAR mission | |
| | 61-554 | ch-3c | | 65-12779 : USAF; conv to HH-3E; 38th ARRS w/o 06feb67 during SAR mission | |
| | 31001 | UH-1N | | 68-10772 : Aug76 to Mar80 at least based at Det18, 38th ARRS in Plattsburgh AFB, NY .+ | |
| | 31004 | UH-1N | | 68-10775 : -1980, I was the crew chief for this bird at Det18, 38th ARRS Plattsburgh + | |
| | 70-1420 | hh-60g | | 89-26197 : 2012 pictured (pic1) asg 38 RQS appear on Inside Combat Rescue TV series f+ | |
| | 70-1423 | hh-60g | | 89-26200 : 2012 pictured asg 38 RQS appear on Inside Combat Rescue TV series from Nat+ | |