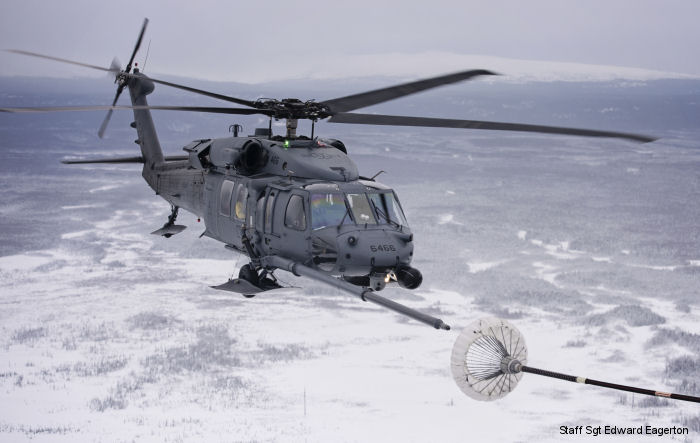 The
Sikorsky Pave Hawk
is the derivative of the UH-60 Black Hawk (
S-70 family
) in service with the United States Air Force. They are capable of conduct day or night operations into hostile environments and were the first Hawks to introduce an air-refueling capability. Their history trace back to early 1980s when eleven UH-60A in the
Europe One
cammo were assigned to the 55th ARRS waiting for the reception of the planned combat SAR variant
HH-60D Night Hawk
. After the completion of a single prototype the HH-60D was cancelled in 1989 and the UH-60As were upgraded in several steps as
Credible Hawk
and finally to the Pave Hawk. The
MH-60G Pave Hawk
is used for the insertion and recovery of special operations forces while the
HH-60G Pave Hawk
's is a combat search and rescue (CSAR) aircraft employed in the recovery of downed pilots. With virtually no difference between both versions the biggest difference (and determining factor in the designation) was the command that they were assigned to. The 10 MH-60G's were assigned to AF Special Operations Command (AFSOC) and hence the "MH" designation for "multi mission". The MH-60G's also had a different paint scheme -- a dark gray similar to the other AFSOC aircraft like the
MH-53J/L Pave Low
and the MC-130 Hercules. The remaining HH-60G's were assigned to rescue duties with Air Combat Command (ACC) and painted woodland camouflage. The other minor differences are that the MH-60G's had
Seahawk
windows long before the HH-60G's, the (former) MH-60G's all have rotor brakes, and they have windshield washer reservoirs and motors. When the USAF had both designations in service, there was only one Operator's Manual ("Dash 1") and it was for the "MH/HH-60G Pave Hawk". With the closing of the only AFSOC MH-60G unit in the late 90's, the MH-60G's were transferred to ACC, painted woodland camo, and re-designated HH-60Gs.
As of 2011, two USAF Pavehawks airframes have already reached 10,000 flight hours and 13 of them have been lost by several causes.
On September 2011, 4 US Army
UH-60M
Black Hawk were re-designated as
HH-60U
and delivered to the USAF for SAR missions. Equipped with advanced glass cockpits, were the Air Force's first new helicopters in 14 years.
Please refer to
H-60 in US Army
for the BuNos list
Replacement:
The
HH-47 Chinook
was selected in 2006 as their replacement but the Pentagon canceled the contract in 2009 after multiple protests by the losing bidders. As of December 2012, the
Combat Rescue Helicopter
(
CRH
) program still continue to suffering delays after Bell, Boeing and AgustaWestland opt out their bids. Apparently the Air Force bidding rules were so narrowly framed that they effectively excluded their aircraft from the competition favouring the Sikorsky UH-60M.
On November 2013, USAF announced Sikorsky/Lockheed-Martin was the sole contractor responding to the request for proposals for as many as 112 helicopters with a potential value of $6.8 billion with their
CRH-60
and on March 2014 they received approval to start working from FY2015
On June 2016, USAF received first of 21 ex US Army UH-60L converted into HH-60G under the
Operational Loss Replacement
(OLR) program initiated in 2012.
On July 2019, the 413th Flight Test Squadron was the first unit to receive the new
HH-60W
Unidentified HH-60G Lost in Afghanistan:
09jun10 : shot down in Helmand province, 5 fatalities
11dec09 : hit by gun fire ( 88-26118 ? )
23mar03 : /Komodo11, 6 fatalities