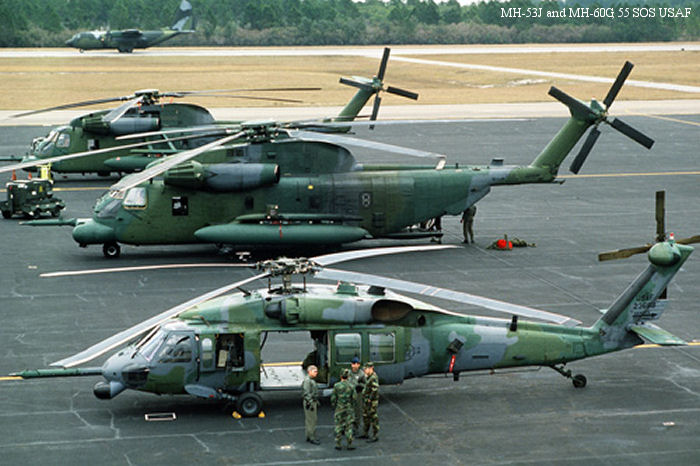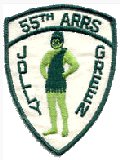 The Night Hawks were formed in 1952 as the 55th Air Rescue Squadron which was stationed in Greenland and Bermuda before moving to Florida in 1970. In 1982 was the first USAF unit to operated the H-60 when received UH-60A Black Hawks (as the Night Hawk) loaned by the Army waiting for the arrival of the Air Force variant Pave Hawk. In 1999 the MH-60G Squadron was dissolved and the helicopters re-designated HH-60G.

1952-1966 : 55 Air Rescue Squadron ( 55 ARS )
1966-1988 : 55 Aerospace Rescue and Recovery Squadron ( 55 ARRS )
1988-1999 : 55th Special Operations Squadron ( 55 SOS )
2003 - 55th Rescue Squadron ( 55 RQS )
---
Flew with the squadron in 76-77 out of Eglin as part of the SR crew. Good times and long flights. One in particular stands out looking for a Marine F4 crew that went down in the Gulf. Mission was extended for over two weeks because the pilot was the son of the Marine Commandant. Most reliable helicopter I ever flew in and terrific people.

News of 55th Rescue Squadron
1st SOW in operations Desert Storm, Desert Shield, 15-Nov-06 : HURLBURT FIELD, Fla ny Master Sgt Jeff Michalke , 16th SOW History Office - President George H.W. Bush ordered ground, sea and air forces to Saudi Arabia and the Persian Gulf as part of a multi-national operation named Desert Shield on Aug. 6, 1990.
| | | | | | |
| --- | --- | --- | --- | --- | --- |
| | C/N | Version | Built | In this Org | In other Org |
| | 65-145 | HH-53C | | 67-14996 : USAF; 55th ARRS w/o 08oct69 | |
| | 65-390 | HH-53C | 1974 | 73-1652 : Last entry is incorrect 652 is on outdoor display at the SOF Museum outsid+ | |
| | 70-352 | mh-60g | | 81-23647 : USAF; UH-60A conv MH-60G; w/o 14aug87, 55th ARRS | |
| | 70-512 | mh-60g | | 82-23689 : USAF; UH-60A conv MH-60G; late 80s pictured as MH-60G type during first te+ | |
| | 70-1212 | hh-60g | | 87-26010 : jul98 55th SOS | |
| | 70-1215 | hh-60g | | 87-26012 : USAF; jul98 55th SOS | |
| | 70-1433 | hh-60g | | 89-26204 : jul98 55th SOS | |