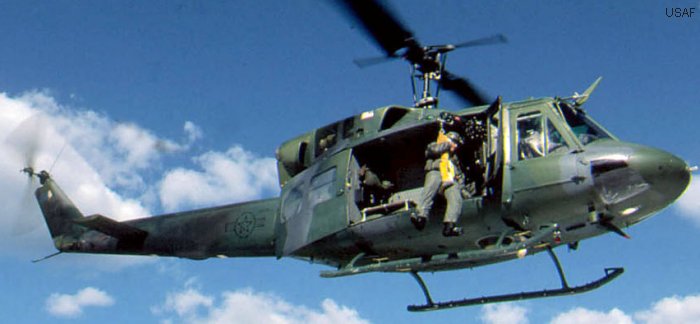 The
Twin Huey
entered the Air Force inventory in 1970 to provide search and rescue capabilities but soon expanded to include missile sites support, VIP and air adviser operations. They are assigned worldwide and eventually replaced both the
HH-1H
and
UH-1F
single engine Iroquois
68-10772/10776 : UH-1N : c/n 31001/31005
69-6600/6670 : UH-1N : c/n 31006/31076
69-7536/7538 : UH-1N : c/n 31077/31079
70-15650/15699 :
Canadians CH-135
: c/n 32001/50
73-22054/22055 : Tunisia UH-1N : c/n 31442/43
On August 1st 2014, the 3 remaining squadrons flying the UH-1N in support of the USAF intercontinental ballistic missile (ICBM) force (
37th HS
,
40th HS
and
54th HS
) were merge into a single unified command, based at
FE Warren AFB
, Wyoming named
20th Air Force Helicopter Operations Group
(20th AF HOG).
USAF UH-1 replacement
On 2011, with 62 of them still in service, USAF launches a competitive bidding process for a 93 new helicopters request known as the
Common vertical lift support platform
(
CVLSP
) programme. The five most likely helicopters competing are at least 50% larger than the UH-1N, ranging from the 6,800kg AgustaWestland
AW139M
to the 22,700kg Boeing
HH-47
. Falling in between are the Bell
UH-1Y
, Sikorsky
UH-60M
and the Eurocopter
EC725
. But the CVLSP was killed in the Pentagon fiscal 2013 budget proposal and USAF meant to received up to 30 recently retired
ex USMC
UH-1Ns and a program to modernize all surviving aircraft was expected to begin by 2015.
In 2014, the Air Force Requirements Oversight Council (AFROC) recommended replacing the UH-1N with US Army UH-60A Black Hawk by upgrade them to the L variant at an estimated cost of $10 million per aircraft. Known as
UH-60A2L
program, 62 UH-1Ns have to be replace by 72 Black Hawks for $980 million with expected initial deliveries by September 2017 and continue into the early 2020s.
As of 2017, new candidates includes the
HH-60U
( allegedly 85% similar to the
HH-60W
) and the
MH-139
On September 24, 2018 USAF selected the Boeing/Leonardo Philadelphia
MH-139A Grey Wolf
---
One unidentified UH-1N was lost in training on 1973 at Brass Key II near Fort Bragg

The
72nd HD
that was stationed at Langley FL Virginia. The unit was responsible for transportation in support of the Dare County range.range support was the primary mission of the squad on and we typically flew missions to Seymour Johnson AFB then over to the range, we would do off the person ell, fly over to Dare County, fuel, have lunch, then reverse the tip. The secondary mission was via support for ACC HQ. This generally entailed flying O7s and above to the Pentagon and back. We had 6 aircraft assigned,I believe 4 PA and 2 BA UH-1Ns. The ba aircraft came from the deactivated Ramstein unit in 93.The squadron was under the 1st Fighter Wing.the unit was deactivated in 95 o 96.

Years
Units
Base
2005-
413 FLTS
Eglin AFB
Duke Field

1998-
40th HS
Malmstrom AFB

1998-
37th HS
Francis E. Warren AFB

1994/12
6th SOS
Duke Field
Hurlburt Field

1994-
512th RQS
Kirtland AFB

1993-
36 RQS
Fairchild AFB

1993-
459th AS
Yokota Air Base

1993-
54th HS
Minot AFB

1985/87
48th RQS
Homestead AFB

1982/12
40 FTS
Eglin AFB

1979/87
304 RQS
Portland International Airport

1977/93
58th MAS
Ramstein AFB

1976/85
20th SOS
Hurlburt Field

1975/07
76th HS
Vandenberg AFB
Hickam AFB

1975/91
459th AS
Scott AFB
Andrews AFB

1975/88
67 ARRS
RAF Woodbridge

closed 1993



1975/85
6515 OMS
Edwards AFB

1973/98
37th ARRS
1971/91
1550 ATTW
Kirtland AFB
Hill AFB

1971/73
7th SOS
Rhein-Main

closed 2005


Ramstein AFB

1971/72
20th SOS
Cam Ranh

1970/88
40th ARRS
Khorat
Nakhon Phanom
Udorn Air Base

1970-
1st HS
Andrews AFB

Deployments