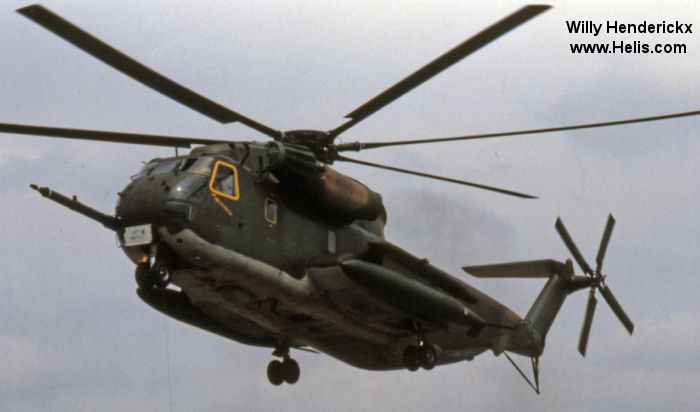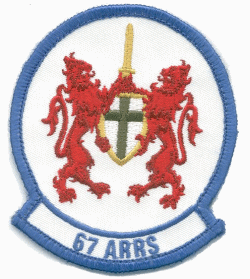 17oct52 as 67th Air Rescue Squadron (67 ARS)
01aug65 as 67th Air Recovery Squadron
08jan66 as 67th Aerospace Rescue and Recovery Squadron (67 ARRS)
01jun88 split as
67th Special Operations Squadron (
67 SOS
) flying HC-130 (MC-130P) Hercules
21st Special Operations Squadron (
21 SOS
) flying the MH-53
---
Det.9 Zaragoza AB, Spain closed 1988
---
1955-1958, I served in the 67th ARS. We had 2 H-19 and several SC-54Ds Also later SA-16 sea planes. My name is Charles Cummings

I was a member of the RAF Mountain Rescue Service and flew to Iceland with 67 ARRS for snow and ice training. We also went to the top of the glacier and back in record time. Hamilton Anderson

1983-1985, I was in the 67th ARRS at RAF Woodbridge (Woody) in the sheetmetal shop. I also worked on the HC-130s deployed to Keflavik Iceland in 89 while I was stationed there (also the H-3s there) Was also stationed at Woodbridge in 90-92 when the same aircraft were in the SOS squadrons. Deployed to Desert Shield / Storm, Operation Provide Comfort, and Northern Watch with the SOS squadrons. Still remember the tail numbers of the helicopters and 130s. Loved it at the "country club" as we called it. Much better than being at Bentwaters! TSGT Dennis Reed Harrell retired.

Mar84-Mar85, I was attached to the maintenance unit of Detachment 14, 67th ARRS,
Kéflavìk NS
, Iceland. Worked on 3 HH-3C's (don't recall the tail numbers, but I believe they were sequential. Possibly 215/216/217, but time plays tricks on my memory). If it's possible, I need to find unit records from that time.

67 ARRS List of helicopters

Help Us
C/N
Version
Built
In this Org
In other Org
55-620
h-19b
1954
52-7529 : asg 67th ARS at Prestwick for US Armed Forces Open Day

55-672
h-19b
1954
52-7553 : asg 67th ARS at Prestwick for US Armed Forces Open Day

61-618
ch-3e
67-14716 : USAF; 67 ARRS w/o 18dec79

65-198
hh-53c
68-10368 : USAF; 67 ARRS w/o 24jun77 Woodbridge Air base UK; cockpit used for trainin+

65-264
hh-53c
69-5785 : HH-53C type at Ramstein

65-275
hh-53c
69-5796 : USAF; 1970s pictured (pic1) with 67 ARRS at RAF Woodbridge, UK

65-276
hh-53c
69-5797 : USAF; 1978 HH-53C type 67 ARRS

31009
UH-1N
69-6603 : USAF; Aug.84 with 67 ARRS at RAF Woodbridge, UK
: , asg 67 ARRS, Det 9 at Zaragoza AB, Spain when I arrived there
: , I was asst crew chief on it at Zaragoza AFB, Spain till I shipped it out+

31012
UH-1N
69-6606 : 67 ARRS, noted at RAF Kemble

31017
UH-1N
69-6611 : USAF; pictured with 67 ARRS at RAF Woodbridge, UK

65-385
hh-53c
1974
73-1647 : Sikorsky S-65C c/n 65-385, ff?; del USAF as HH-53C, 73-1647, unk; xfer 67 +
: Operated by 67 ARRS from Exeter, during the Feb 1978 south west England sn+

65-390
hh-53c
1974
73-1652 : saw it at Tindall AFB museum. I am former 67 ARRS and had to pull over to+