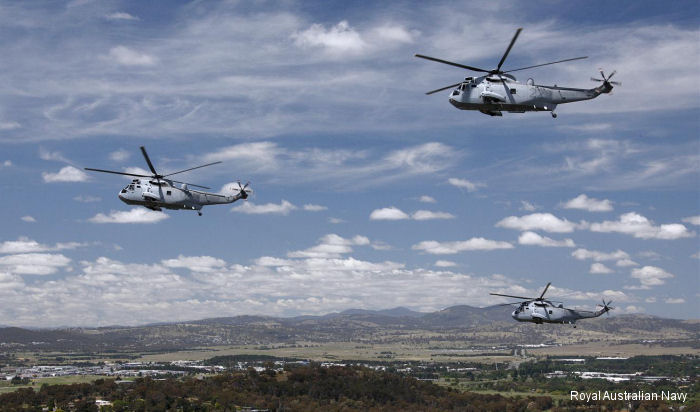 Reformed 25 Aug 1950 at St.Merryn (also known as HMS Vulture) in Cornwall, UK as part of 21 Carrier Air Group and moved to Nowra (YSNW) in Aug and served in Korea. Disbanded Apr 1955. Reformed Aug 1955 with Gannets from RNAS Culdrose in Cornwall, UK until Feb 1956 moving to Nowra. Disbanded Aug 1958. Reformed at Nowra Jul 1963 with Wessex 31 and embarked on
HMAS Melbourne
(R21, became 21). Reformed with Sea Kings on 2 Feb 1976.

HS817s Sea Kings used the call sign Shark followed by the last two of their side number. Side number 902 = Shark 02.

First unit to land a helicopter on the newly installed flight deck of
HMAS Jervis Bay
on 1 Jun 1987.
Stationed a Sea King Mk50A Flight on
HMAS Kanimbla
during Operation Falconer for the Arabian Gulf from Jan 2003. Shark (9)07 set a Squadron record by flying more hours in March 2003 than the rest of HS-817 combined.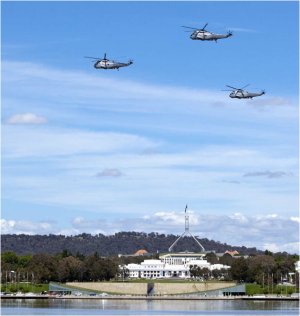 15-Dec-11 -

Residents of Sydney, Canberra and the Shoalhaven had their last chance to see the Royal Australian Navy's Sea King helicopters in the air today as they said farewell to the nation with a formation flypast.