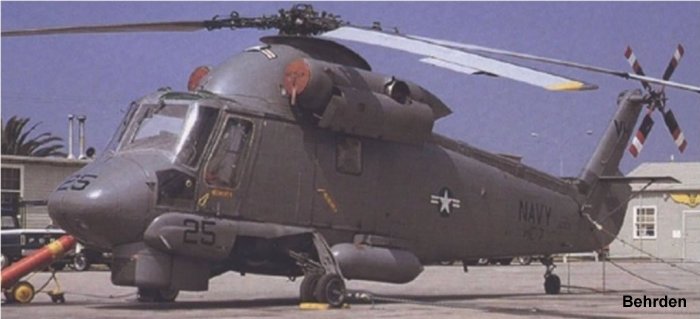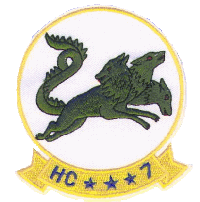 Helicopter Combat Support Squadron SEVEN (HC-7) served the Navy and the United States faithfully and honorably for seven years and ten months in the war to preserve the independence of the Republic of Vietnam. From North Sar (20N 107E) to South Sar (19N 106E) supporting the fleet aboard a variety of ships, from Combat to Supply Ships. Active from 1 Sep 1967 until 30 Jun 1975, it provided combat support, combat search and rescue, and vertical replenishment support to ships of the Seventh Fleet and shore based activities in the Republic or Viet Nam, Japan, the Republic of Korea and the Philippines. It counted no less than one Medal of Honor, five Navy Cross, three Silver Star, two Bronze Star (Combat V), six Distinguished Flying Cross and numerous Air Medals, Commendation Medals (V) and Achievement Medals (V) recipients during its short existance. It flew the Sikorsky SH-58J Sea Bat, Kaman HH-2A/D Sea Sprite, Sikorsky
HH-3A Sea King
, and UH-46A/D Sea Knight helicopters. Their tailcode was VH.

HC-7 formed on 1 Sep 1967 as the US Navy first dedicated SAR unit.

---
Supposedly the most decorated Naval Air Unit during the Vietnam conflict. In Sept 1967 through the end of the war they took over all combat search

Correction on the
most decorated Naval Air Unit
, that distinction belongs to the Seawolves of
HA(L)-3

Correction to the HAL-3 correction, No disrespect to our fellow HAL-3 squadron mates, but HC-7 is the most "highly" decorated Navy Helicopter Squadron in the history of the world, with the distinction of having LT Clyde Lasson's MOH mission in our history. Very Respectfully, Joe Skrzypek, Naval Helicopter Association Historical Society, Secretary and World Famous HC-7 helo pilot.

I was there at the beginning, but only as a civilian. My dad was the first CO. Im sure he would be happy to chat with any of you guys. Lyle Parthemer

Did not realize I was one of the original HC-7 crew until I began reading our history. Was 17 when I went to Atsugi as an AT striker. Turned 18 while on detachment in Tonkin Gulf. Great Group from officers down. I remember Joe as a rather large fella. Someone let me know of any reunions. Dave Johnson

01jul67-23feb70, Named the new cat
CLEMENTINE
after our Tonkin Gulf H2 call sign. Bill (CLEM) Kleimenhagen

Oct67-Sep69, I served with HC-7 both in Atsugi, Japan and Det Cubi, Philippines. Most of my time I worked as a mail orderly because they were shorthanded when I got there ans was asked to do it, even though I was an airedale. They have been having reunions every two years. 2012 it was in Tucson, AZ. Joe Klimkowski

Terry Larson HC7 NAS Cubi Pt Subic Bay Philippine Danang Vietnam

Nov67-Mar72, served in HC-7. Started out in H-2s then went over to the H-46s. Best squadron I have ever been in in my 28 years of United States Naval service. Checked in as an ADJ2 abd left as a CPO selectee. Jerry Crick

Jun68-Jun70, HC-7 Atsugi; Feb69-May70, line swings to Tonkin Gulf aboard
USS Niagara Falls
(AFS-3) for VERTREP, most of my line swings were with crew leader Jerry Crick. George Burtz aka Peaches

1968,1972, David P. Lanave amh1 usn (ret) 1968-1998 and served in hc-7 frm 12-68 to 4-72 flew w/ lt.cmd gerry carroll (rip) who wrote "north sar" w/ fwd by tom clancy. copies at 'books a million' . Was hc-5 at imperial bch., ca. rag unit, transferred to hc-7 atsugi, japan with dets to cubi pt., philippines as rescue swimmer, door gunner and paramedic from dec. 68' to apr. 72. One question: why are my brothers and i not authorized to wear combat aircrew (cac) wings. only autherized usn when deployed in usmc aircraft combat missions? Hal 3 brothers are authorized to wear said wings for similar missions (combat rescue in viet nam 20 clicks feet dry to 20 clicks feet dry.

1969-70 HC-7 Atsugi, Japan- Who remembers what the red sauce we used on the pizza's at IG's (Italian Gardens) Yokohama? Mike Huot

1969-71, Anyone remember my Dad ATC Jim Hammack we were in Atsugi. Brian Hammack ( bhammack at yahoo com )

Jan69-Jun70 at Det Cubi and Det 110. I can still taste the San Magoo beer and monkey meat on a stick in Alongapo City. Louis Voorhies ADJ3

Jan69-Feb71, Cdr Hipp was my first CO. Worked on the flight line with Chief Bill Stern's then Shorty Long and Jerry Crick. Det 110 w/ H3's and Det 102 w/46's. Great bunch of guys. When 46's went back to IB I stayed in Atsugi with Crick. Great guy. Sorry I left HC-7. Did my last year with HC-1 Det 8. Lots of great memories. Pat Taddeo (Tad) ADJ 3

1969-1971, served with HC-7 as a ATN/ATR, stationed in Atsugi, Japan, with 2 tours in Vietnam, 7 aircraft carriers in total. Climbed Mt. Fuji which you could see from the hangar. Jack Ferlise

1970-71 HC-7 Det.110 CUBI. AE2 Jason Taylor. I knew Lou Vohrees

May70-Aug73, I was with the squadron. Managed time on ten diff Carriers, Cubi, Danang, Atsugi, Imperial Beach. A lot of memories. Jeffory Field

1972-1974, I served with this outfit, Shipped out of NAS Ream Field, NAS Imperial Beach Calif. We flew the HH3 alphas and golf Sikorsky, We operated out of Subic Bay Phillippines at Det Cubi Pt. I served as an AME3 attached to the Parachute Loft ( oxymoron ). I have not been able to locate my information from the roster of the squadron. Ron Sandlin

1972-1974, AE3 Jack Hart. Did 3 details Caz 110 . Was on the last det. 110

1973-1974, served with one detachment to Det Cubi and served on five different carriers during the deployment to sea. Enterprise, Ranger, Corral Sea, Constellation and Hancock. First time deployed the crew and equipment rode out on an ammo ship Haleakala I believe. Monte Seymour AO2

HC-7 Has reunions every two years. In April 2016 it was in Cocoa Beach, FL. Had a great time. Next one is in San Antonio, Texas in 2018

Models