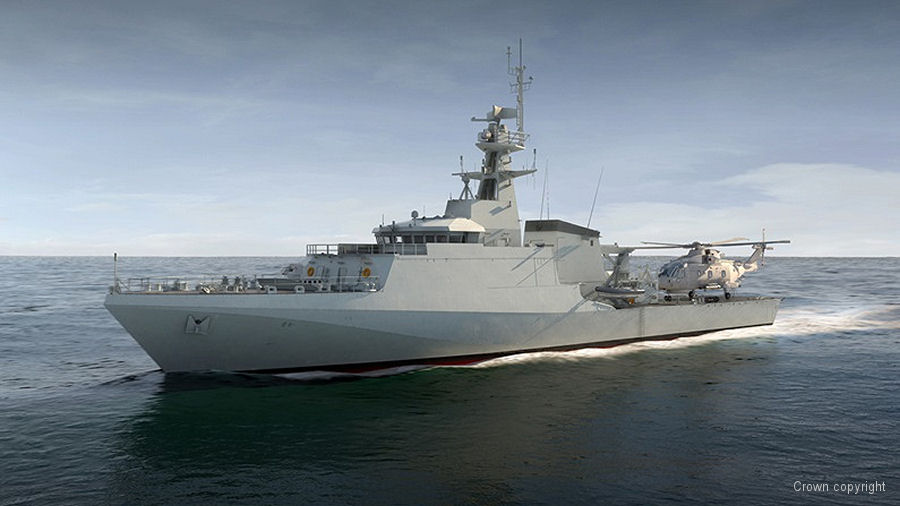 Order placed with BAE Systems in Aug 2014 for 3 Ocean Patrol Vessels. A further two were announced in the 2015 Strategic Defence and Security Review and order confirmed in Dec 2016. Built at Govan and most fitted out at Scotstoun.

The Max option implies only aircraft of this model onboard
5 units
2014-aug
Ordered
P222 HMS Forth
2014-aug
Ordered
P223 HMS Medway
2014-aug
Ordered
P224 HMS Trent
2014-oct-10
Laid down
P222 HMS Forth first steel cut at Govan on 10 Oct 2014
2015-jun-8
Laid down
P223 HMS Medway first steel cut Jun 2015.
2015-oct-7
Laid down
P224 HMS Trent
2016-aug-20
Launched
P222 HMS Forth at Govan
2016-dec-8
Laid down
P233 HMS Tamar Originally allocated pennant no P225
2016-dec-8
Ordered
P226 HMS Spey
2017-apr
Laid down
P226 HMS Spey
2017-oct-20
Launched
P223 HMS Medway at BAE Systems Scotstoun yard
2018-feb-26
Homeport
P222 HMS Forth Entered Portsmouth after a weekend in Stokes Bay
2018-mar-20
Launched
P224 HMS Trent at Govan
2018-apr-13
Commissioned
P222 HMS Forth Commissioned. Soon handed back to builders after significant serious faults uncovered. HMS Tyne (P281) was recommissioned in Aug 2018 while issues are rectified.
2018-oct-17
Launched
P233 HMS Tamar At Govan to complete fitting out. (Scotstoun at capacity, fitting out HMS Medway and HMS Trent).
2019-mar-22
P233 HMS Tamar Naming ceremony at Govan, initially with ITU callsign MDCU7
2019-apr-9
Port Visit
P222 HMS Forth 9 Apr 2019, 1st visit to Plymouth
2019-jun-22
Port Visit
P222 HMS Forth Visiting Liverpool Cruise Terminal
2019-jun-27
Deployment
P222 HMS Forth escorted Project 22160-class RFS Vasily Bykov through English Channel heading north east.
2019-sep-7
Port Visit
P223 HMS Medway Arrived at RVD for DSEI 2019.
2019-sep-19
Commissioned
P223 HMS Medway at Chatham
2019-nov-1
Deployment
P222 HMS Forth Departed HMNB Portsmouth for her new, long term South Atlantic base of East Cove, to relieve HMS Clyde.
2020-jan-20
Deployment
P223 HMS Medway departed HMNB Portsmouth for Carribean as APT(N) mission.
2020-mar
Refit
P224 HMS Trent in Falmouth for alongside maintenance at A and P. Returned to HMNB Portsmouth on 3 Apr.
2020-may-27
Aircraft
P233 HMS Tamar Wildcat HMA.2 of 815 NAS conducts first deck landing, in Plymouth Sound.
2020-jun-4
P233 HMS Tamar first raise of the White Ensign at HMNB Devonport
2020-jun-25
Deployment
P233 HMS Tamar Operating on the Clyde.
2020-jul-21
Port Visit
P224 HMS Trent departed Plymouth
2020-aug-3
Commissioned
P224 HMS Trent at HMNB Portsmouth
2020-sep-7
Port Visit
P233 HMS Tamar 1st visit to London, tied up alongside HMS Belfast. Departed 16 Sep.
2020-oct-28
Homeport
P226 HMS Spey departed BAE Scotstoun for HMNB Portsmouth
2020-dec-17
Commissioned
P233 HMS Tamar Formally Commissioned
2021-mar-31
Deployment
P224 HMS Trent departed HMNB Portsmouth for an extended forward deployment in the Mediterranean.
2021-jun-10
Deployment
P233 HMS Tamar G7 Summit 2021 standing off Carbis Bay, during G7 Summit in Cornwall
2021-jun-18
Commissioned
P226 HMS Spey at Invergordon.
2021-jul-17
Deployment
P224 HMS Trent transited Bosphorus, from Black Sea to Souda Bay.
2022-mar
Deployment
P226 HMS Spey visit to Pitcairn Island to distribute COVID-19 medical supplies.
2022-jul-25
Port Visit
P224 HMS Trent moved to Gibraltar South Mole.
2022-nov-24
Port Visit
P226 HMS Spey alongside at Kure.