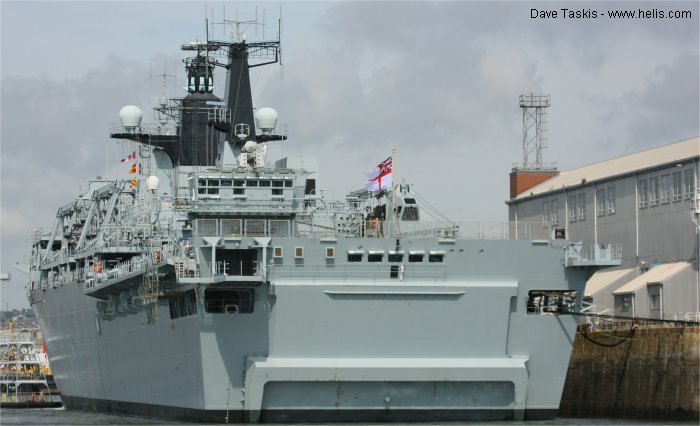 IMO:
9160592
MMSI:
234612000
Flight Deck:
AN
Call Sign:
GDIU
Shipyard:
BAE Systems (Vickers)
See Also:
CV Modified Centaur class R07
Add new event for this unit

| | |
| --- | --- |
| Year: | |
| Month: | <- (1/12) Optional |
| Day: | <- (1/31) Optional |
1996-jul-18
Ordered
1998-may-22
Laid down
Barrow-in-Furness Laid down at Barrow in a joint ceremony with RFA Wave Knight.
2001-mar-9
Launched
2003-jun-19
Commissioned
2003-jun-19
Homeport
HMNB Devonport
2004-may-13
Deployment
NS Norfolk departed HMNB Devonport for her maiden deployment, in company with HMS Ocean as part of an Amphibious Task Group, for exercises with US Navy. Arrived Norfolk, VA on 28 May.
2004-nov-11
Deployment
off Abidjan Ivory Coast Operation Phillis ordered to Cote d Ivoire to support evacuation of British and other nationals (largely by RAF C-130 Hercules and C-17 Globemaster) to Accra, Ghana.
2005-jul-1
Port Visit
Present at International Festival of the Sea (Trafalgar 200), Portsmouth.
2006-oct-11
Deployment
Freetown Port Sierra Leone Operation Vela (Green Eagle) conduct of Exercise Green Eagle phase of Operation Vela, off Sierra Leone
2008-nov
Refit
entered dry dock at HMD Devonport for 10 month programme of extensive maintenance, completed Jul 2009
2009-sep-5
Port Visit
HMD Devonport Navy Days 2009 present at Plymouth Navy Days 2009.
2010-apr-20
Deployment
Operation Cunningham Returned c 280 British civilians to UK, alongside 450 troops returning from combat service in Helmand Province.
2010-jul
Deployment
Exercise Auriga 2010 Participated in the Amphibious component of Ex Auriga, with USS Kearsarge. HMS Ocean and RFA Largs Bay, until Aug 2010.
2011-apr-7
Deployment
Deployed with RM battle group for NATO Exercise to Mediterranean but also in readiness for Contingency Missions during NATO ops against Libya
2011-oct-15
Homeport
entered HMNB Devonport for an expected 3 year period of extended readiness
2012-mar-23
Refit
entered period of extended readiness at HMNB Devonport, due to exit Dec 2014.
2013-oct-20
alongside RM Tamar, at Devonport
2015
Refit
surface and low level air search radar Type 997 refit at Babcock, Devonport to bring ship out of extended readiness, includes Type 997 radar, addtion of Phalanx CIWS, improvements to propulsion and fire detection systems.
2017-mar
Refit
HMD Devonport CIWS Phalanx 20 mm Received 2 sets of Phalanx to replace Goalkeeper. Rejoined the Fleet after refit on 21 Jul.
2017-jun
Trials
beginning sea trials following refits after a 5 year period in extended readiness
2018-feb
Deployment
departed HMNB Devonport on a 10 month Indian Ocean, Far East and Persian Gulf deployment. Returned to Devonport 16 Wharf on 23 Nov.
2018-apr-22
Port Visit
Tanjung Priok 3 day visit to Jakarta, in company with FS Dixmude and FS Surcouf. Departed 25 Apr.
2018-apr-28
Port Visit
Muara tied up in Brunei for 4 day visit, with Jungle training for the Royal Marines embarked Assault Squadron
2018-aug-3
Port Visit
Harumi Pier visited Tokyo for 5 days, for amphibious assault exercises with JSDF troops
2018-aug-31
Deployment
Conducted Freedom of Navigation (FONMOV) cruise in South China Sea near the Paracel Group islands, whilst en route to Viet Nam.
2018-sep-3
Port Visit
Ho Chi Minh City Visit to Ho Chi Minh City, as part of Far East deployment
2018-oct
Deployment
Port of Duqm Exercise Saif Sareea 3 UK Flagship for Amphibious Task Group in Joint UK-Omani Ex SS3.
2018-oct-28
NEWS
Royal Navy Exercise Saif Sareea 3 off Oman
2019-apr
Deployment
JW19-1 Exercise Joint Warrior 19-1 Amphibious Task Group flagship for JW19-1, with escorts HMS Defender and HMS Kent and support ships RFA Lyme Bay and RFA Tiderace.
2019-jun-9
Deployment
BALTOPS 19 participated in NATO Baltic exercise during mid Jun.
2019-oct-5
Deployment
North Western Approaches JW19-2 Exercise Joint Warrior 19-2 Participated in JW19-2 as Flagship. Also working with CJEF in Ex Griffin Strike, part of JW19-2.
2020-feb
Deployment
Exercise Cold Response 2020 Returned to HMNB Devonport 26 Mar after NATO northern flank exercises.
2020-sep-15
Deployment
LRG(X) Flagship for Littoral Response Group (Experimental) deployment with RFA Lyme Bay and HMS Dragon for exercises across Mediterranean, North Africa and Black Sea. Returned to Devonport 4 Dec.
2020-sep-28
Port Visit
Tunis Harbour one day visit to Tunis
2021-sep-11
Port Visit
Greenwich Reach LISW 2021 visiting Greenwich Ship Tier for London International Shipping Week
2022-sep-28
Port Visit
Tripoli harbour arrived in Tripoli for visit.