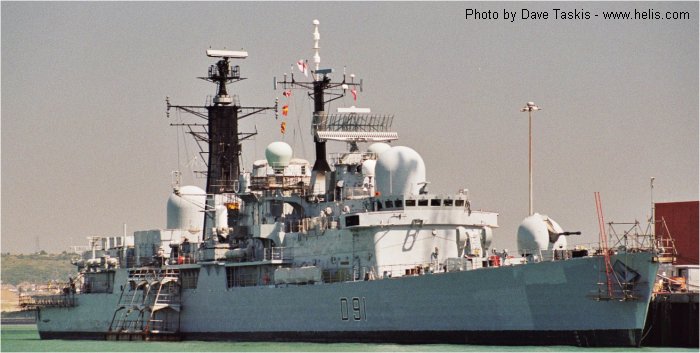 Add new event for this unit

| | |
| --- | --- |
| Year: | |
| Month: | <- (1/12) Optional |
| Day: | <- (1/31) Optional |
1977-mar-1
Ordered
1978-feb-6
Laid down
as Batch 2 Type 42
1980-feb-18
Launched
1983-apr-8
Commissioned
1984-jan
Deployment
departed UK for South Atlantic deployment, returned c Jul.
1986-sep
Deployment
Persian Gulf Armilla Patrol Persian Gulf - Armilla patrol
1996-jun
Deployment
Operation Sharp Guard participated in operations to enforce UN trade and arms embargo in the Adriatic Sea.
1996-jul-20
Port Visit
Grand Harbour / il-Port il-Kbir / Valletta at Malta
1998-aug-28
Deployment
HMNB Portsmouth International Festival of Sea Participated in IFoS 1998.
1999
Refit
major life extension refit, completed Nov 2000.
2001-aug-24
Port Visit
HMNB Portsmouth IFoS 2001 International Festival of Sea 2001 Present at IFoS Portsmouth.
2002-jul-7
Deployment
Lord Howe Island Wolf Rock ran aground, east of Lord Howe Island
2002-jul-7
Aircraft
815 Sq 219 Flt Lynx HAS.3 XZ239/417-NM flown off to HMNZS Te Mana for return to UK, via New Zealand
2002-dec-8
Refit
returned to UK aboard heavy lift ship mv Swan and into refit, until Jul 2004 at Fleet Support Ltd for repairs, after running aground in the Pacific Ocean
2005-mar-3
Aircraft
Arabian Sea (NM) Ships Flt Lynx XZ695 wrongly vectored back to ship, ran out of fuel and ditched in Arabian Sea, c 40nm from ship.
2006-feb
Deployment
relieved HMS Manchester on station, as part of eastern Mediterranean anti-terrorism deployment. Relieved in her turn by HMS York in May 2006.
2007-oct-22
Deployment
South Atlantic Atlantic Patrol Task (South) Departed HMNB Portsmouth and relieved HMS Southampton on station in late Nov, until relieved in her turn by HMS Liverpool in Apr 2008.
2010-feb-11
Decommissioned
2011-jun
Fareham Creek by Jun 2011 was laid up in Fareham Creek
2011-oct-19
Fate: scrapped
Aliaga Shipbreakers left Portsmouth Harbour under tow to Turkey (arrived 18 Nov), for scrapping - completed on 27 Feb 2012.