Wednesday November 22, 2006 :
BA609 Tiltrotor Second Prototype Achieves First Flight
( Bell/Agusta Aerospace Press Release ) - The Bell/Agusta BA609 a/c 60002 performed its first flight on November 9th at AgustaWestland s facility located on the Italian Air Force airfield at Cameri, Italy. The first flight was completed successfully at 15.07 with Mr. Pietro Venanzi, Pilot and Mr. Herb Moran, Co-pilot onboard.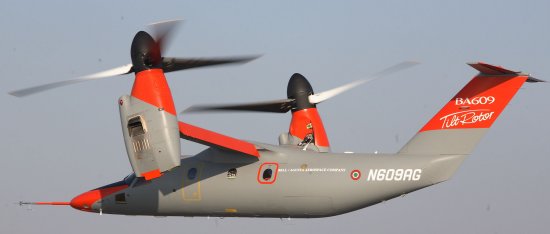 The rotorcraft performed left and right peddle turns, forward and aft flight maneuvers, several take-offs and landings, nacelle position changes and stability testing during the flight which lasted 52 minutes. Further flight test activities will take place during the next months in accordance with the test plan.
BA609 a/c 60003 is already at the AgustaWestland facility in Cameri and a/c 60004 is on the assembly line in Fort Worth, Texas. Bell/Agusta will produce a total of four prototype tiltrotor aircraft for flight-testing in the U.S. and Italy. BA609 a/c 60001 is continuing to undergo flight test activities at Bell's Flight Research Center in Arlington, Texas. To date it has accumulated over 100 hours of flight test time and has operated at 25,000 feet and speeds up to 304 knots (563 km/h).
Dual certification (European and FAA) is planned in 2010 with military qualification and deliveries following soon after. With customer requirements in mind, parts and components for both assembly lines in Italy and Texas will come from the same source. This key design concept greatly enhances the lifecycle supportability aspects of the BA609.
The current Purchase Agreement status remains strong with more than the first two years of production already allocated, for more than 60 civil aircraft and undisclosed government customers. The demand is expected to grow as flight tests continue and are completed through to certification. The BA609 continues to be one of the most highly anticipated aircraft ever, changing the possibilities of what an aircraft can do.

Bell/Agusta Aerospace Company is a joint venture corporation that markets and supports the BA609 tiltrotor. The BA609 features extended range and speed compared to traditional VTOL aircraft.
AgustaWestland, a Finmeccanica company, is one of the largest helicopter companies in the world. The company offers an unrivalled range of helicopters, training and support solutions to satisfy the requirements of civil and military customers. AgustaWestland has its primary operations in Italy, the United Kingdom and the United States of America.
Bell Helicopter, a Textron Inc. company, is an industry-leading producer of commercial and military, manned and unmanned vertical lift aircraft and the pioneer of the revolutionary tilt rotor aircraft. Globally recognized for world-class customer service, innovation and superior quality, Bell's global workforce serves customers flying Bell aircraft in more than 120 countries.