Helicopter Westland Sea King HAS.5 Serial wa 888 Register ZA127 used by Fleet Air Arm RN (Royal Navy). Built 1980. Aircraft history and location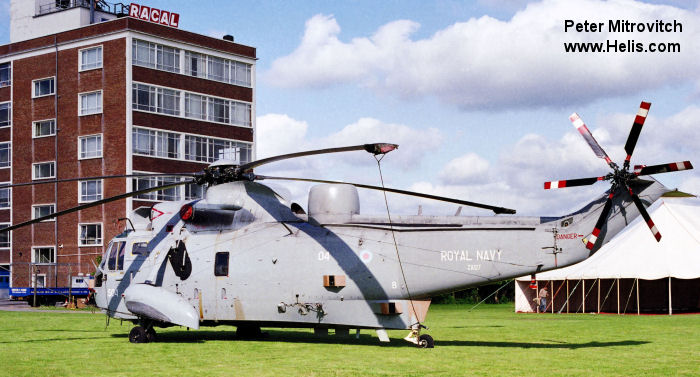 ZA127

Fleet Air Arm
1980-09-09
RN HAS.5 f/f 09sep80, d/d 02oct80
820Sq/361-N by Dec 1980, 820Sq/011-N by Feb 1982, 810Sq/511 by 1986, 810Sq/504 by Apr 1987 820 NAS
Nov80-Sep82, asg 820Sq was the plane captain for this A/C joining HMS Invincible for work ups at Portland then the commissioning trip to the states In 81, 1982 was a busy year in the south Atlantic completing 166 days continuously at sea, closed up at action stations for 76 days. I actually live quite close to Stirling, so I may pop round to see the aircraft 820 NAS
1987-05
May87 as 810Sq /04 at St Georges recreation ground, Tolworth during RACAL / DECCA families day. The building in the background was demolished Jul13 810 NAS


1994 HAS.5 type 706Sqn /592 706 NAS
1994-06-05

A

HMNB Portsmouth
HAS.5 type 706Sqn./592 Flypast Portsmouth harbour 706 NAS D-Day 50th Anniversary Flypast

Westland Sea King HAS.6 conv to HAS.6 Apr 1992 c Mar 1993
706Sq/592 by May 1994
810Sq/509-CU by May 1998 still Mar 1999
stored Gosport by 2001 still 2004
GI HMS Sultan as A2846 by 2010 706 NAS
1996 HAS.6 type 706Sqn /592 706 NAS
2001-07-19

B

HMS Sultan
to Gosport as Ground instructional airframe
-
2016-05-12
12may16 in a campsite in Thornhill, Scotland Restored Wessex Goes on Display
2016-10-27

C

Thornhill
Mains Farm Featured in Channel 4 Amazing Spaces TV programme (Series 6, Episode 6). Exterior restored as 810 Sq/509. Interior largely stripped and refitted as accommodation at Mains Farm Wigwams, Thornhill, Stirlingshire. Type 195 sonar removed and used in restoration of Wessex HAS.3 XM328 at Weston-super-Mare.
| | |
| --- | --- |
| | |