Helicopter Sikorsky S-61N Mk.II Serial 61-751 Register N629CK N751AW N436LC G-BDIJ 9M-AYF used by Croman Corp ,US Department of State ,HM Coastguard (Her Majesty's Coastguard) ,Bristow Malaysia ,Bristow. Built 1975. Aircraft history and location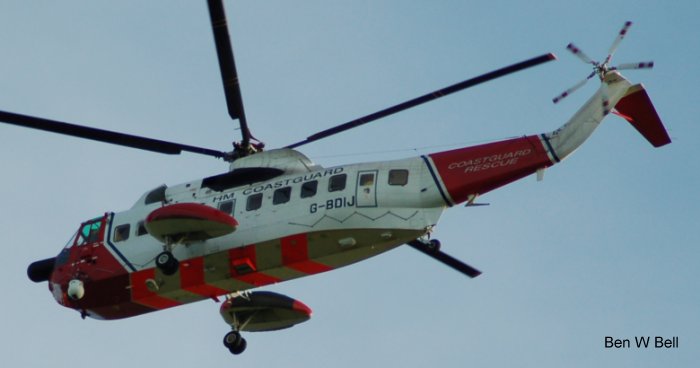 G-BDIJ

Bristow
Bristow Oct75-May83, to Malaysia



9M-AYF

Bristow Malaysia
Bristow Malaysia May83-Jun84, back to G-BDIJ



G-BDIJ

HM Coastguard
2006-09-01

A

EGHF
HM Coastguard, op by Bristow

based at Lee-on-Solent
Carries the name Crathes
01sep06 Completed its 4000th rescue
due to be retired in 2007 Solent District





N436LC

US Department of State
2010-10
State Dept from Oct10, rereg N751AW



N751AW

US Department of State
2013-07

B

ORBI
Baghdad, Iraq
2015-02-17

C

LCRA
seen flying along the coast adjacent to RAF Akrotiri, Cyprus
2015-07-07
07jul15 at Coventry City, UK
2016-07-12
12jul16 GSA Auction on sale with N216WW. To be confirmed



N629CK

Croman Corp
2016-12
Croman Corp from Dec16
2018-11
Nov18 undergoing rework at Croman Corp's White City facility for possible assignment to the Navy's PMRF in Hawaii.