Helicopter Eurocopter BK117C-1 Serial 7538 Register G-OEMT D-HMEC used by UK Air Ambulances EAAA (East Anglian Air Ambulance) ,Sterling Helicopters ,Elilombarda ,Eurocopter Deutschland GmbH (Eurocopter Germany). Built 2001. Aircraft history and location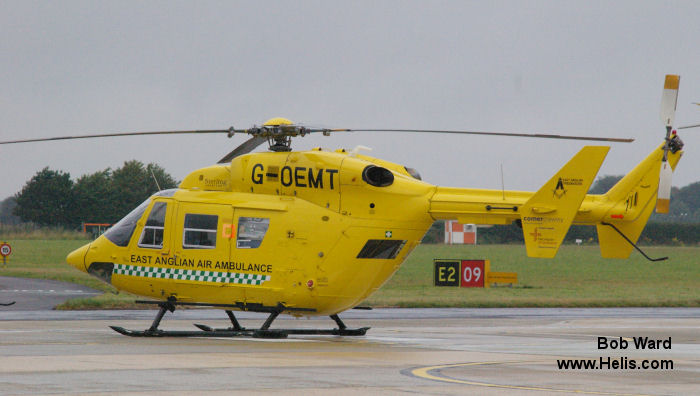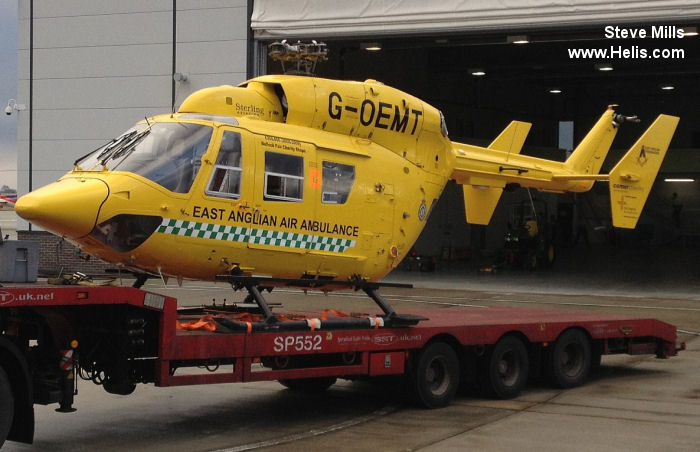 D-HMEC

Eurocopter Deutschland GmbH
Eurocopter Germany 2001
2002 to Elilombarda
Elilombarda
BK-117C.1 used in Italy as an air ambulance, whilst still German registered. To G-OEMT, Feb 2006.



G-OEMT

Sterling Helicopters
2005-12
Sterling Helicopters Dec05
ex D-HMEC
to Air Ambulance
UK Air Ambulances
2006

A

EGSC
East Anglian Air Ambulance (EAAA)- BK-117C.1 ex D-HMEC. Delivered to Stirling Helicopters in Dec 2005 and registered in UK Feb . Became the East Anglian Air Ambulance primary aiframe (Anglia One), replacing a Bo 105 in Apr . Operates daily from RAF Honington (but overnights at Norwich) and since summer 2007, covers the Norfolk and Suffolk area of the region. EAAA
2008-08-03

B

EGSH
EAAA (top) at Norwich EAAA


2009-04-24
24apr09 picture operated by Sterling Helicopters on behalf the East Anglian Air ambulance
2012-12-05

B

EGSH
(bot) at Norwich on the trailer being moved to Redhill, London for maintenance


-
2013-08-29

C

EGKR
LHC - storage No longer operating as an Air Ambulance - stored on behalf of GE Capital Bank pending sale.
| | |
| --- | --- |
| | |