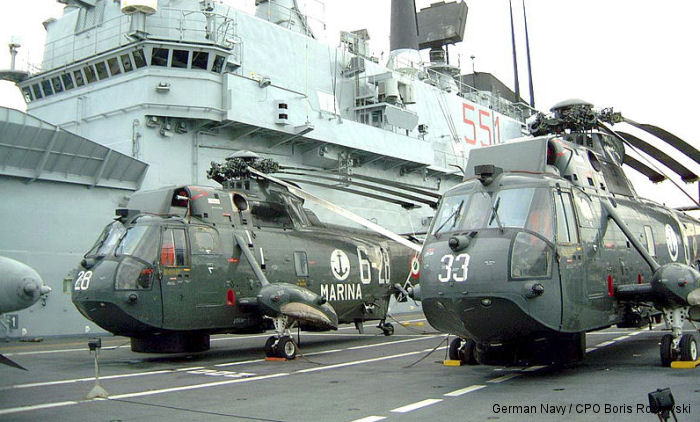 The Agusta Sea King was built under licence in Italy from 1968. 73 aircraft were delivered to the Italian armed forces in different configurations and was also exported to Argentina, Brazil, Iraq, Iran, Lybia, Malaysia, Peru, Saudi Arabia and Venezuela.
Derivatives & Versions of AS-61
Model
Year
History
ASH-3D/TS
VIP version of Agusta AS-61/ASH-3D. Two ordered by italian Air Force for VIP duties, several ordered by Iran, Iraq, Saudi Arabia?

ASH-3H
Agusta license built version of Sikorsky S-61D (SH-3H Sea King) for Italian Navy and export.

ASH-3D

1969
1969
Agusta license built version of Sikorsky S-61B (SH-3D Sea King for USN). Agusta received 1 from Sikorsky and produced another 24 for the Italian ...

AS-61A-4

1975
1975
Transport version of AS-61A for Venezuelan Army. Four built from 1975; one crashed.

AS-61R

1977
1977
Agusta license built version of Sikorsky S-61R-10 ( HH-3F Pelican for USCG ). Italian Air Force ordered 35 for SAR duties.

AS-61N-1

1992
1992
Shortened VIP version of S-61N for Royal Malaysian Air Force, two built as AS-61N-1 Silver.

List of Operators of AS-61
Global Distribution of AS-61