Former user of the
CH-47C
variant, the Canadian Armed Forces bought 6 Chinooks at $292 million from the
US Army
. Named
CH-147D
in canadian service ( 147201 / 147206 ), the aircraft were already deployed in Afghanistan and handed over in December 2008. Main base was
X-Ray ramp
out of Kandahar Airfield.
On August 2009 it was announced that the Canadian government ordered
15 new built CH-47F
with deliveries expected to occur between 2013 and 2014
On August 5, 2010 a CH-147 was brought down by enemy small arms fire and immediately burst into flames upon landing 20 km southwest of Kandahar city, Afghanistan. Eight of the 21 people aboard suffered minor injuries.
On February 2011 was announced the five remaining CH-147 are to be sold as Afghan mission ends next June
On May 15, 2011 four soldiers were injured, one of them seriously, when a CH-147 crashed on landing under moonlight in a remote part of Panjwaii district in southern Afghanistan. Five crew and about 25 soldiers along with a Canadian Press journalist were onboard when flipped onto its side
CH-147D Facts and Risks
While employed with the CHFA, the D-model Chinooks achieved the following milestones:
- First flight: December 28, 2008
- Total passengers flown: 90,723
- Total cargo flown: 7,097,989 lbs
- Total hours flown: 7084.5
- Last flight: July 30, 2011
---
Its the Royal Canadian Air Force who operate them in Canada, and the four surviors are now on their way to AMARC in Arizona, USA for storage. Unsure for how long. The army wants them in use, but the RCAF want to save money. Shows the need for the birds to be the army s alone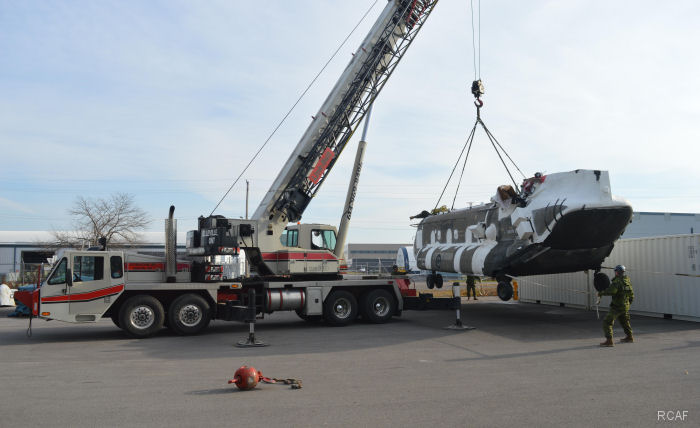 Canadian CH-147D Chinooks to Museums, 06-Dec-16 : The two remaining RCAF CH-147 D-model Chinook in Canadian inventory have been delivered to museums in Trenton and Petawawa, Ontario. Other two were sold and two were lost in Afghanistan.
C/N
Built
ID In this Org
In other Org


M.3284
147201: ex BuNo 89-00130. CAF d/d 2009 in Afghanistan; Oct11 to AMAR+

89-00130: US Army cnvt. from ex CH-47C 68-16017; 2009 to Canada a+


---

US Army; 1997 7-101 AVN

M.3085
147202: ex BuNo 84-24181. CAF d/d 2009 in Afghanistan; w/o 05aug10 b+

84-24181: US Army cnvt. from ex CH-47C 67-18550; 2009 to Canada a+


---

1990 we had a class b accident in Saudi Arabia during D+

M.3205
1963
147203: ex BuNo 87-00086. CAF d/d 2009 in Afghanistan; Oct11 to AMAR+

87-00086: US Army cnvt. from ex CH-47A 62-02133.; 1994 5-159AVN; +


---

March 2004 - March 2005: Deployed from Hawaii to Afgh+


---

scrapped serviceable components removed for F model pro+


---

Aug14 in Middletown Delaware USA along with 147204 bein+

M.3058
147204: ex BuNo 84-24154. CAF d/d 2009 in Afghanistan; Oct11 to AMAR+

84-24154: US Army cnvt. from ex CH-47A 64-13140; 2009 to Canada a+


---

1990/1991 deployed on Op Desert Shield/Desert Storm wit+


---

Aug14 in Middletown Delaware USA along with 147203 bein+

M.3155
147205: ex BuNo 86-01650. CAF d/d 2009 in Afghanistan; w/o 15may11 d+

86-01650: US Army cnvt. from ex CH-47A 66-00103; 2009 to Canada a+

M.3156
147206: ex BuNo 86-01651. CAF d/d 2009 in Afghanistan; Oct11 to AMAR+

86-01651: US Army cnvt. from ex CH-47A 65-08015; 2009 to Canada a+

M.3215
147207: RCAF Jan/Sept 2011; ex 87-00096

87-00096: US Army cnvt. from ex CH-47A 63-07906.; 1994 5-159AVN; +


---

Oct.2011 back to US Army, Kandahar Afghanistan; ex RCAF+